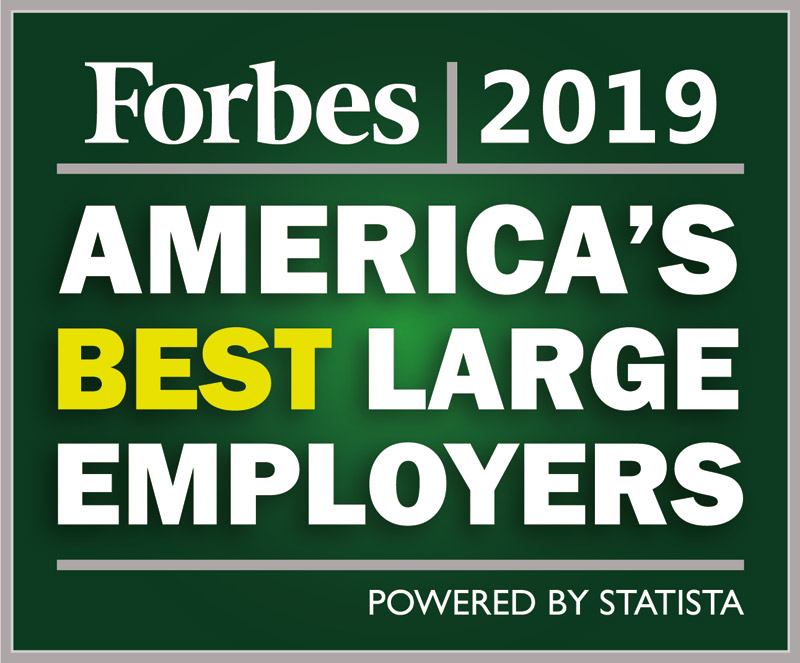 NEW YORK, NY (April 23, 2019) – At RBC, our stated purpose is to help clients thrive and communities prosper. And central to those communities are our employees.
"What employees think and how they feel working here really, truly matters," said Michael Armstrong, CEO of RBC's U.S. Wealth Management business. "We know we can't possibly be our best if our employees aren't engaged, supported and happy."
In the U.S., more than 13,000 people work at RBC. Recently, a segment of those employees were asked by Forbes magazine to share their thoughts about RBC as a workplace. As a result of their positive feedback, RBC was named to Forbes' 2019 America's Best Employers list, which was published last week.
"We truly appreciate this recognition from the employees of RBC as one of America's best employers," said Mike Lee, CEO and President of RBC's U.S. Global Asset Management business. "This award exemplifies the efforts by all of us to embody a culture that supports our purpose to help clients and communities thrive."
"We greatly value the feedback from our employees and it is great to see Forbes recognize RBC," said John Thurlow, Chief Operating Officer at RBC Capital Markets. "We acknowledge as an organization that our most important resources are our people."
Forbes polled 50,000 U.S. employees to come up with a ranking of the top 500 large employers in the country and the top 500 midsized ones. The survey, conducted between September and October 2018, focused on employees' willingness to recommend their own employer to others, but included a variety of other questions about atmosphere, compensation, working conditions and other factors.
RBC's business in the U.S. is comprised of RBC Wealth Management with more than 1,800 financial advisors serving clients out of 200 branches in 42 states; RBC Capital Markets, the 11 th largest investment bank in the U.S. with 36 offices in 23 states; and RBC Global Asset Management, which has 175 employees that span across its 5 U.S. offices in 5 states. RBC also offers private and commercial banking through City National Bank's 71 offices in Southern California, the San Francisco Bay Area, Nevada, New York City, Nashville, Atlanta, Minneapolis and Washington, D.C.
"At RBC we pride ourselves on creating an inclusive, open culture," said Liz Lieberman, Head of U.S. Human Resources at RBC Capital Markets. "Employees across our business lines often speak of our culture as a key reason for coming to RBC and building a career here. Employees feel comfortable bringing their true selves to work which enables us to have an engaging and energized environment."