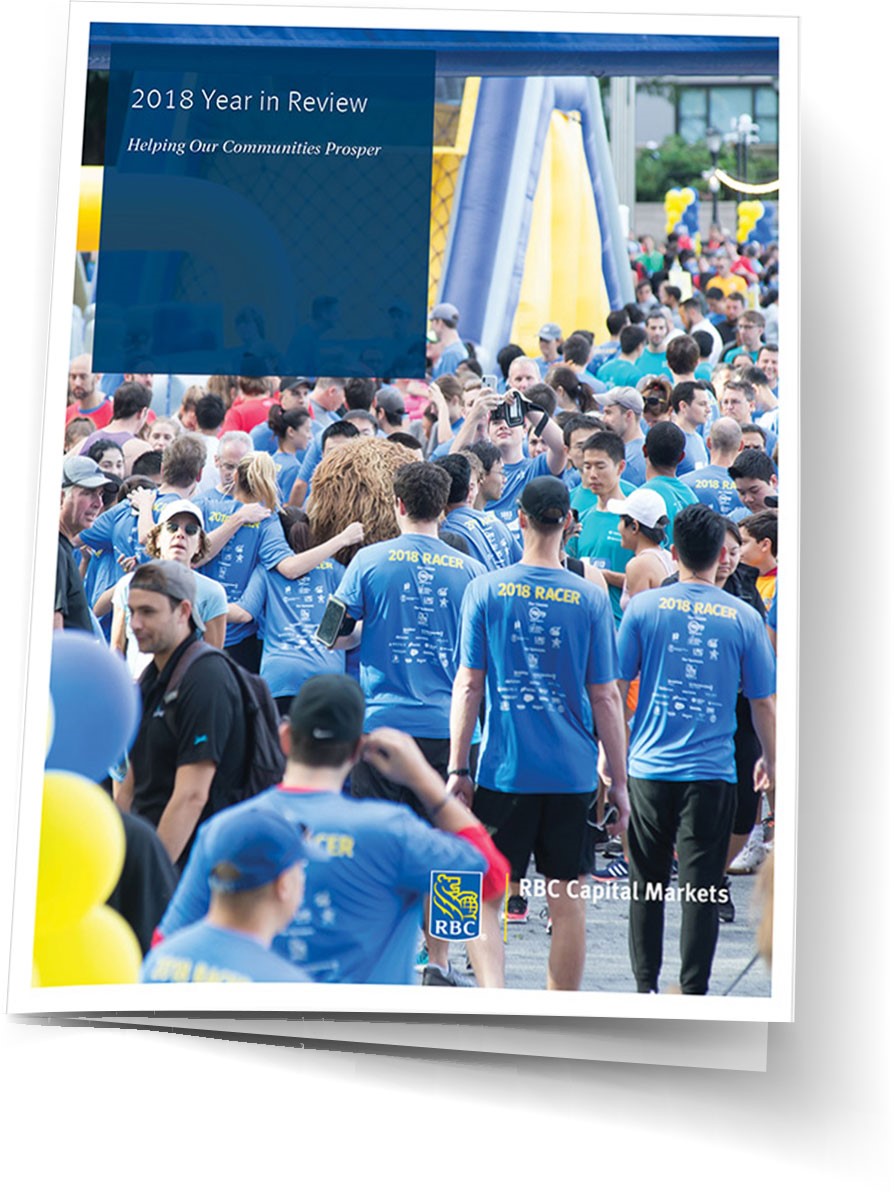 At RBC, we are committed to giving back to the community. To summarize our charitable efforts, we are pleased to present our 2018 Global Philanthropy Year in Review report for RBC Capital Markets. Hear from Lauren Stanley on the critical importance of investing dollars and time into the community.

By Lauren Stanley
Vice President, RBC Capital Markets
Overseeing philanthropy for RBC Capital Markets in the U.S., I am grateful to work at a company where employees actively want to get involved in the community. If anything, my challenge is supplying enough engagement opportunities to meet the demand. It is clear to me that giving back is in the DNA of our employees and embedded into the fabric of our culture. Simply put, giving back is just who we are. To demonstrate this deep philanthropic commitment, we released a 2018 Global Year in Review, showcasing how our employees are helping our communities prosper through our many charitable initiatives, including Race for the Kids, Trade for the Kids, #RBCCMChangeALife Charity Video Series, and much more.
$20 million in community investments
It amazes me that in 2018 alone, RBC Capital Markets contributed $20 million dollars to charitable causes around the world. What's more, RBC as a firm gave $75.7 million in cash donations to causes related to youth, arts and the environment. These numbers are tremendous and directly reflect our purpose of helping clients thrive and communities prosper, but I've always said that any company can talk about the dollars they gave away. What brings our financial investment to life, and what sets RBC apart, is our culture of volunteerism.
Our employees aren't ones to stand still. They are ambassadors for our values.
2,380 volunteers and 362 volunteer activities
When I write checks to the nonprofits we support, our work isn't over – it's only just begun. Last year, 2,380 employees went out into their local community to complete 362 volunteer activities. When you take the time to serve dinner to families and children battling pediatric cancer, or you help struggling students learn how to read, that is when you find the true meaning of giving back.
#RBCCMChangeALife
I've witnessed our financial commitment to philanthropic initiatives come to life when RBCers get involved, and I know firsthand that our people have the power – and the desire – to make a tangible difference. To inspire others to get involved along with us, we created the #RBCCMChangeALife video series, featuring the stories of how the nonprofits we work with have meaningfully impacted the lives of our RBC employees and the youth they serve. I was blown away at how much the message "when you change a kid's life, you change yours" resonated with our employees, clients, and community partners. Genuine reactions like this are what make me excited to come to work every day.
What's next in 2019?
I'm proud of our community investments in 2018 and applaud our employees, clients, family and friends who helped us give back. Looking ahead to 2019, I've been thinking about what success will look like, and your input is valued. Connect with us on Twitter @RBCCM or on LinkedIn and tell us your ideas for community involvement. Together, we can make a difference.