RBC is proud to support Die Arche, whose slogan is "Making children stronger for life". The charity strives to create equal opportunities for children, regardless of social and cultural background by providing children with free meals, support with school work and camping trips. Their goal: Enable children to break out of the cycle of poverty.
The majority of RBC Frankfurt volunteered to make this Sommerfest a day for all the families to remember, and follows a field trip to the zoo earlier this year.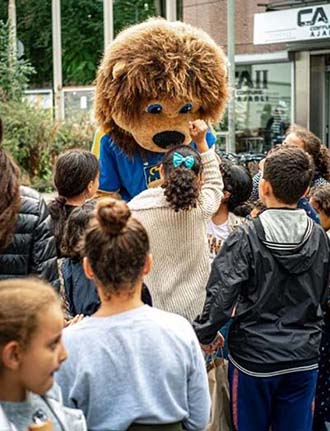 Activities ranged from dexterity and sports skills to self-defence, games and competitions, as well as food stalls and giveaways. The day was all about showing local, disadvantaged children a fun afternoon, and RBC mascot Leo the Lion was also in town to add to the energy levels in case the effects of the cake and ice cream wore off! The occasion was also the perfect opportunity for Die Arche to demonstrate its purpose to members of the local community and showcase the activities on offer to children who, for a variety of reasons, could be falling short of their full potential. In total, five hundred children and parents attended the event earlier in September.
Susanne Mueller-Wiefel, Managing Director at RBC Frankfurt couldn't contain her pride for the firm's relationship with Die Arche. "As a firm we truly believe in the potential of young people. All over the world, RBC supports initiatives to help young people make the most of their education and training, business ventures, mental health, and artistic and sporting talents. In doing so we're supporting their future…and in turn, our future too. And nowhere is this more true than with our partnership with Die Arche. I was thrilled to see so many young smiling faces and I know my colleagues really enjoyed preparing for, and fulfilling their roles as volunteers. We're proud to be developing a positive, lasting impact on our community here in Frankfurt through the wonderful work of everyone at Die Arche."