RBC announces £100k donation to Great Ormond Street Hospital Children's Charity (GOSH Charity) to celebrate their 10 year partnership
This brings the total raised by RBC and its employees to over £500k this year
Over 10,000 people attended 10th instalment of RBC Race for the Kids this year
London, 18 November 2019 — Celebrating 150 years since it was founded and 10 years of supporting Great Ormond Street Hospital (GOSH), the Royal Bank of Canada presented a cheque of £510,150 to GOSH Charity. Louise Parkes, Chief Executive of GOSH Charity, gratefully received the donation from RBC, joined by Matthew Shaw, Chief Executive of GOSH as well as representatives from the bank, some of whom have very personal connections with the hospital.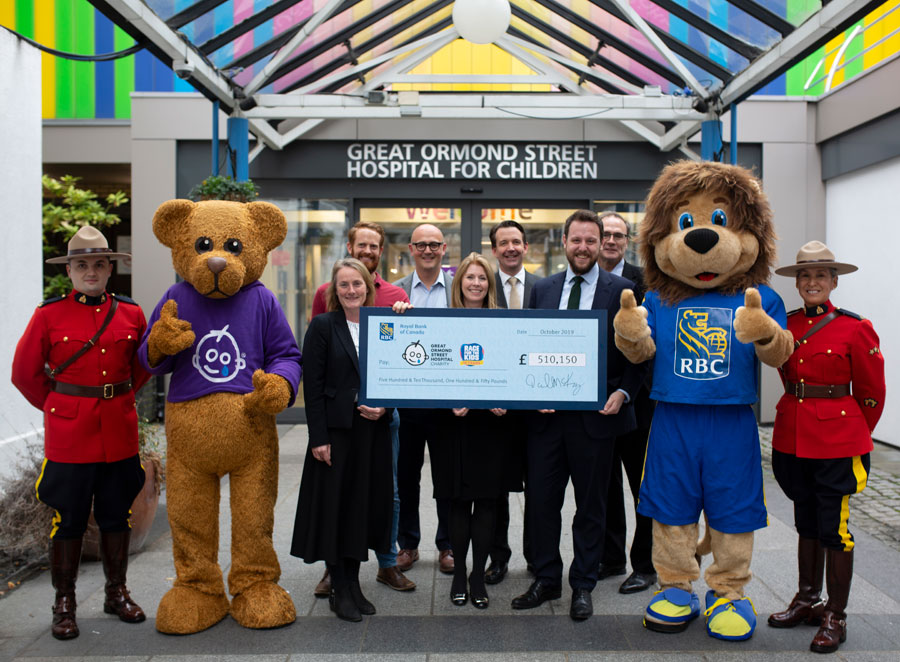 From GOSH: Louise Parkes, Chief Executive GOSH Charity, Matthew Shaw, Chief Executive GOSH
From RBC: Richard Winstanley, Analyst Developer (father of former patient), Sian Hurrell, Global Head of FX, European Head of FICC, Josh Critchley, Head of European Investment Banking, Kyle Pearse, Vice President, Corporate Banking, Ken Klassen, Managing Director & Head, Europe & Australia Corporate Banking
Canadian Mounties: Constable Colin Bailey and Sergeant Karen Pelletier
Also in attendance were two Canadian Mounties, Sergeant Karen Pelletier and Constable Colin Bailey, who formed a guard of honour for the cheque presentation in recognition of Royal Bank of Canada's stature as the country's largest bank.
In 2010, Royal Bank of Canada teamed up with GOSH Charity to stage a fun run to raise much-needed funds for a new neurosciences unit at the hospital. The event saw 1,500 runners raise £315,000. Fast forward ten years and the race boasted 10,000 participants and total fundraising of over £1 million.
In addition to RBC Race for the Kids, the last decade has seen employees of the bank embark on a variety of fundraising actions and initiatives, from the RBC Trade for the Kids*, to cycle rides, tombolas, raffles and more.
Over the last 10 years RBC has raised a total of nearly £3million for GOSH Charity, helping to make a significant difference to the lives of seriously ill children from across the UK.
RBC employee Richard Winstanley, a long-time supporter of RBC's partnership with GOSH and father to Harry, 7, a former patient of the hospital, said: "As a parent, seeing your child in hospital with a serious condition is one of the most traumatic moments you can ever experience in life. I am so pleased I am able to give back to the wonderful hospital that cared for my son and I am proud to be an employee of such a caring organisation as RBC where commitment to community really does mean something."
RBC has a global commitment to supporting youth and communities and over the last 10 years RBC and its employees have formed a special connection with GOSH Charity. As part of its ongoing partnership, fundraising by RBC will support the development of Royal Bank of Canada House – accommodation right next to the hospital's main entrance which will serve as a home away from home for patients' families, offering a free-of-charge and comfortable place to stay while their child is in hospital.