RBC Capital Markets (RBCCM) has proudly supported Memorial Sloan Kettering's Cycle for Survival Campaign since 2013. Nationwide, nearly 16,000 children and young people are diagnosed with cancer annually. Over the past nine years, RBCCM's participation in Cycle for Survival has helped fund a revolution in the diagnosis and treatment of rare cancers, which make up 50% of all cases, including all pediatric cancers. For the first time this year, RBCCM employee fundraising surpassed $1 million USD for rare cancer research since our partnership began.
Employees Join the Battle to Beat Rare Cancers
Each year, dozens of employees join the battle to beat rare cancers and participate in local cycling challenges with colleagues, friends and family in the community. Over time, participation has grown from a single small group event in New York City to well over 100 employees across several cities in the U.S. and around the world.
This year, Cycle for Survival went virtual due to the pandemic. The event kicked off with an "Impact Celebration" where employees heard from doctors, scientists, patients, and caregivers about the impact of their fundraising efforts on the advancement of new treatments to beat rare cancers. Teams of RBCCM employees joined from around the globe and participated in virtual cycling classes at their home or local gyms. Employees that did not have access to a bike were able to participate virtually in several non-cycling classes, including tabata, yoga, and precision walking and running.
After a multi-week campaign, RBCCM employees fundraised more than $218,000 USD. Earlier in the year, RBC Capital Markets was also one of four sponsors of Cycle for Survival's $500,000 USD match on World Cancer Day, which raised more than $630,000 USD in 24 hours. In total, RBCCM contributed over $318,000 USD to MSK during the 2021 season - surpassing $1 million USD raised to date - and finished in fifth place on Cycle for Survival's nation team fundraising leaderboard.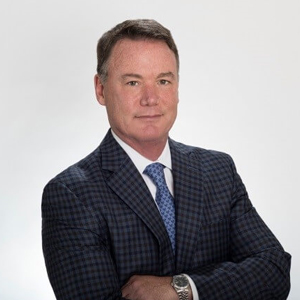 Tom Fredericks
Managing Director and Head of Global Fixed Income Repo, Central Funding Group
"We are proud that we can continue to support MSK and our employees were able to participate virtually in the Cycle for Survival campaign this year despite the pandemic. This was a milestone year as our employees surpassed $1 million raised since our partnership began in 2013. We are thrilled to see our partnership with MSK continue to grow, with our fundraising efforts increasing and more employees participating each year around the globe."
Supporting Gene-Sequencing Technology to Develop New Treatments
Thanks to Cycle for Survival funding, MSK's Marie-Josée and Henry R. Kravis Center for Molecular Oncology created MSK-IMPACT™ in 2014. MSK-IMPACT™ is revolutionary tumor-sequencing test capable of analyzing 505 genes related to cancer. This allows doctors to provide tailored treatment protocols by targeting a patient's exact gene mutation while also assessing if they are at an increased risk for developing new cancers in the future.
With continued support from RBC Capital Markets over the years, Cycle for Survival has funded the purchase of four state-of-the-art DNA sequencers. These resources continue to expand the reach of MSK-IMPACT™ beyond the children, teens, and young adults treated at MSK to young people with rare cancers across the country and around the globe. It also enables MSK to pool genomic data on rare cancers with other major research centers worldwide. These efforts can lead to new treatment options that result in dramatic tumor regressions or elimination of the disease.
The impact of this work cannot be understated. More than 65,000 tumors have been sequenced by MSK-IMPACT™ since 2014. At RBC Capital Markets, we are proud to participate in Cycle for Survival each year and continue to support this groundbreaking work at MSK.