SportsAid Week's flagship initiative is the #MyMiles Challenge, powered by RBC. The Challenge is inspired by SportsAid athletes who cover around 45 miles in training every week, alongside school or university, time with family and social lives. Over 12,000 miles were covered by supporters of the charity during SportsAid Week.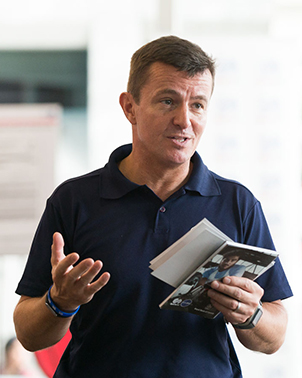 "This is a fantastic commitment from RBC and a brilliant boost to SportsAid Week," said Tim Lawler - SportsAid's Chief Executive. "Their support helped to amplify our messaging during the week and maximise the great effort being made by the wider SportsAid family - especially through the #MyMiles Challenge. Emerging from a very uncertain and unsettling couple of years, we couldn't have wished for a better way to celebrate SportsAid Week. Thanks to everyone at RBC."

- Tim Lawler – Chief Executive of SportsAid
To celebrate the occasion, Dave Thomas, CEO, RBC Europe, shares how RBC's partnership with SportsAid has evolved over time, reflects on the impact of the pandemic on the sporting calendar, and looks ahead to Birmingham 2022…
RBC has a comprehensive Community and Social Impact programme. Why are young people so integral to it?
DT: "It's been a long-standing commitment at RBC, to not just sport, but young people as a whole. We recognise that the challenges to the future generations are bigger now more than they've ever been – certainly compared to when we were growing up. Whether that's economic challenges, environmental challenges….and with the pandemic as well layering on all the other issues that people have faced, we will continue to support young people and it's something we are very passionate about. It's been extraordinary seeing how the young athletes we support through SportsAid have adapted over the last 18 months or so. We've always acknowledged the challenges they faced in terms of fitting in their training, funding, schoolwork, family commitments, travel and all those things you need to overcome to be a successful athlete, so when you throw the pandemic into the middle of that, it becomes a whole different game. The way that young athletes have adapted, and the drive and commitment they've shown, is what you need to be successful. The stories we've heard have been inspiring."
RBC and SportsAid launched their partnership eight years ago. What was it about SportsAid that initially appealed to RBC and yourself?
DT: "I was lucky enough to be introduced to SportsAid through employees who had made the connection. I met Tim Lawler [SportsAid's Chief Executive] right at the start and you can't fail to get enthusiastic once you've met him! Immediately it seemed to fit. We had supported athletes from Canada over many years and it seemed a very good way of providing a very direct benefit – particularly economically – to help the athletes. And it was clearly, right from the start, a partnership that worked for our employees. We had an enormous amount of enthusiasm from employees to get involved in a number of ways. There's no point in us supporting a charity by just writing cheques. It's got to be a cause that the employees get involved with and can add value to themselves. SportsAid has been a great example of that. The partnership has gone on for so long because we've reinvented it every year. We have always supported the athletes but how we raise money, how we've engaged our own colleagues has changed, and we're coming up with ideas every year to keep it fresh and people enthused around it."
RBC supports a cohort of 50 young sports people each year with athlete awards. Is there an aspect of this support and the general partnership with SportsAid which has been especially enriching?
DT: "In terms of the fundraising, people have raised money for SportsAid through the London Marathon, Tough Mudder and other things, but when we did the Ride for the Kids, it was an event we could participate directly with the athletes and it was extraordinary. We met some great previous SportsAid recipients – Olympians and Paralympians – during those Rides. We rode alongside members of the SportsAid team – including Tim – which helped bring together the group from RBC and the charity itself. The Buddy Scheme has been incredibly successful for us as employees but also for the athletes. They've gained a lot of value out of it as well. Clearly it's a pretty intense relationship with coaches and parents….so it's good for the athletes to have another person which they can talk to and give them a bit of guidance from a different perspective. Not every athlete is necessarily going to be a professional and successful to that degree, and we've provided work experience opportunities, general guidance on school and careers, and I do think it's worked incredibly well. The RBC employees are incredibly proud of the athletes that they buddy up with, following their careers, and they tend to pick the sports that they've been interested in. There may be a little bit of living vicariously through the success of their athletes! It's been a great scheme."
The COVID-19 pandemic impacted all young sports people. What message would you have for them moving forward?
DT: "It's been the most extraordinary event as it's impacted everybody in the world essentially. I think everybody deals with things differently and that's the same with the athletes. I think it's generally about accepting the situation we've been in for the last 18 months and accepting the situation going forward and any limitations that provides. You have to try and find ways through it and not lose heart. We don't want it to impact them [athletes] achieving their ultimate potential and it's trying to adapt and find ways to do this. If people need support, it's important they go and look for it, and if they're happy doing things themselves and driving through, then that works as well. Just make sure to remember that we are all facing our own challenges and try not to let it knock you back."
Do you have a sporting event you are particularly excited about as we emerge from the pandemic? Birmingham 2022? And what has been your highlight of 2021?
DT: "Having a Games in the UK is always a special event. I met leading figures from Birmingham 2022 at a SportsAid event a couple of years ago and it's very exciting – particularly for the region itself. It'll be really interesting for us to see the home nations competing for medals against Canada in a lot of the events! The Commonwealth Games has a particular atmosphere and culture around it. My highlight for this year has been having crowds back over the last few months. It has been incredible to see and the biggest signal in terms of stepping forward. It's made a big difference for people to be able to go and see sport live again. I've watched so much sport this year. Recently, I'd say the England/India test series, Europe winning the Solheim Cup was brilliant to watch, and obviously with the SportsAid links, Emma Raducanu winning the US Open will be the stand-out sporting moment."
---