Key Points
---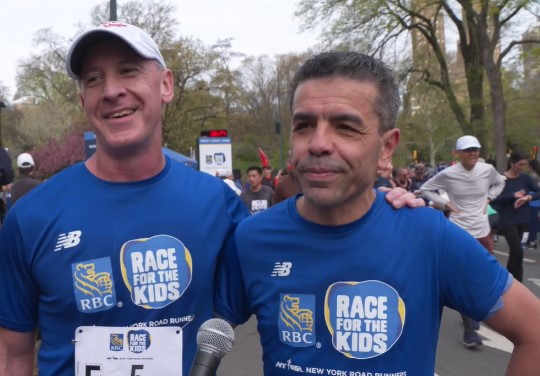 Ahmed alongside Bobby Grubert, Head of Digital Solutions & Client Insights, RBC Capital Markets at RBC Race for the Kids New York in April 2022
As an avid runner, I have participated in countless running events around the world over the past 10 years. From RBC Race for the Kids events in New York, London, and Hong Kong, to the London Royal Parks Half Marathon and the RBC Brooklyn Half, to the New York and London Marathons in support of Ronald McDonald House and other charity partners, I have always looked forward to training and running alongside my colleagues, clients, and family members.
RBC's running events are not just a vital part of our company's culture, but they also make a positive and measurable impact on our communities. That's why I'm so committed to working with our partners to help scale these events and broaden our outreach to benefit organizations and communities in need.
The importance of scale
Whether it's achieving our goals from a business or community perspective, RBC is committed to transformative scale. When it comes to our running events in particular, scale is important for increasing social impact as well as engaging our employees.
Our flagship philanthropic event, RBC Race for the Kids, started as a single event in 2009, and has now grown into a series of 17 charitable races taking place around the world, raising more than $51 million to date. Just this past year in New York, we expanded our Race from 2,000 to 6,000 runners in Central Park by partnering with New York Road Runners (NYRR) to benefit MSK Kids at Memorial Sloan Kettering.
Employees can also be a strong part of our efforts to scale impact. It gives them a forum in which to engage, participate, and share their stories. Whether it's their fundraising efforts or past memories from running events with their clients and families, everyone has something to say about their involvement and experience.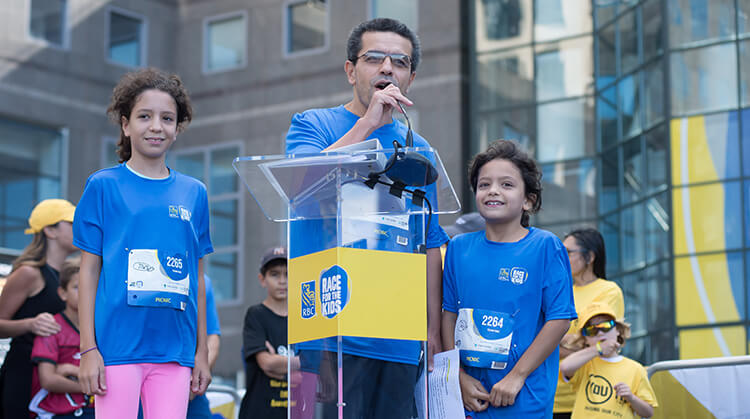 Ahmed and his daughters at RBC Race for the Kids New York in 2018
In addition to championing our running events, I'm very active in promoting culture and diversity at RBC. I've seen people of all ages, backgrounds, skillsets, and cultures participate in these races, because the running community is where we can all come together to share a collective passion and raise money for a common cause. It is meaningful to see this mosaic of people assemble at the starting line, and we hope to scale the inclusivity of these events in future years.
Making an impact on communities, both locally and globally
Holding the RBC Race for the Kids in New York's Central Park for the first time in April 2022 was an emotional event for me, and our clients and employees, too. Like many New Yorkers, I have a special relationship with Central Park. During the pandemic, it was a place where I, and so many others, could find solace. Being able to gather together again in-person has taken on a new poignant meaning for all of us, and shows the strength and resilience of the New York community.
In addition to the comraderie I've felt running with my colleagues, the broader running community has also become like another family to me. Through this community, I've met culture carriers from around the world who share an unwavering commitment to making an impact through running. When you bring people together for a common cause, the positive result is exponential. It doesn't matter the country, language, or background the runners of these races share because the result is the same: bringing people together to experience social connection for a common good greater than ourselves.
Crossing the finish line to help those in need
Whether it's RBC Race for the Kids, the RBC Brooklyn Half or Royal Parks Half, RBC partners with several race and nonprofit organizations to raise money for youth and other fantastic causes globally. As we scale these events, our goal is not just to encourage more participation, but to also extend our reach to ensure that valuable resources get to those who need it the most. As the proverb goes, "If you want to run fast, run alone. If you want to run far, run together."
Learn more about RBC's running events around the world:
---