As a member of Woman United, Harleen is making an impact in her community, with the goal to ensure everyone feels included regardless of who they are. Through the Women's Impact Fund, Women United members support local services and programs for women-identified individuals that are delivered by United Way's frontline network of agencies.
As Co-Chair for RBC Capital Markets' Canadian Diversity Leadership Council, Harleen is a passionate advocate for the advancement of diversity, equity and inclusion both within RBC and her community. "I recognize that diversity and inclusion is an engine for innovation and economic prosperity, and at RBC, helping communities prosper is core to who we are as an organization," she said.
Harleen helped to establish Women United and in 2012 she founded a Women United committee at RBC, which has flourished and expanded to an active membership of 150 employees across the bank.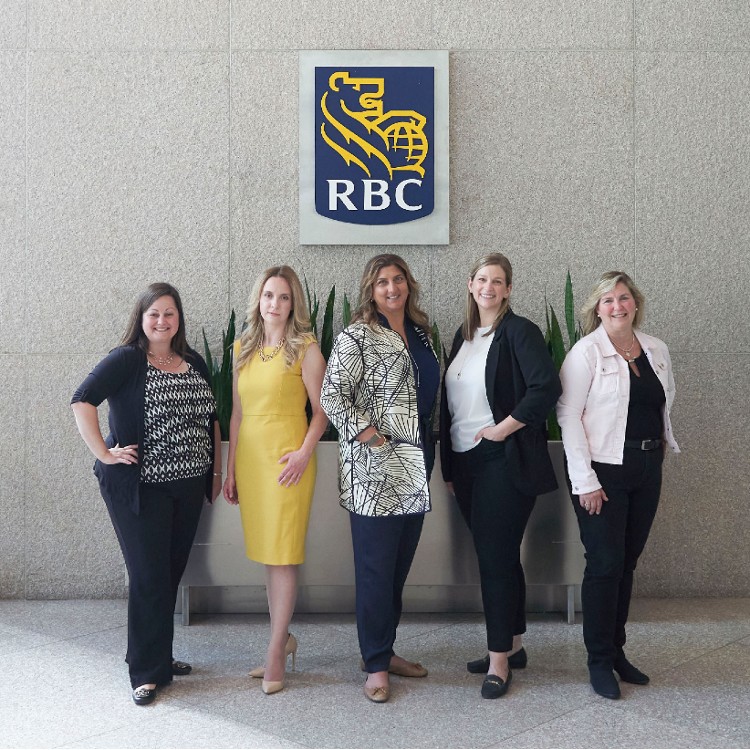 Left to right: Kim Cavicchia, Sharon Turner, Harleen Bains, Jennifer Barber, Sherry Coulter
Not pictured here: Patti Shugart and Tammi Lisson, Executive Co-Sponsors & Tina Jordanides, Elodie Uwurukundo, Ana Vignarajah
"Women United has brought together an incredibly diverse, vibrant community of visionaries and change-makers from every line of business at RBC," said Harleen. "The impact of the pandemic on women is undeniable, and we've seen how our support through Women United can make a tangible difference for organizations that are helping women who have been unable to achieve economic self-sufficiency."
While working to strengthen the broader community, Harleen is also dedicated to fostering inclusion within her workplace. "I'm guided by my belief that every employee should be able to see themselves in the fabric of our organization," she said. "Mentorship has always played an important role in my career and as a leader, it has become an invaluable channel to get fresh perspectives, ideas and insights that help drive our organization forward."
As Women United in the GTA faces new challenges, it's good to know that leaders like Harleen are bringing people together to support women in the workplace and out in community.
---