Areas of Expertise
The Charter School Finance Group is an extension of the firm's nationally leading K-12 facility financing practice and recognition that charter schools are now and will continue to be part of the educational fabric of this country. Serving charter schools is a critical component of our dedication to this sector and our clients needs.
Our team of charter school specialists works directly with schools and over 100 regional bankers to provide local market expertise throughout the United States.
Our key financing solutions for charter schools include:
Fixed Rate Tax-Exempt Bonds & Taxable Debt
Qualified Zone Academy Bonds
Qualified School Construction Bonds

K-12 Education
Our K-12 School District Finance Group offers customized financing solutions tailored to the specific financing needs of K-12 schools around the country.
Client Centered Financing Solutions
At RBC we understand from over 15 years of experience serving charter schools that the charter movement has been driven by innovation and focused efforts to expand student options and improve educational outcomes. No two charter schools are exactly alike which is why we employ a variety of structuring and distribution techniques to provide tailored financing solutions to our diverse charter school clients.
We craft debt solutions to meet our clients' programmatic and financial goals. This approach is reflected in the financing outcomes we secure for the clients that we serve.
Recent Transactions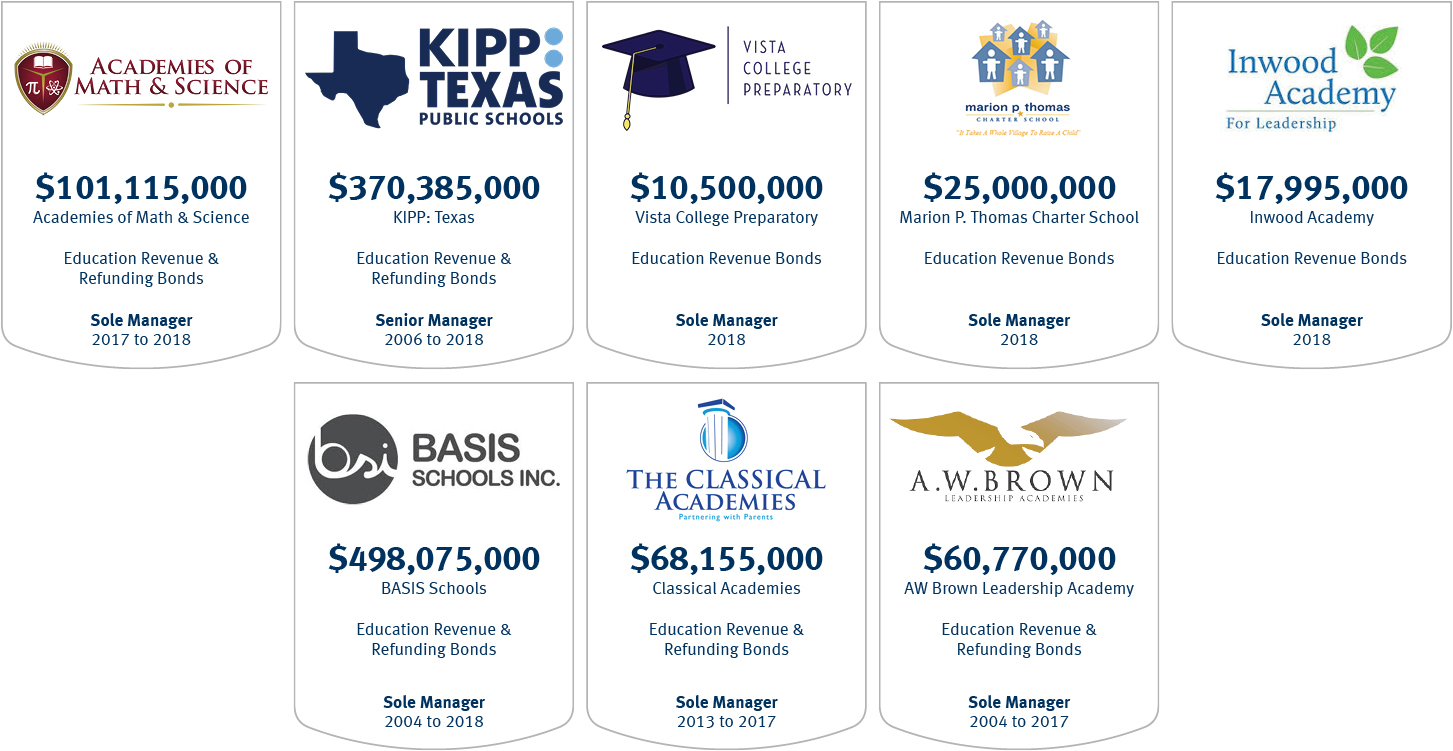 Legal
National Coverage
Managing Director & Sector Head
+1.602.381.5361
john.snider@rbccm.com
Mr. Snider joined RBCCM in 1989 and since that time has been involved with over $10 billion in municipal bond financings for a variety of cities, counties, special districts, charter schools, school districts, universities and state agencies. While Mr. Snider has a wide variety of experience, his primary area of expertise has been financing for K-12 education borrowers, including charter schools.
Mr. Snider heads RBC Capital Markets' Charter School Finance Group. Since 2000, RBC Capital Markets has financed in excess of 100 charter school projects for over 50 charter school organizations, securing over $1.5 billion for acquisition, construction, renovation, leasehold improvements, refinancing and related costs for charter schools. RBC Capital Markets' Charter School Finance Group has financed charter schools in multiple states, including Arizona, California, Florida, Illinois, Indiana, Massachusetts, New Jersey, North Carolina, Ohio and Texas. Mr. Snider has served as RBC's lead banker for Aspire Public Schools, BASIS Schools and Great Hearts Academies, among others.
Outside of the K-12 education area, high profile bond financings lead and completed by Mr. Snider include $350 million of research facilities for the University of Arizona and $450 million for the Arizona Sports and Tourism Authority's share of the home stadium of the NFL Arizona Cardinals and MLB spring training facilities.
Mr. Snider received his Bachelor's of Science degree in finance from Arizona State University, graduating summa cum laude, and his Masters in Business Administration from the University of Chicago.
Mr. Snider's community involvement includes sitting on several boards, including serving on the executive committees and as Board Chair of the Phoenix Boys Choir Association and Arizona School for the Arts, an excelling Arizona charter school, as well as being a member the board and advisory committee of the Arizona Charter School Association.
Bio
Regional Coverage
Managing Director
California
+1.213.362.4126
greg.dawley@rbccm.com
Greg Dawley is a Managing Director in the Los Angeles office & California Regional Municipal Manager for RBC Capital Markets.
Mr. Dawley has served over 23 years in the municipal finance and governmental industries. He focuses on a wide range of issuers throughout the Western Region, including those in the general government, utilities, public power, transportation, higher education and K-14 sectors.
Before his career in public finance, Mr. Dawley served as Assistant Chief of Staff to Los Angeles Mayor Richard Riordan. Previous firms include Morgan Stanley, Merrill Lynch, Banc One Capital Markets and J.P. Morgan Securities.
He is active in his community, serving on the Advisory Board of the Taubman Center at Harvard University's JFK School of Government.
Mr. Dawley graduated with an M.P.P. from the University of Southern California and a B.A. in Political Science from the University of Michigan.
Bio
Managing Director
Colorado & Florida
+1.303.595.1206
nate.eckloff@rbccm.com
Nate joined RBC Dain Rauscher in 2002. In his 30 years in the public finance profession Nate has assisted in the structuring, rating and marketing of over $16 billion in municipal bonds. His investment banking experience covers a wide range of Colorado, Florida, Wyoming and Nebraska issuers. These clients have issued a wide variety of tax-exempt and taxable municipal bonds including general obligation bonds, water and sewer revenue bonds, special assessment bonds, sales tax revenue bonds and lease purchase certificates of participation.
A considerable amount of Nate's public finance practice involves development related finance focused on funding improvements to enhance development through the use of special districts and re-development agencies. Special districts finance a wide variety of public infrastructure including water, sewer, streets, sidewalks, park and recreation facilities, storm water drainage and other public improvements. His special district financing includes:
Florida Development Districts:
Northern Palm Beach County Improvement District
Northern Riverwalk Community Development District
Portofino Isles Community Development District
Portofino Landings Community Development District
Creekside Community Development District
Riverpoint Community Development District
City of Port St. Lucie Special Assessment Districts:
Southwest Annexation
Tesoro
Glassman
River Place
Colorado Special Districts:
Sand Creek Metropolitan District
Rampart Range Metropolitan District
Larkridge Metropolitan District
Southwest Plaza Metropolitan District
Castlewood Water District
Greenwood Plaza Metropolitan District
Hyland Hills Park and Recreation District
North Jefferson County Park and Recreation District
Southtech Metropolitan District
South Denver Metropolitan District
Goldsmith Metropolitan District
Carbondale and Rural Fire Protection District
Mr. Eckloff is a past President of the Colorado Municipal Bond Dealers Association. He has spoken at numerous Public Finance conferences and seminars including the Bond Market Association Conference, the Colorado Government Finance Officers Association, the Florida Government Finance Officers Association, the Florida Bond Buyer's Conference and the Hawaiian Government Finance Officers Association.
Nate is a member of the Colorado Bar Association and an associate member of the National Association of Bond Lawyers and the government Finance Officers Association. Mr. Eckloff earned his Juris Doctorate and Master of Business Administration degrees from the University of Denver and his Bachelor of Science in Agricultural Economics form the University of Nebraska-Lincoln. His licenses include the Series 7, Series 8, Series 24, Series 52 and Series 53 FINRA licenses.
Bio
Director
Florida
+1.727.895.8871
julie.santamaria@rbccm.com
Julie Santamaria has been with RBC Capital Markets for 20 years and has been involved in financings for cities, counties, and other governmental entities throughout Florida totaling over $26 billion. Ms. Santamaria's recent experience with Florida governments includes Polk County, Hernando County, Sarasota County, Lee County, Venice, Davie, City of Sarasota, Cape Coral, Fort Myers, Tampa, West Palm Beach, Boynton Beach, Naples, and Titusville.
In addition to general government expertise, Julie Santamaria has extensive utility experience, having worked with clients on utility capital improvement plans, rate study design, special assessment methodology, water and sewer revenue bonds, utility assessment revenue bonds, SRF loans, and bank loans. Since 2003, Ms. Santamaria has completed 74 utility financings totaling over $3.8 billion.
Julie Santamaria earned a B.S. from the University of Florida and an M.B.A. from Stetson University. Her education includes study at Harvard University and Oxford University (England). Ms. Santamaria is a NASD Registered General Securities Representative, a Municipal Securities Principal, and a member of the Municipal Securities Rulemaking Board's Professional Qualifications Committee, which develops the tests for the licensing of municipal professionals.
Bio
Director
Northeast & Mid-Atlantic
+1.215.832.1518
Paul.Clancy@rbccm.com
Mr. Clancy is a Director in the Philadelphia Municipal Finance office of RBC Capital Markets and is an investment banker with the firm's Higher Education Finance Group and the Charter School Finance Group.
Mr. Clancy joined RBC Capital Markets in 2008 after having worked since 1998 as a regional investment banker and office manager for A.G. Edwards & Sons, Inc., Legg Mason Wood Walker, Inc., and Commerce Capital Markets. Mr. Clancy also worked as a financial advisor for six years with Fairmount Capital Advisors from 1992 through 1998.
Mr. Clancy is a member of the Finance Committee and Audit Committee of Neumann University (Aston, PA) and a member of the Investments Committee of Immaculata University (Chester County, PA).
As a registered securities representative, Mr. Clancy currently holds Series 7, Series 52, Series 65 and Series 67 securities licenses. He holds a BA from Lafayette College and a MBA from Villanova University.
Bio
Managing Director
Texas
+1.214.989.1750
clarence.grier@rbccm.com
Mr. Grier is a Managing Director in the Dallas Municipal Finance office of RBC Capital Markets.
Mr. Grier joined RBC Capital Markets in 1997. Mr. Grier has served as the investment banker or financial advisor to virtually every type of tax-exempt issuer, including: Arlington ISD, Austin ISD, A.W. Brown Academy Charter School, Carroll ISD, Dallas ISD, Faith Family Charter School, Fort Worth ISD, Golden Rule Charter School, Harris County, City of Houston, Houston Community College System, Irving ISD, Katy ISD, Little Elm ISD, Lone Star College System, Nova Academy Charter School, Pasadena ISD, Port of Houston, Port Arthur ISD, Rockwall ISD, San Jacinto Community College District, Texarkana ISD, Texas Public Finance Authority, Tyler ISD, Waco ISD, and Winfree Academy Charter School.
Mr. Grier has helped issue over $2.5 billion of tax-exempt and taxable financings and has extensive experience with refundings, cash flow analyses and optimization of reinvestment opportunities. In addition, he has helped organize research and credit analysis on various transactions for school districts, municipal clients and not-for-profit organizations that have resulted in rating upgrades.
Mr. Grier earned a BS, Magna Cum Laude, in Finance/Accounting and an MBA with a concentration in Finance from Florida A & M University - School of Business and Industry (SBI) and is a National Association of Securities Dealers registered securities representative, currently holding Series 7, Series 63 and Series 79 licenses.
Bio