Areas of Expertise
Our committed and experienced team of healthcare finance professionals have extensive expertise in the areas of investment banking, underwriting, credit and distribution.
Leading underwriter of tax-exempt healthcare bonds
Senior bankers with over 25 years of healthcare finance experience
Significant and recent experience providing first in class service and innovative solutions to numerous healthcare systems
Comprehensive corporate investment banking and research capability
Ability to provide balance sheet products and derivative solutions from a stable and highly-rated counterparty
Broad distribution platform reaching all investor segments
Recent Transactions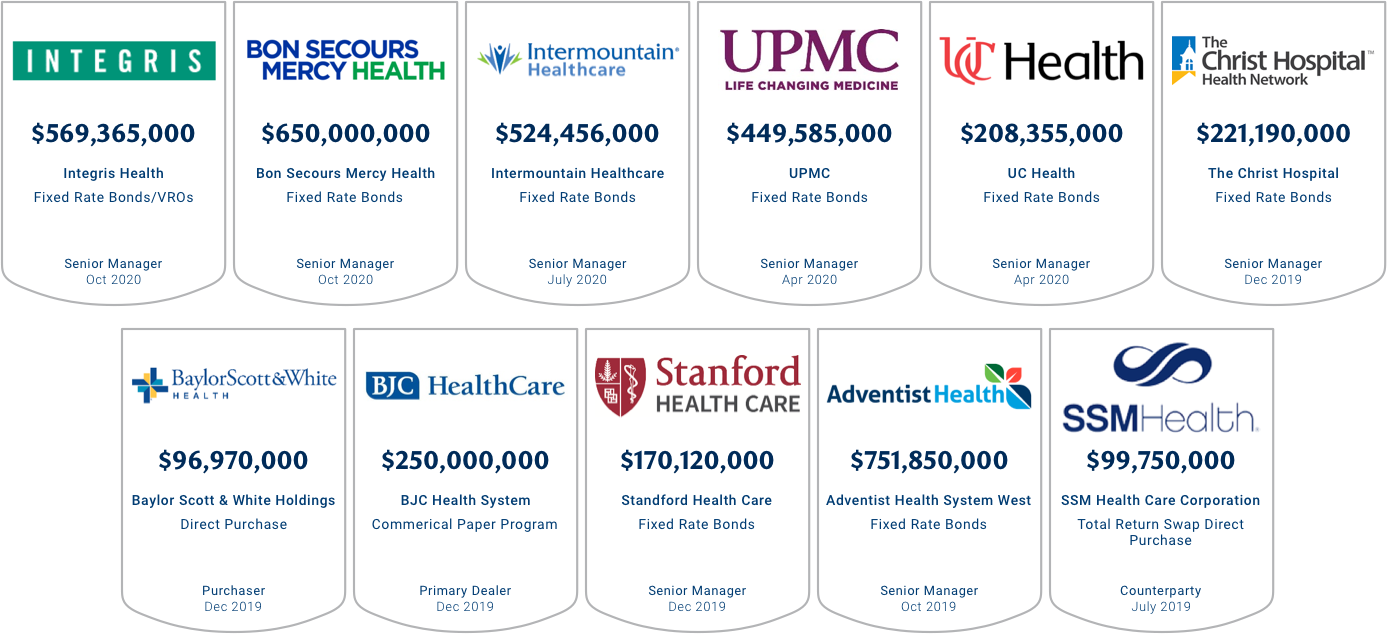 Adrian Balderrama
Head of Healthcare
Managing Director
+1.602.381.5367
Mr. Balderrama is the Head of RBC Capital Markets' Not-For-Profit Healthcare Investment Banking group. He has over 15 years of banking experience with the majority of his career being focused in healthcare finance. His primary role includes leadership of the national healthcare team, accessing the municipal and corporate bond markets, rating agency and investor communication, and various advisory functions to support his client base. He works closely with a wide variety of health systems ranging from large multi-state health systems, children's hospitals, and regional health organizations.
Prior to joining RBC Capital Markets, Mr. Balderrama Co-Managed Wells Fargo Securities Not-For-Profit Healthcare Investment banking practice. Under Mr. Balderrama's time at Wells Fargo, the team doubled their market share to become a Top 5 lead manager of transactions. Notable clients include Kaiser Permanente, Dignity Health, Mercy Health (OH), SSM Health, and Intermountain Health, among others.
Mr. Balderrama works closely with several Not-For-Profit charity organizations and was a past board member of the Phoenix Boys and Girls Club of America. He holds a Bachelor of Science in Finance from the University of Arizona.
Jerry Berg
Managing Director
Illinois
+1.312.559.1649
Mr. Berg joined RBC in 2012 after having worked at Morgan Stanley for five years. Prior to Morgan Stanley, Mr. Berg spent 18 years with UBS/PaineWebber, beginning as an associate in New York and progressing to Managing Director responsible for Healthcare Banking in the Mid-West region in the Chicago office.
Mr. Berg has worked for a mix of clients including academic medical centers, multi-state systems, regional tertiary care facilities, community hospitals and specialty children's hospitals. He has completed financings across the project and credit spectrum from self-liquidity variable rate demand bond financings for "AA" health systems to replacement hospital financings for "BBB" community hospitals. He has strategic experience involving joint operating agreements and full-asset mergers for acute care hospitals as well as merger and acquisition activity involving provider sponsored managed care companies. Mr. Berg's client relationships include: Saint Luke's Health System (MO), BJC HealthCare (MO), Fairview Health Services (MN), Covenant Health (MI), ProHealth Care (WI), Mercy Medical Center (IA), Southern Illinois Healthcare (IL) and Lakeland Health System (MI).
Mr. Berg earned a B.S. degree from Southern Illinois University and an M.B.A. degree and a Certificate from the Sloan Program in Health Services Administration from Cornell University. Mr. Berg is a Certified Public Accountant (CPA).
Teri Hartman
Managing Director
Georgia
+1.404.260.4873
Teri has over 30 years of experience in healthcare investment banking, for the most part in Atlanta, serving multi-state, single state, super-regional health systems, academic medical centers and children's health systems.
Teri is joining us from Barclays where she was a Managing Director and Co-Head of its Not-For-Profit Healthcare Banking group. Prior to Barclays, Teri was a Managing Director and Head of the Southeast Not-For-Profit Healthcare Banking group at Citigroup. A graduate of Duke University, Teri started her investment banking career at Bankers Trust. Teri holds Series 7, 52, 53, 63, 79 and SIE licenses.
Outside of work Teri keeps herself busy as a board member of Children's Healthcare of Atlanta, the Boys and Girls Clubs of Metro Atlanta, the Rotary Club of Downtown Atlanta, and Healthcare Georgia Foundation.
Jeff Appel
Director
Massachusetts
+1.617.725.1753
Mr. Appel is a Director within RBCCM's Healthcare Finance Group and has been involved in over $3 billion of healthcare financings since he joined RBCCM in 2002. Mr. Appel has worked with some of the Nation's leading academic medical centers such as UPMC, BJC HealthCare and Fairview Health Services. He recently worked directly with BJC HealthCare on their $500 capital funding program that included the use of self-liquidity backed Windows variable rate bonds, long-term fixed rate bonds and privately placed floating rate notes. He is well versed on the use of self-liquidity backed structures and best practices regarding self-liquidity disclosure. In addition, he worked directly with UPMC as senior managing book-runner for their $550 million tax-exempt and taxable fixed rate bond offerings.
Over the course of his career, Mr. Appel has been involved in a variety of healthcare financings, including complex fixed and floating rate bond structures, interest rate derivative and forward structures and other unique financing alternatives. Mr. Appel has structured and executed innovative transactions for a number of RBCCM healthcare clients including Memorial Hermann Healthcare System (TX), Saint Luke's Health System (MO), The Christ Hospital (OH) and the Texas Medical Center, among others.
He received a B.A. degree from the University of Colorado, Leeds School of Business with a major in Finance and has passed Level I of the CFA examination. He currently holds his FINRA Series 7, 63, and 65 licenses.
Jenn Ewing
Director
New York
+1.212.301.1435
Jenn Ewing Joined RBC Capital Markets in 2018 as a Vice President on the Not-for-Profit Healthcare Investment Banking team to provide support on credit strategy with rating agencies and investors. She has a broad experience in healthcare spanning over 20 years. Prior to joining RBC, Jenn held a similar position at Wells Fargo Securities, where she helped position hospitals and health systems to obtain and maintain optimal ratings and strong investor reception. Prior to this role, Jenn was a member of Moody's Healthcare Ratings team as lead analyst responsible for rating not-for-profit hospitals and health systems across the US and authoring multiple publications including Moody's 2015 Not-For-Profit Healthcare Rating Methodology. Prior to Moody's, Jenn was a physical therapist and served as a regional manager in Manhattan for numerous outpatient physical therapy clinics for HealthSouth and Sports Physical Therapy of New York, PC. She received her B.S. from Duke University, M.P.T. from Emory University, and M.P.A. from the Wagner School of Public Service at New York University specializing in public finance.
Safi Najdawi
Director
Pennsylvania
+1.610.729.3655
Mr. Najdawi is a Director within RBC Capital Markets' Not-for-Profit Healthcare Investment Banking group. He has over 11 years of investment banking experience in the sector. His primary role includes debt capital markets advisory within the tax-exempt municipal and corporate taxable bond markets. In addition to his primary function in debt capital markets advisory, Mr. Najdawi's expertise includes financial statement and debt capacity analysis, merger and acquisition evaluations, and the coordination of investor dialogues, on a transactional or on-going basis, from marketing through final sale.
Prior to joining RBC Capital Markets, Mr. Najdawi spent 11 years at Wells Fargo Securities, most recently as a Director within the Not-for-Profit Healthcare Investment Banking practice.
Prior to his time at Wells Fargo Securities, Mr. Najdawi was employed at leading software provider, SAP, at the company's U.S. Headquarters. A graduate of Villanova University, he competed on the nationally-ranked NCAA Division 1 Lacrosse team. He holds FINRA Series 7, 63, 79 licenses.