Fast Facts: Higher Education Finance Group
Dedicated higher education coverage nationwide
Perennially a top-ranked higher education lead manager
of negotiated issues
Ability to provide credit and liquidity facilities, direct purchases and derivative products directly from a stable and highly rated counterparty
Specialists in select product areas, including privatized student housing, asset monetization, and mergers and acquisitions
Areas of Expertise
We are a leading underwriter to the sector. Our core capabilities include traditional general receipts revenue bonds, certificates of participation, auxiliary revenue bonds and project based financings. Additionally, our team was instrumental in developing the privatized student housing financing model currently being used throughout the industry.
Investment Banking
Corporate IG Bond Underwriting
Tax-Exempt Bond Underwriting (U.S.)
Private Placements
Corporate Banking and Syndicated Credit
Derivative Structuring and Strategies
P3 and Asset Monetization
Public-Private Partnerships
Privatized Student Housing
Asset Sale and Sale-Leaseback Strategies
Advisory and M&A
Debt portfolio structure and liquidity strategies
Quantitative Analysis
Affiliation advisor to higher education institutions seeking partnerships
Strategic advisor to bondholders of distressed higher education institutions
Solicitation of Equity Capital
Comprehensive Distribution Capabilities
RBC's higher education clients also benefit from an extensive securities distribution network that provides access to a broad base of taxable and tax-exempt investors for college and university credits. This includes a geographically diverse institutional sales force, a New York-based short-term market group and an extensive retail sales force. Our extensive platform is complemented by a full suite of in-house municipal products and related services, including:
Liquidity facilities and LOC's for variable rate demand bonds
Tax-exempt direct purchases
Investment and cash management solutions
Academic medical center specialists
Term loans, revolving lines of credit and bridge loans
Comprehensive menu of derivative products
Privatized student housing and asset monetization specialists
Full-service commodity sales and trading platform
ESG: Powering sustainable business models in Higher Education
Public and Not-for-profit (NFP) universities and colleges are turning to the bond market to support business model growth in the age of low interest rates. But sustainable bonds also offer new opportunities to meet investor demand, and environmental and social commitments, for ESG-conscious institutions.
Privatized Higher Education
Our Privatized Higher Education Finance Group provides comprehensive financing solutions through public-private partnerships for our college and university clients and their non-profit, development and management partners for a wide variety of capital projects, including student housing, dining, parking and other auxiliary facilities, using an array of taxable and tax-exempt debt structures, as well as various equity options.
Recent Transactions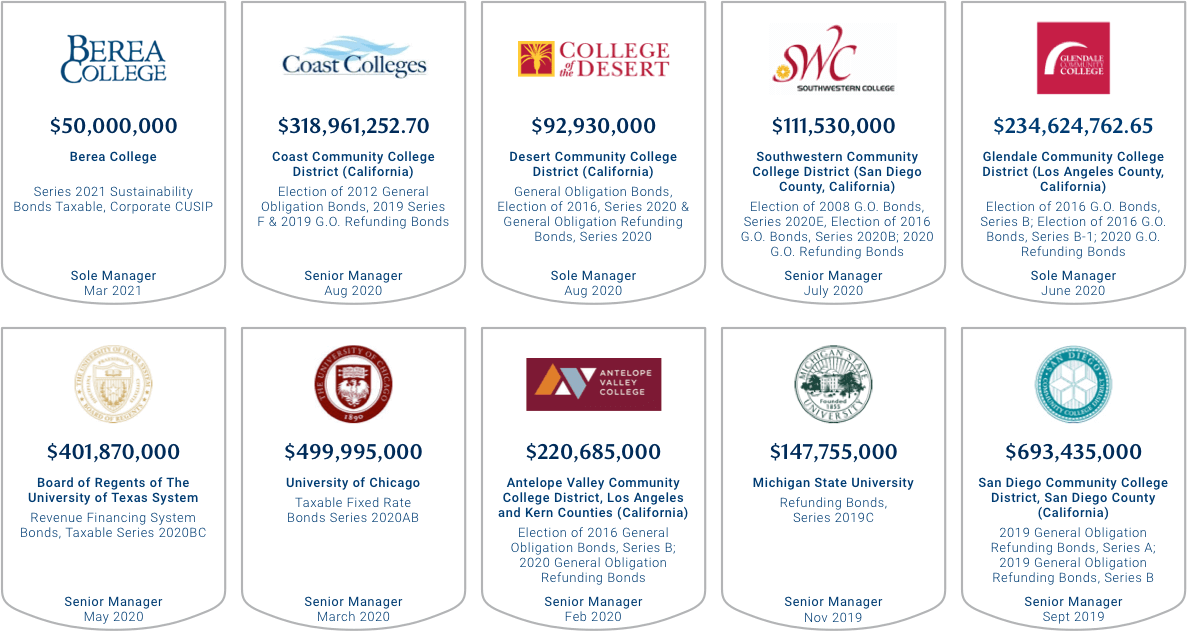 Disclaimer