Housing Finance Expertise
Our Housing Finance Group is a key specialty group within our Municipal Markets platform and serves as senior, co-manager, or financial advisor to 33 state Housing Finance Agencies (HFA) and numerous local HFAs. In addition, we work with many public housing authorities and affordable housing developers nationwide, and have one of the largest dedicated teams of full-time bankers covering single and multifamily housing.
The depth and experience of our team allows us to provide each of our Housing Finance Agency clients with the highest level of coverage while benefitting from the collective experience of our broad client base. Our philosophy is to provide substantial professional resources and a complete menu of banking services while building long-term regional relationships.

RBC Community Investments
RBC Community Investments provides equity capital by utilizing the Low Income Housing Tax Credit, various State Housing Tax Credit and Historic Tax Credit programs.
Areas of Expertise
Market leadership in PAC distribution
Innovative bond structures such as the tax exempt pass-through bond transactions
Specifically tailored debt structuring solutions based on in depth programmatic and cash flow knowledge
Full capability to provide cash flow and yield compliance analyses
Integrated balance sheet solutions (liquidity and swap pairing)
Multifamily structuring and investing
Tax credit equity syndication capabilities
Structuring and underwriting of bond offerings and refundings
Open and closed indenture financings
Credit and derivative products
Mortgage warehousing lines for state HFAs
Agency (FHA/GNMA, FNMA, FHLMC & FHLB) bond executions
Tax credit equity
Single and Multifamily Housing
As of July 2022, RBC is a leading underwriter of negotiated single family offerings and a leading underwriter of housing overall. From 2013 to 2019, we were the #1 ranked underwriter of negotiated single family offerings, with over $21 billion of senior managed business. Over the same time period, RBC was ranked top 3 on a combined single family and multifamily basis by both number of issues and par amount, senior managing over one fifth of all housing bond transactions.
Collective Senior-Managed Par Amount for Issuers Since 8/31/19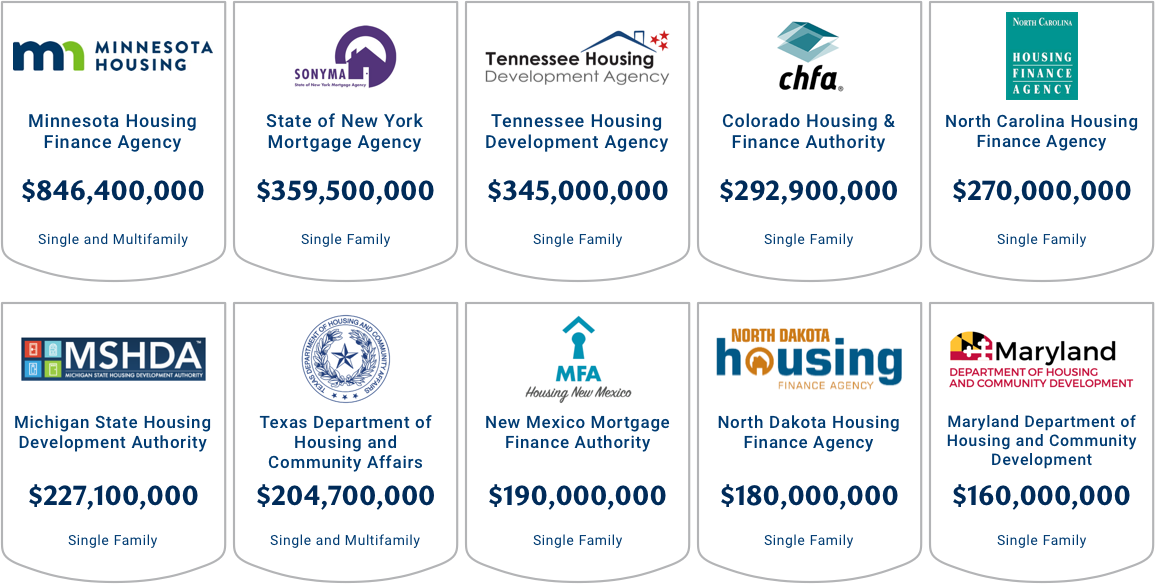 Disclaimer