Areas of Expertise
Our student loan transaction experience encompasses a complete range of interim and term debt structures:
FFELP loans, private loans and mixed collateral trusts

Taxable, tax-exempt and combined
Single-class and multi-class credit structures

Fixed-rate, variable rate, floating rate and synthetic rate structures
On-balance sheet and ABCP conduit warehouses, provided directly through RBC

Tax-exempt and taxable direct bond purchases
Private Loan Experience
RBC's student loan banking team has developed a well-earned reputation for working closely with organizations with established private loan programs, as well as developing new programs and bringing to market inaugural transactions for first-time private loan issuers. Our methodical approach to debt structuring and rigorous analytical framework facilitates discovery of the most efficient debt structures and advantageous interest rates for our clients' programs.
Business Highlights
Although education loan finance was established as a specialty practice at RBC in 1996, the members of our team actually trace their roots in the student loan finance industry back to the late 1970's, providing a depth of experience that is unrivaled in the industry. The firm's core student loan group maintains a particular focus on supporting state agency and nonprofit student loan organizations.
RBC has consistently been among the top three underwriters of student loan-backed debt for state agency and nonprofit issuers since it established student loan finance as a specialty practice in 1996. Among firms who remain active in the sector, we are the top-ranked underwriter of nonprofit and state agency student loan-backed debt during the past five years (2011 through 2015 inclusive). RBC is also among the top-ranked lead managers when for-profit student loan sector activities are included, capturing the #1 overall ranking in both 2013 and 2014.
Recent Transactions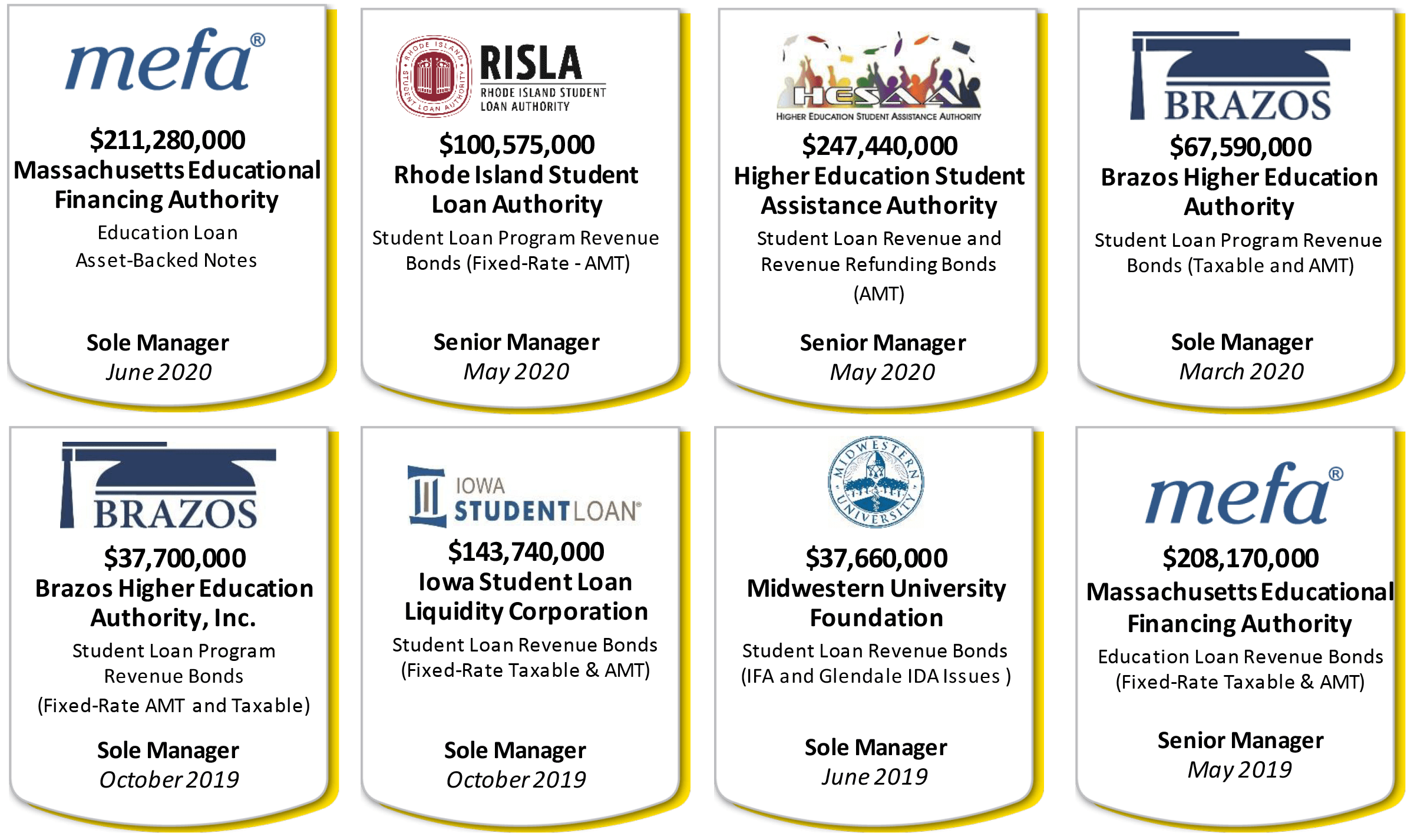 In addition to the organizations shown above, RBC is frequently tapped by the largest and most frequent for-profit student loan-backed debt issuers to provide lending facilities and to senior manage their debt transactions, including Navient (Federal and Private loans), Sallie Mae Bank (Private loans) and Nelnet (Federal loans).
Legal
Managing Director & Sector Head
+1.602.381.5369
Jeffrey.Wagner@rbc.com
Mr. Wagner is a Managing Director in the Municipal Finance Group of RBC Capital Markets, LLC and divides his time between the firm's offices in Phoenix and Los Angeles. He has primary coverage responsibility for the firm's student loan clients, as well as for several colleges and universities in California.
Mr. Wagner began his investment banking career in New York in 1986 when he joined the public finance department of Manufacturers Hanover Securities Corporation as a quantitative analyst. After spending six years at "Manny Hanny", he joined PaineWebber in 1992 as one of four founding members of its New York-based education loan finance team. He spent four years at PaineWebber before departing in 1996 for an opportunity to launch a national education loan finance practice for one of RBC Capital Markets' predecessor firms. By 2007 he had grown this effort from a two-person team in Phoenix to 13 professionals in three different offices. The firm's education loan finance practice remains one of the most productive and well-respected practices of its kind, and consistently ranks as the most active lead managers.
He has completed over $48 billion in financings on behalf of 35 separate organizations since 1986, including state agencies, nonprofit organizations and private colleges and universities, and is responsible for introducing numerous new financing products, debt structuring techniques and computer modeling innovations. His current clients include the Utah State Board of Regents, Minnesota Office of Higher Education, Pennsylvania Higher Education Assistance Agency, Midwestern University, New Hampshire Higher Education Loan Corporation, Alaska Student Loan Corporation and NorthStar Education Finance.
An active participant in higher education finance industry trade groups, such as the Education Finance Council (EFC), the National Association of College and University Business Officers (NACUBO) and the Western Association of College and University Business Officers (WACUBO), Mr. Wagner is a well-known municipal finance industry veteran. He is often called upon to speak at industry conferences, issuer and investor seminars, client board meetings and other industry-related events.
Mr. Wagner is a registered securities representative, currently holding Series 7 and Series 63 licenses, and holds a B.S. in Business Administration from the State University of New York at Albany, with concentrations in Finance and Management Information Systems, and an M.B.A. in Finance from Columbia University's Graduate School of Business.
Bio
Director
+1.212.618.2221
hing.loi@rbccm.com
Hing joined RBC Capital Markets in New York in 2011 as a senior quantitative banker for our state housing agencies and student loan clients, following a 21 year career at Citi where he was the senior quantitative banker in their student loan group for over a decade, and was the lead banker for multiple accounts. Prior to that, he provided banking services to both state housing agencies and student loan agencies at Citi. Before joining RBC, Hing co-found Fynanz, Inc. (now known as LendKey) a private student loan startup, and served as its Chief Financial Officer and Chief Risk Officer for 2 ½ years, where he underwrote and originated over $60 million of private student loans. To date, Mr. Loi has structured over $150 billion in taxable and tax-exempt debt financings. Mr. Loi holds an Executive M.B.A. from Fordham School of Business, graduating with the highest academic honor, and a BA degree in Computer Science from Columbia University with a three year completion.
Bio
Director
+1.212.618.5647
gary.wolf@rbccm.com
Mr. Wolf, a Director in the New York Municipal Finance office of RBC Capital Markets, specializes in the quantitative analysis of public and structured finance.
Mr. Wolf began working in the public finance industry in 1978 and joined RBC Capital Markets in 2006. As head of Paine Webber's analytics group, he helped build that firm's student loan finance practice, created its proprietary student loan software, and engineered financings and refundings for housing, public power, general obligation, convention center, resource recovery, and other projects. In 1984 he moved to Manufacturers Hanover (later Chemical Securities), where he again headed the Public Finance Department's analytics group. Among other significant contributions to structured financings for federal, state, foreign, and local issuers, he advised the US Department of Agriculture on the first-ever securitization of federal direct loans.
In 1995 Mr. Wolf moved from investment banking to the software industry. At Trepp LLC and its successors, and later at subsidiaries of GMAC Commercial Mortgage, he collaborated on the design and development of enterprise software for originating and underwriting commercial mortgages. His integrated Excel- based underwriting models were used by large mortgage lenders in three countries.
At RBC Capital Markets, he is responsible for the analytics on some of the Department's most mathematically complex transactions. He has structured billions of dollars in new bond issues, developed optimization models for refunding bond selection, and managed the analytics supporting the workout of failed Auction Rate Securities. He also conducts the new analyst training program.
Mr. Wolf holds a B.S. in mathematics from Tulane University. He is currently registered with the Financial Industry Regulatory Authority, Inc. with a Series 7 license.
Bio