Areas of Expertise
Our student loan experts provide student lenders and debt issuers a comprehensive menu of products and services, including:
Loan program design and modification services

Loan portfolio and enterprise valuation services

Letters of credit and liquidity facilities
Temporary warehouse facilities for ongoing loan origination programs

Interest rate protection agreements

Permanent financing solutions
Strategic advisory services

Bond proceeds reinvestment solutions
Private Loan Experience
RBC's student loan banking team has developed a well-earned reputation for working closely with organizations with established private loan programs, as well as developing new programs and bringing to market inaugural transactions for first-time private loan issuers. Our methodical approach to debt structuring and rigorous analytical framework facilitates discovery of the most efficient debt structures and advantageous interest rates for our clients' programs.
Business Highlights
Although education loan finance was established as a specialty practice at RBC in 1996, the members of our team actually trace their roots in the student loan finance industry back to the late 1970's, providing a depth of experience that is unrivaled in the industry. The firm's core student loan group maintains a particular focus on supporting state agency and nonprofit student loan organizations.
RBC has consistently been among the top three underwriters of student loan-backed debt for state agency and nonprofit issuers since it established student loan finance as a specialty practice in 1996. Among firms who remain active in the sector, we are the top-ranked underwriter of nonprofit and state agency student loan-backed debt during the past five years (2011 through 2015 inclusive). RBC is also among the top-ranked lead managers when for-profit student loan sector activities are included, capturing the #1 overall ranking in both 2013 and 2014.
Recent Transactions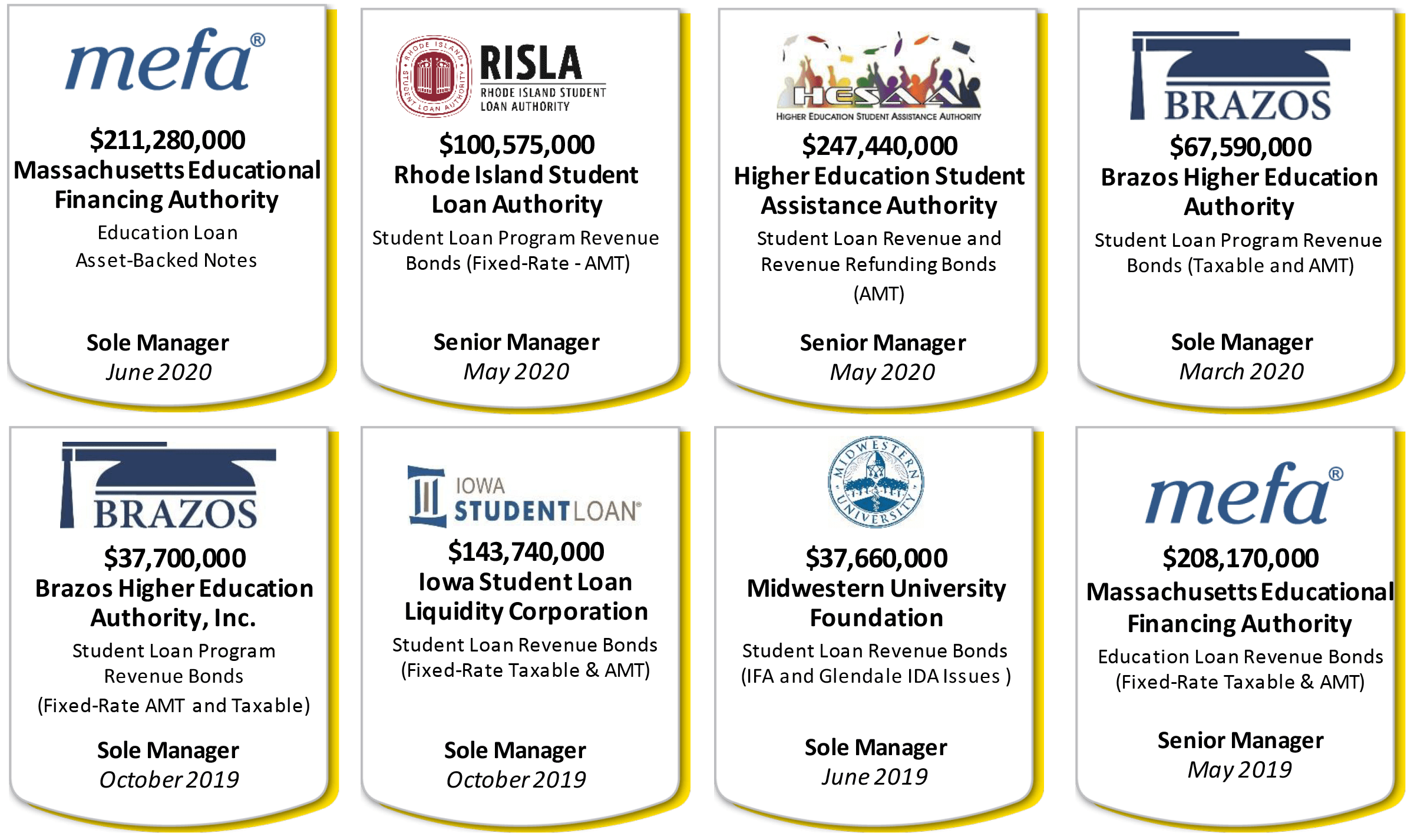 In addition to the organizations shown above, RBC is frequently tapped by the largest and most frequent for-profit student loan-backed debt issuers to provide lending facilities and to senior manage their debt transactions, including Navient (Federal and Private loans), Sallie Mae Bank (Private loans) and Nelnet (Federal loans).
Legal