Areas of Expertise
Our student loan experts provide student lenders and debt issuers a comprehensive menu of products and services, including:
Loan program design and modification services

Loan portfolio and enterprise valuation services

Letters of credit and liquidity facilities
Temporary warehouse facilities for ongoing loan origination programs

Interest rate protection agreements

Permanent financing solutions
Strategic advisory services

Bond proceeds reinvestment solutions
The Nonprofit Sector Market Leader
Our student loan practice has an enduring reputation, earned over decades, for delivering best in class products, services and financing solutions to state agency and nonprofit student loan organizations. As evidence of the trust our clients have placed in us over the years, RBC is the #1 ranked underwriter for nonprofit and state agency private student loan debt issues since the beginning of 2017, with approximately $4.6 billion of senior managed issues for 23 different issuers and a 71.4% market share.
Nonprofit & State Agency Lead Manager Rankings
Private Student Loan & Private Refinancing Loan Issues Only
January 1, 2017 through July 7, 2022 (1)(2)(3)
Manager
Par Amount ($ millions)
Rank
Mkt. Share (%)
No of Issues
RBC Capital Markets
$4,561.06
1
71.4%
34
Bank of America
1,763.01
2
27.6%
28
PNC Capital Markets
64.10
3
1.0%
1
Industry Total
$6,388.17
100.0%
63
(1) Source: Bloomberg and RBC Capital Markets
(2) Negotiated issues only, full credit to Senior Manager; and
(3) Includes all municipal and corporate CUSIP Nonprofit and State Agency private student loan transactions
A Trusted and Experienced Financial Partner
Education loan finance was established as a specialty practice at RBC in 1996, yet the senior members of our Student Loan Group trace their roots in the sector to its formative years, from the late 1970s to mid-1980s. Phoenix-based group head Jeff Wagner, a 35-year industry veteran, along with New York-based Paul Sheldon (40 years), Gary Wolf (44 years) Hing Loi (34 years), and Brian Kares (13 years) represent the most experienced collection of student loan specialists assembled by any firm.
Our student loan financing activities are supported by one of the best capitalized, highest rated and most respected financial institutions in the world. Founded in 1864, RBC is one of North America's leading financial services companies, and among the largest and safest banks in the world. With over $1.4 trillion in assets and 89,000 employees worldwide, RBC serves 17+ million individual, corporate and governmental clients through offices in the U.S., Canada and 34 other countries. The strength RBC's balance sheet and durability of its long-term ratings ("Aa1"/"AA-"/"AA") provides our clients with a trusted financial partner they can depend on—not withstanding prevailing economic conditions.
Recent Transactions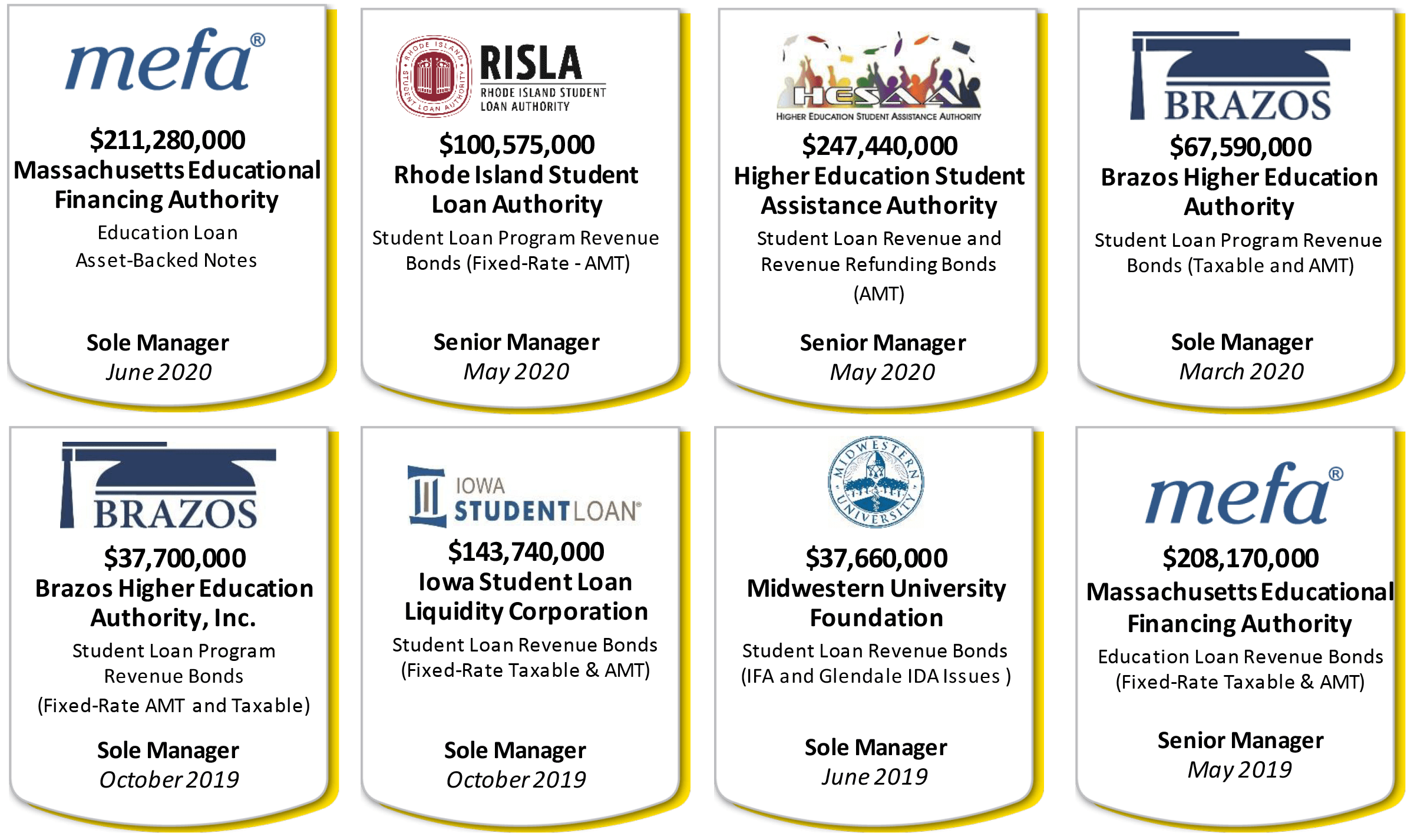 In addition to the organizations shown above, RBC is frequently tapped by the largest and most frequent for-profit student loan-backed debt issuers to provide lending facilities and to senior manage their debt transactions, including Navient (Federal and Private loans), Sallie Mae Bank (Private loans) and Nelnet (Federal loans).