Areas of Expertise
Our Transportation team has been on the cutting edge of structuring and marketing a wide variety of transportation revenue bonds, including developing innovative financing structures, sophisticated cash flow financial models, and working with the rating agencies, investors, financial advisors, banks, legal counsels, bond insurers, and other stakeholders to devise advantageous financing solutions for the benefit of the clients we serve.
The RBC Capital Market's Transportation team has experience with transportation bonds backed by a wide variety of revenue sources.
Airport
General Revenue Bonds (GARBs)
Customer Facility Charge (CFC)
Passenger Facility Charge (PFC)
Fuel Revenues
DOTs
Motor Vehicle Fuel Tax
Other Excise Taxes and Fees
State Appropriations
GARVEEs
General Obligation
Toll Facilities
Toll Revenues
Availability Payments
Private Activity Bonds
Specialized Loans
Mass Transit
Sales Tax
Grant Anticipation Notes
Farebox
Section 5307/5309
Notable Transactions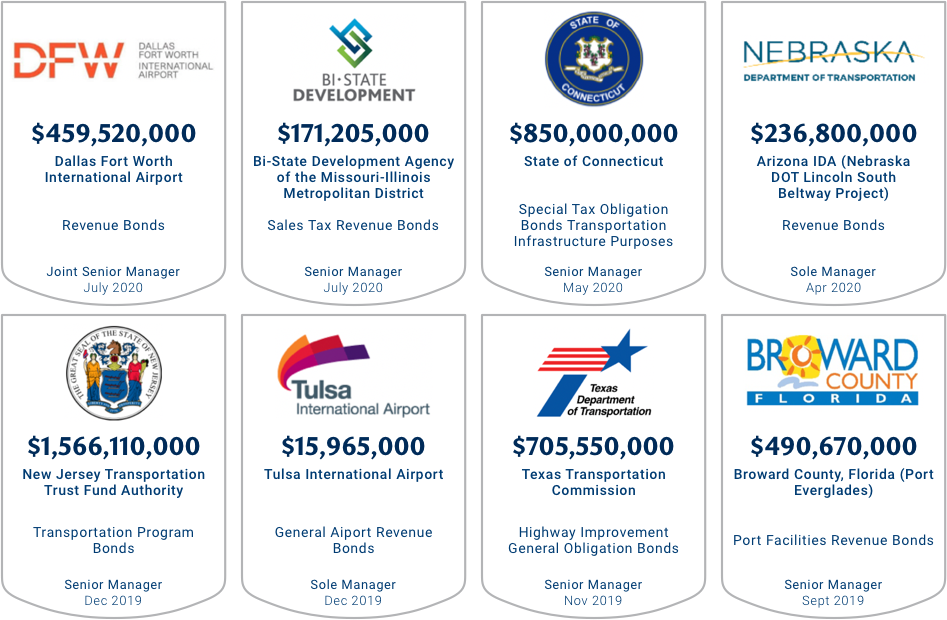 Disclaimer
Managing Director & Sector Co-Head
New York
+1.212.618.2215
Andrew.Mendelson@rbccm.com
Andrew Mendelson is a Director in the Municipal Finance Group at RBC Capital Markets and is Co-Head of Municipal Transportation Finance. He specializes in project finance with expertise and experience including:
P3 transportation financings for both greenfield and brownfield projects representing both the private and public sectors as financial advisor and financer (tax-exempt, private-activity, and taxable bonds; bank facilities);
Tax-exempt and taxable municipal banking for transportation and large governmental issuers; specializing in user fee (toll road and mass transit), transportation revenue (sales tax, gas tax) and P3 (demand risk and availability payment) financings; and
Particular expertise with Federal programs such as TIFIA.
Public-Private Partnership Experience

Selection of Senior Managed Underwriting, Financing, and Advisory Mandates

---

LAX Automated People Mover
LAX Consolidated Rental Car Facility
Maryland Purple Line Light Rail
Port Newark Container Terminal TIFIA Loan
Colorado Central 70
Georgia I-285 & SR 400 Reconstruction
Florida I-4 Ultimate Express Lanes
Pennsylvania Rapid Bridge Replacement
Ohio Portsmouth Bypass
Goethals Bridge Replacement
Indiana East End Crossing / Ohio River Bridges
Virginia I-95 Express Lanes
Northwest Parkway, Denver, CO
Missouri DOT Safe & Sound Bridge Program
Tampa East-West Road
Indiana Toll Road

Municipal Finance
Experience

Selection of Senior Managed Underwriting, Financing, and Advisory Mandates

---

Metropolitan Washington Airports Authority
Texas Department of Transportation
Pennsylvania Turnpike
New Jersey Turnpike
Illinois Tollway
New York State Thruway
Miami-Dade Expressway
New Jersey Transportation Trust Fund
Connecticut Special Tax Obligation Infrastructure
Puerto Rico Highways / Infrastructure Financing Authority GO-Backstop Dedicated Tax Fund BANs
Puerto Rico General Obligation Bonds
St. Louis Metro
Clark County, Nevada Highways
Tampa International Airport
North Texas Tollway Authority
Andrew focuses on complex debt strategies and financial structuring / engineering for transportation infrastructure projects nationwide. He has led the development and structuring of multiple new indentures for large bonding programs and worked through rating agency and investor education processes for the related new credits.
Andrew holds an A.B. in Economics (Suma Cum Laude/Phi Beta Kappa) and a B.S. in Systems Science and Engineering (Magna Cum Laude/Tau Beta Pi), both from Washington University in St. Louis, as well as a MBA with specializations in Finance and Management (Stern Scholar/Beta Gamma Sigma) from New York University Stern School of Business.