1. Capital allocation and deal-finance
The amount of cash on corporate balance sheets took a slight dip last year from 2017 levels, but it still remains high, at about $1.7 trillion at the end of Q4 2019.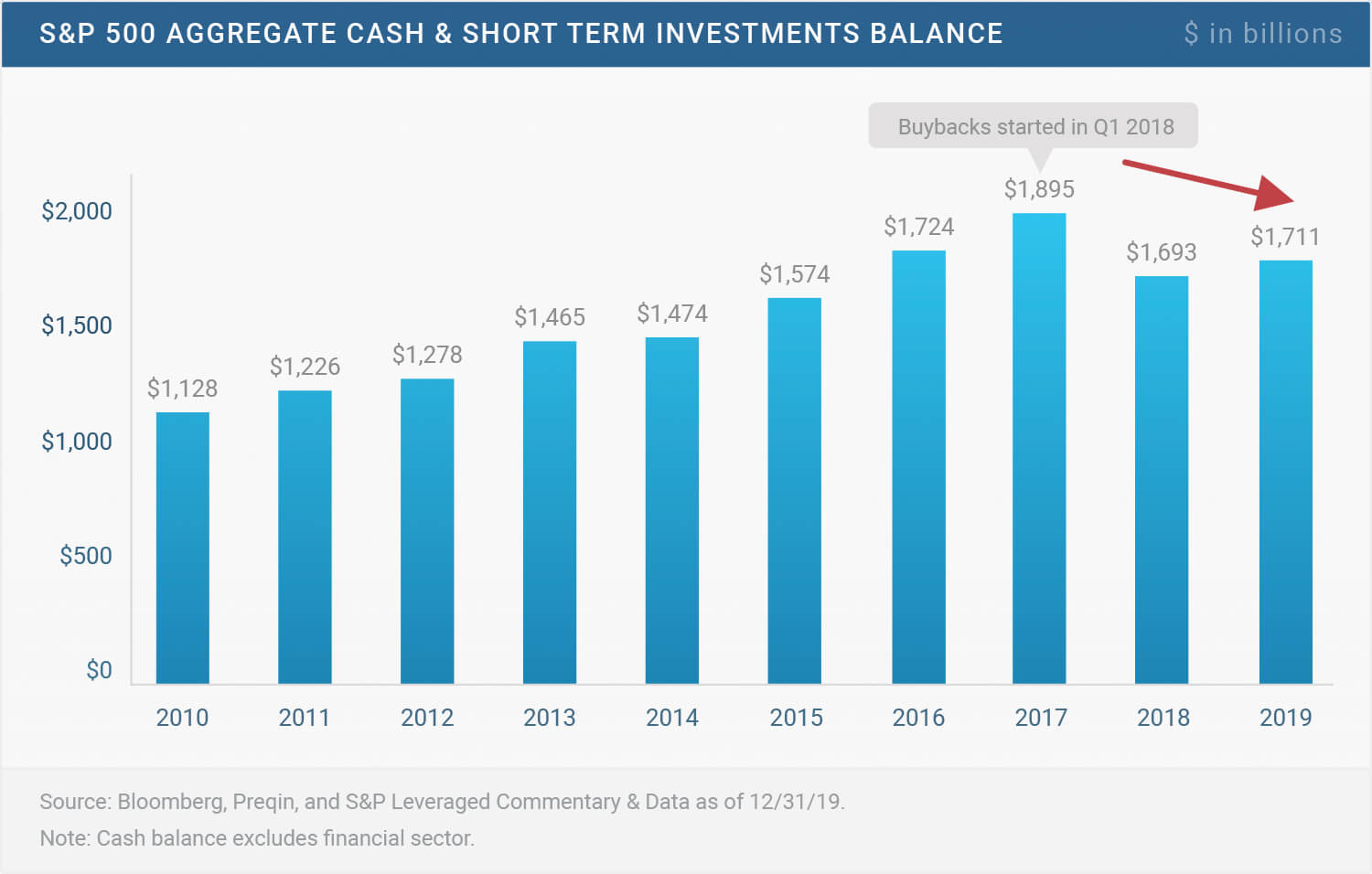 Post-outbreak, many companies are focusing on their balance sheets. One of the unfortunate by-products for a company of losing a lot of EBITDA quickly, is that leverage ratios can go up very quickly. Management teams are also focused on liquidity, and in some extreme cases, solvency.
But M&A is still important because it is fundamentally a capital-allocation decision. Boards can compare it to standalone investments or returning cash to shareholders. It may require a higher burden of proof, but it can also be a source of synergies that cushion a company through a crisis.
In terms of financing deals, last year many companies looked at their stock valuations and prioritized using that as currency – 64% of the consideration in transactions was stock versus cash, compared to a 55% historical trend level.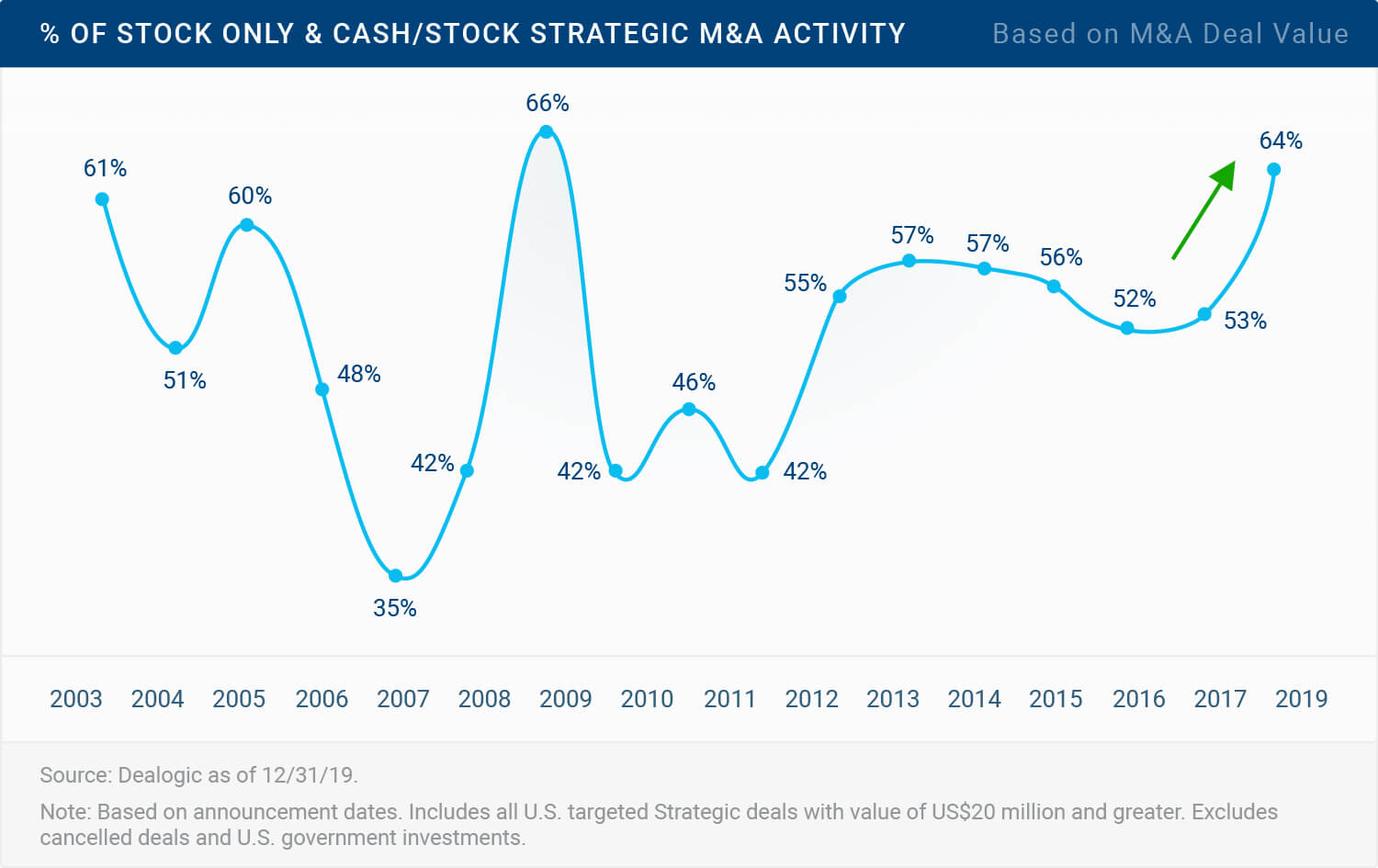 Going forward, companies negotiating all-stock deals may be somewhat less affected. Values may be trading down, but so long as they're in line, it shouldn't impact negotiations that are anchored around relative ownership levels. While there are still some unknowns on a forward-looking basis, it can make sense to lock-in now at a relative value.
However, the market movement does create an issue for deals involving cash. If deals are being priced at lower levels, the selling board may have a psychological hesitation to accept that given the market so recently had a better tone to it before the coronavirus outbreak.
We have seen some cash-related deals recently, with Pepsi writing a $3.85bn check to acquire Rockstar and Veritas spending $5 billion to buy a business out of DXC. However we expect to see this type of activity decrease in the near-term.
It will be challenging to execute any leveraged finance deal, when spreads are tricky, even as the base risk-free rates come down.
Deals that involve raising equity capital in the public markets will be extremely difficult to price while this level of volatility continues and we expect to see fewer deals like this unless the coronavirus outbreak beings to subside.
"One of the unfortunate by-products for a company of losing a lot of EBITDA quickly, is that leverage ratios can go up very quickly."
- Larry Grafstein
2. The activist playbook may change
We talk to our clients about being ready for activists at all times. The recent indiscriminate dislocation of stock markets may present corporates with the risk of an intensified activist campaign.
However, activists are fundamentally value investors. Sometimes they go short, and make the case publicly, but mostly they're looking for things they view as under-valued. In this period of triage for corporates, the interests of activists are very aligned with the interests of management, which is to keep the stock price up.
It will be interesting to see how activists behave in a more difficult market, because historically that has not been the best environment for them. It is possible that activists will become less aggressive over the next year as companies need to regain stability and scale, rather than, say, splitting-up to achieve the greatest value. Also, with stock buybacks being out of favor, activists have one less tool to recommend during their campaigns.
Our advice to corporates remains the same. Take the advice of activists seriously because no-one has a monopoly on wisdom, but at the same time, pursue the path that's best for your company from a fiduciary perspective.
"The negative impact on stock prices from coronavirus may additionally present risks of an intensified shareholder activist campaign."
- Larry Grafstein
3. Tech-driven convergence continues to disrupt
Longer term, M&A is ultimately driven by companies trying to improve their competitive position. Whatever the macro backdrop, it will not stop the clock on the secular trends that are disrupting many industries. Companies have to continue to respond.
A predominant trend today is convergence between industries. In order to adapt, companies have to add technologies.
The themes highlighted in RBC's Imagine 2025 Report around AI, Machine Learning and Big Data affect every industry. For example, the automobile sector faces the impact of the 'internet of things' and autonomous vehicles. These are the tectonic plates that drive M&A.
When it comes to technology investment, one trend we're seeing is that companies are choosing to acquire technology solutions versus building them in-house. Partly this is for speed, plus it's a proven commodity and there's also a greater cultural acceptance of technology that's 'not invented here'.
One of the factors that gives greater confidence in deal-making is that companies understand their customers in greater detail than they ever have before. Much of that comes from data, and it gives greater predictability of how each customer is going to perform and their lifetime value.
4. Expect more Merger of Equals
Last year, RBC advised in two of the largest Mergers of Equals (MoEs) of all time – BB&T/SunTrust and UTX/Raytheon. There's a sentiment that these types of deals are better prepared to succeed in the longer-term because it's two companies coming together. There's a blending of cultures, bringing together management teams and picking the best of each side. We're seeing more discussions of this front.
Specifically, we expect to see more in the energy sector. Valuations have been beaten down and companies need to gain greater efficiencies and critical mass.
Antitrust can be a concern but the structure of relative valuation is de-risking. Participants are not writing large cash checks to take someone out at the top of the market.
Culture issues are critical because MoEs are all about execution since companies are not getting the premium up front.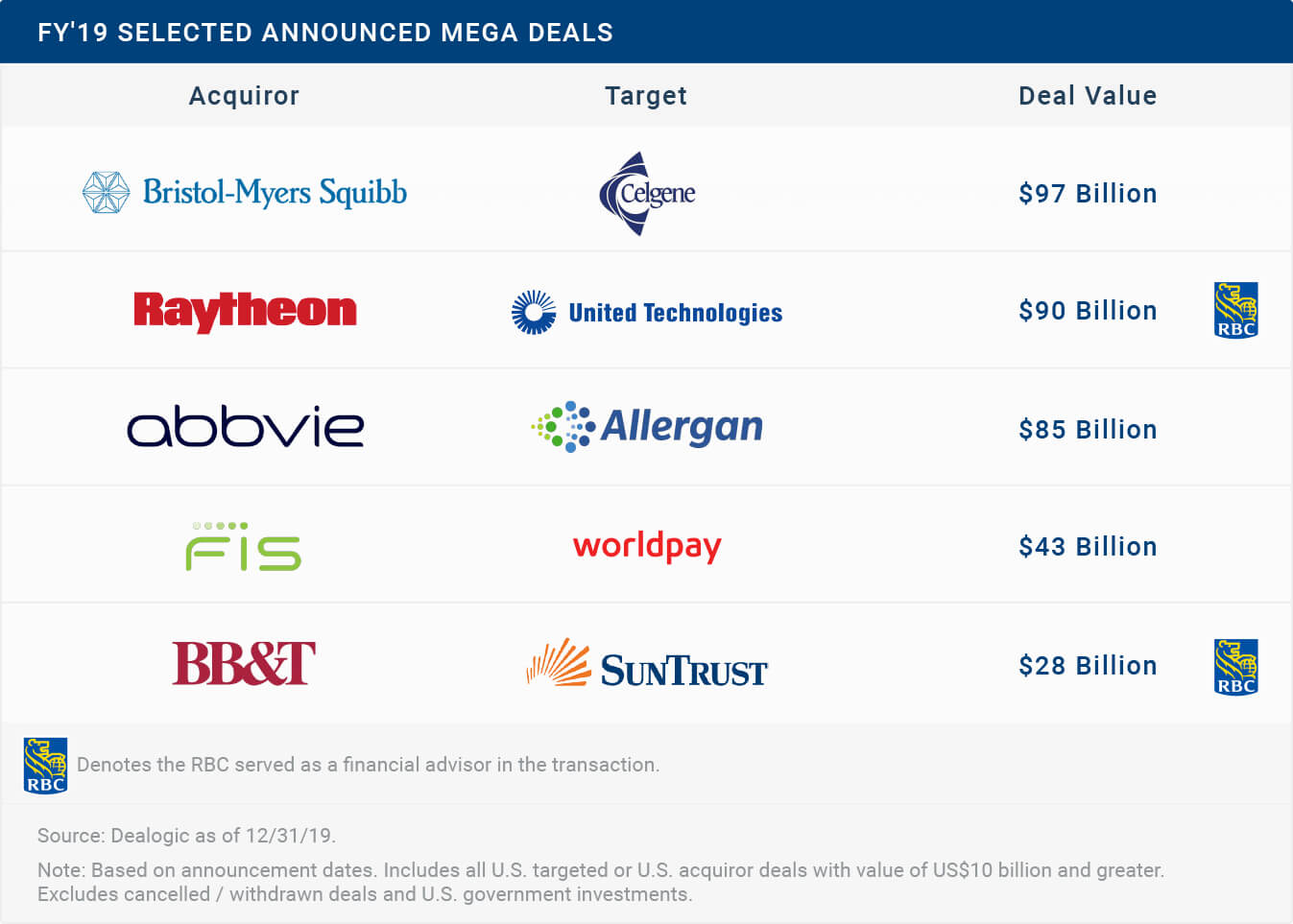 Updated April 6, 2020