Short-term sector impact
The first brunt of coronavirus impact was felt by sectors unable to deliver their services, whether it be hotels, airlines, travel or leisure companies. Beyond cutting back capacity and furloughing some employees, they're also focused on liquidity and starting to talk with their banks.
Any company with exposure to a supply chain in China has faced significant challenges, particularly in sectors like pharma that are heavily dependent on manufacturing there. We're now seeing some better news from China with supply coming back on quicker than expected but it will still take time to return to previous productivity levels.
One factor that is unique to this market break is that the consumer sector is usually a defensive sector. However, the very sudden drop in consumer activity makes this much less of a safe haven.
Oil and Energy
Oil and gas companies have faced an overnight price decline of approximately 30% in crude oil and since the crisis broke many major companies have lost 60% or more of their equity value.
Reduced economic activity could create widespread declines in demand for energy, and supply overages are already apparent.
Energy companies have faced market pressure for some time and last year we saw some Acquisition and Divestiture (A&D) asset allocation activity.
This is another tough blow to a sector that has been under pressure and it could raise further capital structure strains in some companies.
We would have expected to see more mergers in the sector, and we were starting to see some early this year, but many are now stuck on the side-lines.
"Given the widespread decline in demand for energy, when the economy comes back on line we're likely to see significant supply overages. This will lead to ongoing issues for the sector.""
- Vito Sperduto
The challenges of distressed M&A
While M&A can sometimes provide a cushion against insolvency because of the extra financial capacity produced by synergies, it can be difficult to pull off for a number of reasons:
Even though boards in all-equity deals are only negotiating relative values, there's the psychological hurdle of having directors and investors agree to transact at materially lower stock price levels.
Boards may have a tough time projecting the company's own business and may be even less familiar with the outlook of the business into which it is merging.
Differing capital structures and balance sheet variations can complicate alignment of interests.
However, necessity is the mother of invention and in sectors like energy, boards are going to have to consider many variations of reconfigurations, recapitalizations and mergers.
Longer Term: Technology will lead M&A
Post-outbreak, technology is going to continue to be one of the most active sectors from an M&A perspective.
The largest private equity funds raised last year were focused on the technology sector. Some of the tech-focused funds, or just purely software focused funds, have really driven the day – specifically look at what private equity firms Thoma Bravo and Vista Equity have done to date.
Technology also features prominently as an M&A driver in sectors beyond pure tech. Much of our intellectual work with clients involves convergence among industries, most always accelerated by technological developments that require evolution of business models.
Coronavirus impact on the economy and the lockdown conditions may serve as a spur to innovation and rethinking of many businesses.
Industrials: expect more divestitures
Many global manufacturers with facilities in Asia, especially in China, will be coping with triage arising out of the coronavirus. This could lead to a pause in transaction activity in certain corners of the industrial sector.
Longer term, many in the sector will be considering building greater resilience and diversification into their supply chain, but that will take time.
Beyond this, technology and specifically industry convergence will continue to impact the industrial sector.
Divestiture of non-core assets will be a major theme for industrials and indeed across other sectors, but there is naturally a timing issue as to when to expect these types of value-enhancing sales to resume.
Some companies may need to ramp up asset sales to bolster liquidity and balance sheet metrics but most will not want to commence a divestiture process until market conditions and valuation ranges settle. Recent changes in corporate tax rates suggest that sales are more competitive with tax-free spin-off than was previously the case.
Once the current market environment stabilizes, and capital structures are solidified, we can anticipate an uptick in spin outs or splits of businesses. If equity values stall for a significant period of time, corporates will need to find ways to unlock and create value for shareholders.
They need to be forward leaning on this before they're pressured by activist investors, subject always to ensuring that both the parent and the spin out company have sufficient financial capacity to last through a recessionary cycle.
"Global manufacturers with facilities in China will be focused short-term on coronavirus triage. This could pause deal activity"
- Larry Grafstein
Continued strength in 'bite-sized' transactions
Larger deals are what get the headlines and drive sentiment, and the US market has primarily driven this type of deal activity. Over 70% of the large deals last year were in the US market, whereas it only accounts for 50% of global volume overall.
However, the M&A market is fundamentally driven by transactions in the mid-size, $1bn-$5bn range. Looking back over the last 10 years, the volume of deals in this band has been very consistent.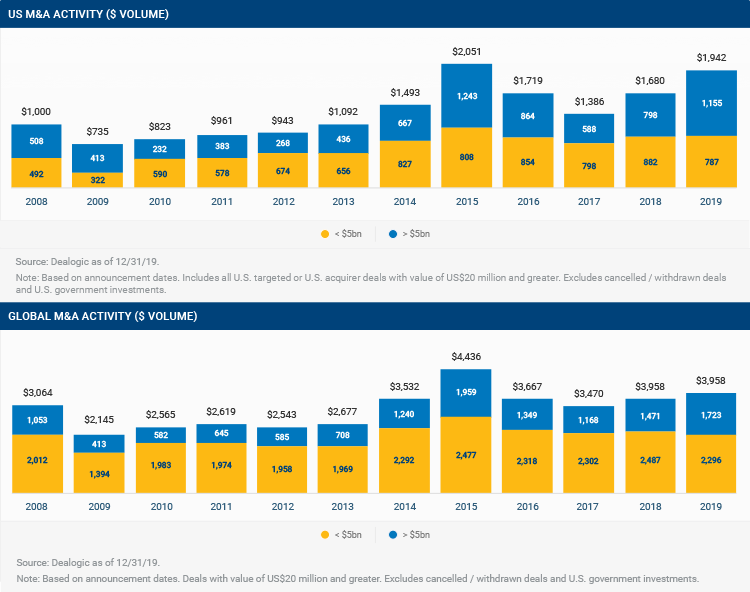 They're bite-sized deals for corporates and for private equity firms and we expect continued strength in this band.
While activity will clearly decelerate during the worst moments of our global public health challenge, history suggests that these types of deals rebound once we pass through the bottom.
Updated April 6, 2020