The hurdles for M&A
Black swan events like COVID-19 ('coronavirus') can always upend deal dynamics. Specifically, we see a number of hurdles impeding current deal activity:
Internal Focus: Corporates are rightly prioritizing employee welfare and operational management issues such as minimizing supply-chain and customer disruption.
Liquidity: Beyond the short-term adjustments, there will be a focus on balance sheets. In an environment like this, it's important to conserve capital.
Volatility: Volatility around valuations makes it harder to get negotiated deals over the finish line.
Logistics: There are challenges in conducting live meetings, due diligence and site visits, as well as the broader overseas-travel bans.
Projections: It is extremely difficult in this environment for corporates to adjust their forward outlooks. It's hard for a corporate to launch a strategic transaction if they don't know where their business is going, let alone the market.
However, there has been some very significant M&A activity, including the $36 billion Aon-Willis/Towers Watson merger.
In general, existing M&A processes that are less impacted by the market are proceeding forward. But deals for targets in industries meaningfully impacted are getting delayed as both buyers and sellers assess the ultimate impact on financial performance.
Sellers that are contemplating starting a new process are debating whether to launch in this environment and, if able, are delaying kick-off as they look for signs of market stability.
As some buyers are tempted to exert pricing pressure due to market conditions, sellers are exercising their own leverage due to concerns around financing and closing certainty.
"Existing M&A processes that are less impacted by the market are proceeding forward. However, deals for targets in industries meaningfully impacted by coronavirus are getting delayed."
- Vito Sperduto
Timing (and the US Election)
We previously forecast a pause in deal activity as we approached the US election season. It's possible the outbreak will eclipse this, but it's likely to be a hotly contested debate. There are many significant policy differences between the parties in areas like taxation, antitrust and the overall regulatory environment.
It's difficult to provide boards with a view on sensitivities around their forward outlooks if they're factoring in the length of a downturn, what might happen if corporate taxes go up 10%, or the dislocation in the oil market continues.
The election hiatus might create a window in the second half of 2020 to crystalize deals that don't have long approval processes and that companies want to get done before the year-end.
We definitely see demand for deals, it's just a question of where that gets pushed out to. There are a lot of strong conditions on the side-lines, whether it's cash available to do transactions or assets that people have been looking to divest. As soon as there's some settling, we think the M&A markets may potentially lead activity rather than the equity markets.
Historically, it's worth observing that often some of the best deals get done after a period of volatility but before the economy fully recovers. Those deals tend to have the most strategic logic and impact.
The impact for corporate boards
Beyond the challenge of financing deals [see our 4 Driving Forces] corporate boards will likely face a number of coronavirus-related challenges.
Supply Chain
In a just-in-time inventory world, there are significant challenges around supply chain disruption.
Longer term, this could lead to a rethinking of dependence on China for certain key inputs, and a focus on building greater resilience in supply chains rather than just greater efficiency.
Activist Investors
The indiscriminate dislocation of stock markets may trigger greater activism.
However, in this period of triage, the interests of activists are very aligned with the interests of management, which is to keep the stock price up.
It is also possible that activists become less aggressive over the next year as companies need to regain stability and scale, rather than, say, splitting up for the greatest value.
"We definitely see demand for deals, it's just a question of where that gets pushed out to."
- Vito Sperduto
The impact for private equity
While market breaks can theoretically make targets cheaper for private equity, the fluctuations can also make sellers hesitant to agree to transactions.
Over the last year, for deals over $100m, more than 60% of sellers agreed to deals that priced their shares above or at a discount of no more than 10% of their 52-week highs.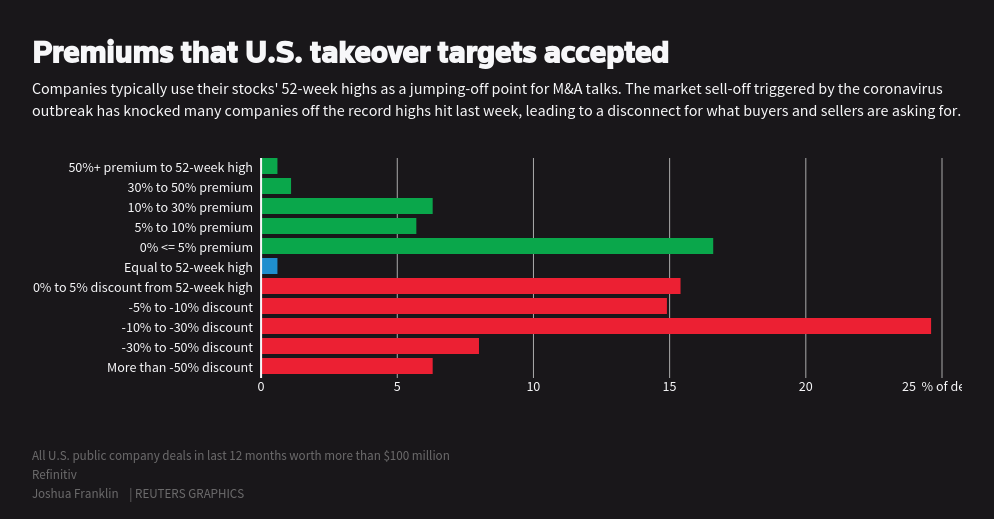 source
On the buy-side, the outbreak can lead to extra nervousness about the impact of a global slowdown on the earnings of a target company, particularly as it is difficult to predict second-order effects. Buyers must consider if a cheaper deal is a good deal, or are they just trying to catch a falling-knife?
Conditions in the leveraged finance markets, obviously unsettled by the coronavirus, will also affect the ability of private equity firms to deploy their considerable dry powder (though they continue to look at structured opportunities such as Private Investment in Public Equity, or PIPEs, that do not rely on the debt markets).
But in terms of alternatives, the one potential exit of taking a company public is certainly closed right now.
Sector impacts
Coronavirus is impacting deals in directly affected sectors such as travel, entertainment, leisure, and even certain consumer sub-segments such as alcoholic beverages and restaurants.
Industrials
Many global manufacturers with facilities in Asia, especially in China, will be coping with triage arising out of the coronavirus. This could lead to a pause in transaction activity in certain corners of the industrial sector.
Energy
Oil and commodity prices have fallen dramatically in expectation of a downward bias in economic activity.
Energy companies have faced market pressure for some time and last year we saw some Acquisition and Divestiture (A&D) asset allocation activity.
This is another tough blow to a sector that has been under pressure and it could raise further capital structure strains in certain companies if there's a prolonged downturn in oil and natural gas prices.
A time for trusted relationships
Over many decades, and through difficult markets like this, RBC has been very supportive of our corporate and sponsor clients.
We stand ready to help people and we're busier than ever fielding phone calls about these things because now is the time when relationships really matter.
Updated March 26, 2020