By Richard Chamberlain
Published April 20, 2023 | 2 min read
---
Gross margin outlook – challenging near term, looking better for H2 2023/H1 2024
RBC believes that the lagged effect of USD strength versus the GBP and the EUR will be a headwind for apparel retailers near term. However, the GBP and the EUR have strengthened versus the USD since October. As a result, RBC expects FX to be a gross margin tailwind for retailers heading into 2024, and that lower freight rates should also become a material tailwind for the sector later this year. It notes freight rates made up c.3-4% of a typical apparel retailer's COGS pre-pandemic but were a much higher proportion (c.6-7%) in 2022.
Raw material costs overall have stabilized
RBC notes that raw materials are generally one of the larger components of garment manufacturing cost (on average c.40%), so their prices are key. Although cotton prices remain above pre-pandemic levels, they have fallen significantly over the past 9 months while polyester prices remain relatively stable. Lumber prices (important for in the home improvement space) fell for much of 2022 and although they have risen year to date, they remain well below the early 2022 peak.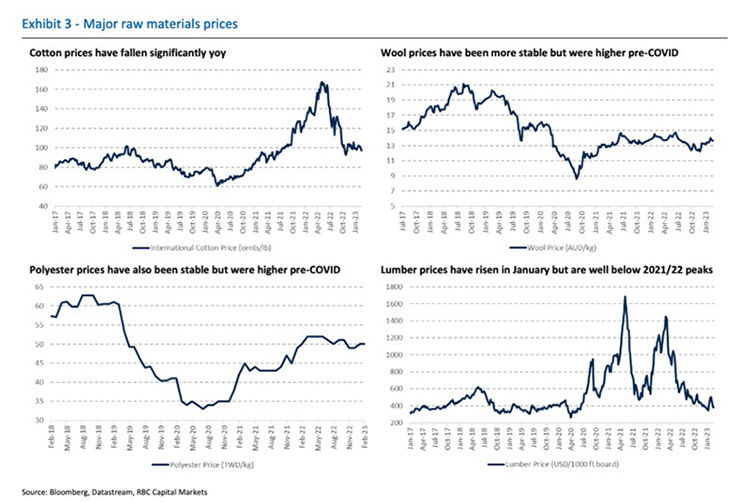 Freight becoming a material tailwind
Labour is the second major component of garment production cost (c.30%). Although there have been some extra admin costs for suppliers, in recent years minimum wages in Asia have been more stable compared to a few years ago. RBC argues that pressure from unions in key sourcing regions (e.g. Bangladesh) may result in wage inflation across 2023, with some regions (e.g. Vietnam, Cambodia) having already raised wages for this year. Over the last two decades, retail supply chains have been shifting towards Asia, first into China and then other regions (e.g. Bangladesh, Cambodia) due to lower labour costs. Now, given USD and wage pressures, RBC expects another switch to cheaper areas in existing markets and to more near-shoring to improve speed to market.
Opex outlook
RBC notes that high minimum wage inflation has been a significant pressure in recent years in various markets, most notably the UK, the US and France. The UK's tight labour market is beginning to ease now, it adds, with more people entering the workforce and some redundancies. Meanwhile, the rental market remains favourable for retailers, given weaker occupier demand for retail space as well as increased risk of tenant failure, with relatively high levels of vacancy. Finally, RBC remarks that energy costs tend to be only a small proportion of operating costs for the average retailer, at c.1-2% of sales, although they are more relevant for certain retailers, therefore worth monitoring.