By Richard Chamberlain
Published 0, 0000 | 2 min read
---
Industry data points remain positive in Travel
According to Sacha, recovery should continue with ongoing pent-up demand. For instance, Amadeus' gross air bookings YTD have shown a stronger trend.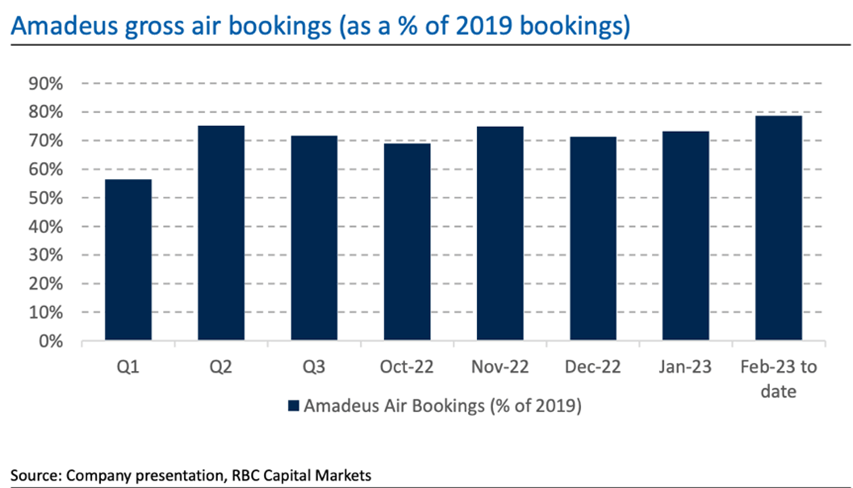 Business and first-class travel is strong with consumers spending more on premium experiences, from destinations to products to hotels. ChangeGroup's CEO thinks there is likely a permanent change in business travel in that the 'minor' or 'in-between' meetings are no longer taking place in-person, as these have transitioned to virtual. However, the need for physical meetings to 'seal the deal' or 'open up the deal' remains important.
Another supportive factor for the sector is China short haul travel, which is recovering rapidly following the easing of restrictions (though admittedly bouncing back from a low base). However, international/long haul is yet to follow.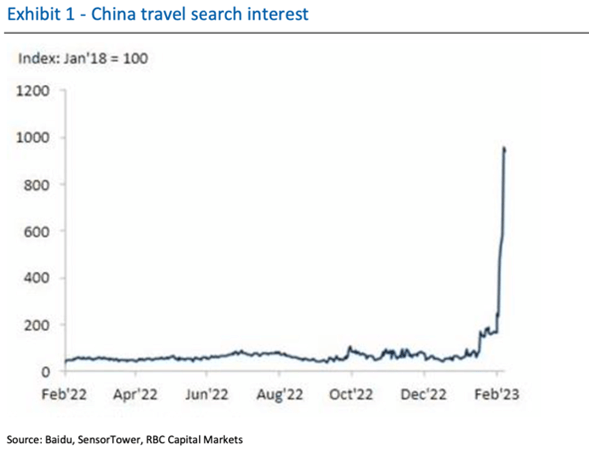 RBC has not identified any trading down yet in the sector, though this may come along later due to cost-of-living pressures amid rising inflation. Overall, RBC thinks higher spend per passenger and improving passenger numbers is supportive of a positive stance on travel retailers.
Experiential retail more popular
Although physical retail remains in trouble, Sacha notes that consumers are willing to pay a premium for 'experiential retail' with increased investment taking place in airports and in luxury retail destinations, to enhance the look and feel of the shopping experience. Furthermore, amid increased globalization, consumers are looking for authentic, local experiences and therfore retailers are increasingly offering a "sense of place" approach to travel retail (such as localized gifts consumers can share on social media). As for cash usage for leisure travellers, it remains the most popular method for spending. Sacha points to data suggesting that 67% of UK consumers travelling in 2022 took cash, which can be helpful for travellers to manage their budgets while away.
Travel retailers embracing technology
Tech is exploding in every sector (eg facial recognition, customer profiling, data mining and analysis) and also influencing in-store advertising with digital displays. Another interesting trend in travel retail is self-scan checkouts, which should help to offset labour cost pressures. To help drive the growth in retail tech, Sacha thinks travel businesses need to invest more in people with appropriate skillsets and should consider significant capex investment. There has been a general shortage of lower grade workers but there is also shortage of the high quality, skilled people needed to meet demand in the sector, he argues.