Delivered by a customized app, the iconic Royal Parks Half, presented by Royal Bank of Canada, rolled out a unique race-day experience using digital integrations. Runners across the world were able to #RunGreen and celebrate green spaces whilst experiencing the atmosphere of race day in the comfort of their local surroundings.
To recreate the event day experience, organizers incorporated an online warm-up led by professional dancer and fitness trainer, Karen Hauer, before Eddie Izzard got the race got underway at 9 a.m. GMT. Audio cues were played to runners at each mile of the course by celebrity names such as Ore Oduba, Victoria Pendleton, Jenni Falconer, Andi Peters, Sophie Raworth, Selasi Gbormittah, Paul Tonkinson and Rob Deering.
Inspiring runners share their personal stories
Through the adversity witnessed over the last year due to the COVID-19 pandemic, race organizers put out a call to hear from countless inspiring individuals for this year's Inspire campaign, sponsored by Royal Bank of Canada.
The most inspirational runners included heartbroken loved ones, struggling youth and cancer survivors who shared their reasons for hitting the pavement and fundraising for charities close to their hearts.
Shreeraj Laturia, from Canary Wharf, has raised over £5,000 for Royal London Hospital, in honour of his wife and baby daughter, who both died in a tragic accident. Laturia, an employee at RBC Capital Martkets, told race organisers: "Running helps me reach a meditative state. I have kept up with running three to four times a week throughout the lockdown and I think it has helped me escape depression."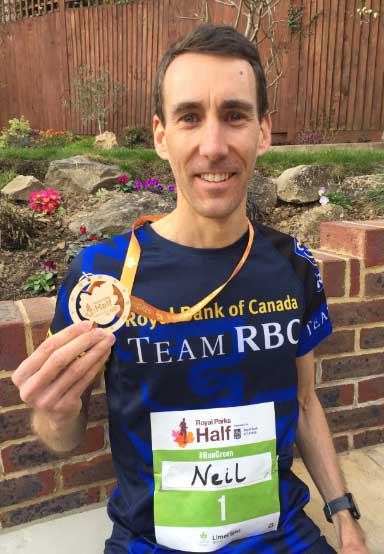 Neil McClements was the fasted registered runner with a running time of 01:13:12.
Amongst the thousands of runners, more than 125 were RBC employees and clients, who crossed the line in support of charities dear to them. RBC has been Presenting Partner of the race since 2017 and colleagues and clients have raised thousands for charities across the UK.
"Supporting charities in need during this time is more important than ever before," says Persephone Deacon-Cole, project lead at The Royal Parks. "This event was created in 2008 to raise sustainable funds for The Royal Parks and enable charities of all sizes to be involved in a major challenge event."
"The impact of COVID on the mass participation sports industry has had significant repercussions for ourselves and our charity partners."
Dave Thomas, CEO, RBC Europe, added: "As someone who's enjoyed running the half marathon several times, it's been incredible to see how the Royal Parks has transformed this into a virtual event and captured the essence of what makes this run so amazing. The Royal Parks Half has a special place in the hearts of its participants and we at the Royal Bank of Canada are particularly proud of our association. These past months have demonstrated not only how crucial supporting our charity partners is to our communities, but also the vital role physical activity and being out in nature has on our mental wellbeing."