When the Vienna alliance of 26 OPEC and non-OPEC producers meets this week, Helima Croft, Chief Commodity Strategist believes they will opt to roll back the Saudi-led summer supply surge in order to bring the market back into balance and safeguard their own domestic fiscal imperatives.
With Putin and MBS's friendship on full display at the G20 as well as their public commitment to oil cooperation, the real question is the size of the cut and who will participate in the pullback. According to Helima Croft, the collective cut will come in at the 1.2 - 1.4 mb/d range, and we should not rule out something larger given the fast and furious fall in prices.
Helima Croft, Managing Director, Chief Commodity Strategist, shares her views with CNBC after crude oil's worst month in more than 10 years and believes Trump and Saudi Arabia could determine Oil's next move.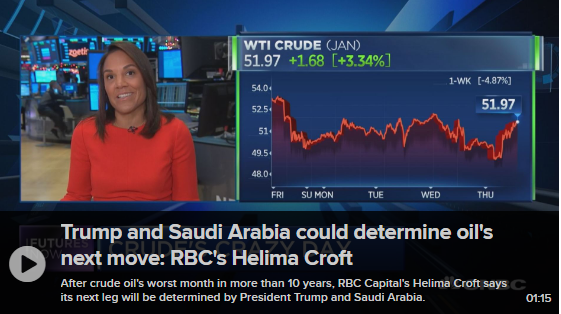 President Trump will undoubtedly be displeased by the OPEC action, especially given his recent string of social media missives and his steadfast support for the Saudi leadership, but we think the Kingdom and the rest of the sovereign producers will put their own interests above those of the White House. Nonetheless, there could be some blow back from Washington in the event of a cut, including an effort to revive the NOPEC bill.