In their recent Economic and Financial Market Outlook report, RBC Economics takes a closer look at the significant trends that defined 2018, and what the outlook is for the coming year.
5 Main Themes to Watch for in 2019
1.

Global expansion to continue, but downside risks are growing

Although the global economy is entering its tenth year of expansion, momentum looks to have topped out and is now forecast to expand by 3.7% in 2019. With the surge of tariffs in 2018 and billions imposed on US and Chinese goods, the outlook has shifted to the downside. The US economy is forecast to lead the others in terms of economic growth and is projected to see the US dollar maintain its gains against the Canadian dollar, Euro and sterling. Growth in the Euro area economies is also expected to moderate, with the heightened uncertainty surrounding the vote on the Brexit agreement to continue into early next year.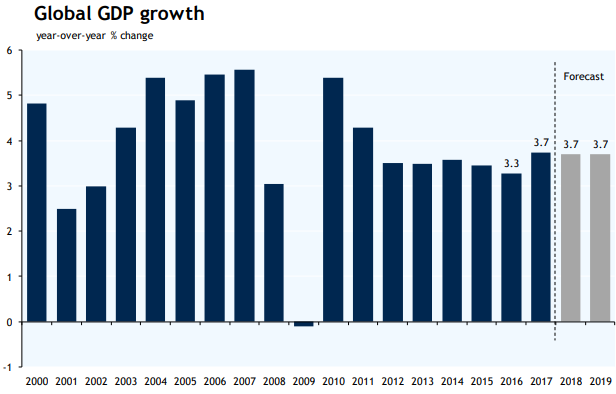 Source: International Monetary Fund, RBC Economics Research
2.

US economy headed for another solid gain

The US economy blew past the other G-7 countries in 2018 and is headed for another year of above-trend growth. The growth of both exports and imports is expected to slow in 2019, with the strong US dollar weighing on demand for US exports while the strong currency will partially offset the tariff-driven rise in the cost of imported goods. Businesses are expected to continue to invest in 2019, though likely at a slower pace than 2018, which was largely attributed to the corporate tax cut and accelerated depreciation allowances. Labour shortages are expected to persist, creating greater competition for workers and further upward pressure on wages.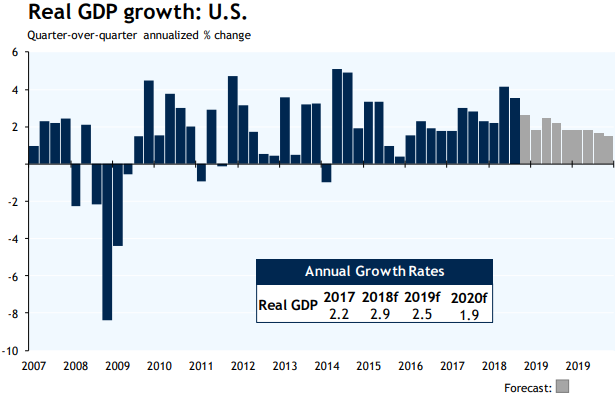 Source: Bureau of Economics Analysis, RBC Economic Research
3.

Canada to face a challenging 2019

Canada's economy stumbled in the final leg of 2018, weighed down by slumping oil prices and higher interest rates. This combination will swamp the lift from government spending, resulting in a more material weakening in 2019. Canada's real GDP is expected to grow by 1.7% in 2019 - running just shy of its potential which is unlikely to have a material impact on core inflation or the labour market. While policy uncertainty will remain high, the federal government's decision to allow companies to immediately expense qualifying capital goods investment will underpin some of the pickup in spending activity.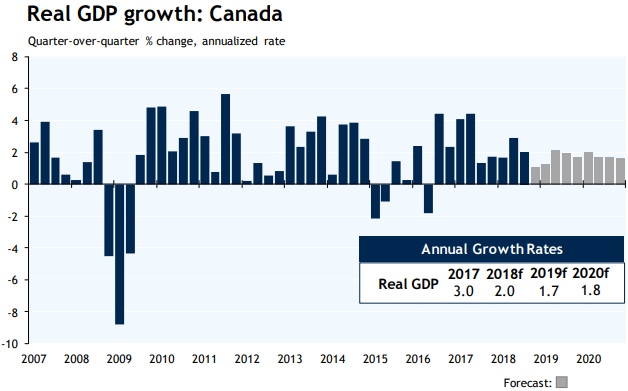 Source: Statistics Canada, RBC Economic Research
4.

Expect the Bank of Canada to raise the overnight rate to 2.25%

The Bank of Canada is expected to continue to raise interest rates in 2019, although the timing of the next rate hike is being complicated by developments in the oil patch. As oil prices recover and help lift the economy, the Bank of Canada is expected to resume its plan to return the policy rate closer to neutral. The overnight rate is forecast to rise to 2.25% in 2019, with the first hike taking place not until the second quarter. With the US Fed acting more aggressively, Canada's dollar is likely to hold below 80 US cents in 2019.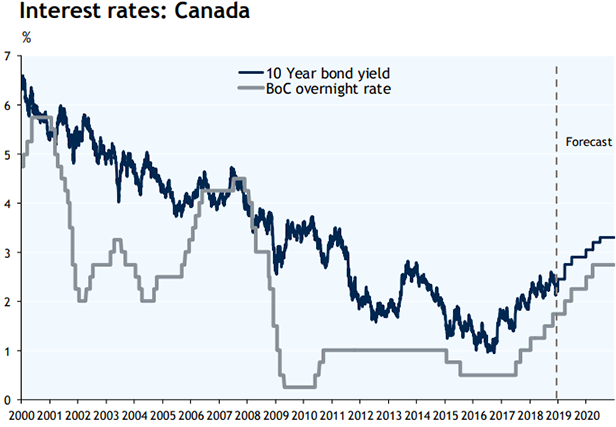 Source: Bank of Canada, RBC Economic Research
5.

Oil price declines to pose growth issues, particularly for Alberta

Transportation bottlenecks and refinery shutdowns left Canadian oil producers significantly oversupplied, pressuring prices lower and leading the Alberta government to mandate production cuts in the province. These cuts are expected to bring inventories back to more normal levels but at the cost of economic growth in Alberta and to a lesser extent, the overall Canadian economy. Alberta will see the biggest decline in economic activity, with their growth forecast reduced by one full percentage point to 1.5% on the back of these lower oil prices and production cuts.