Flexible leasing solutions have grown rapidly in the UK over the last 5 years, with flexible office and co-working spaces becoming mainstream. The benefits are numerous - mostly they allow any business, irrespective of their size, to enjoy flexible lease lengths, giving tenants the ability to grow or shrink their footprints as required. They also offer carefully designed and managed spaces to suit businesses' lifestyles. This is driven by SME growth, which has historically been both higher and less volatile than corresponding growth for large companies, and a growing trend for self-employment.
If regional cities still lag behind London in terms of penetration of total office take-up, the 'Big 6' are fast catching up: Birmingham, Bristol, Edinburgh, Glasgow, Leeds and Manchester reached 584,000 sqft and over the last 5 years, take-up has increased at a higher rate than in Central London with a 26% year-on-year increase.
As the flexible office sector is evolving, we are increasingly seeing hybrid business models – a mix of both private office space and co-working space - emerging. Occupiers increasingly expect greater flexibility as well as carefully designed and managed space that suits their lifestyles. To meet these changing expectations, real estate owners must take a more operationally intensive, specialized approach.
Maturity of UK markets vs rest of Europe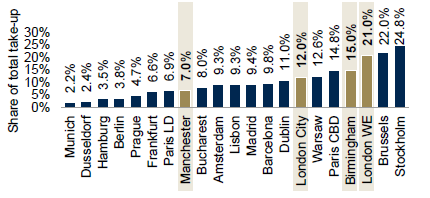 Source: Savills; Business Population Estimates for the UK and Regions 2017 (Department of Business, Energy & Industrial Strategy); Capital Economics; Office for National Statistics; Cushman & Wakefield; Barclays Research
The Growth Story: Looking North
Investors are looking for more niche, fast-growing real estate areas, to maintain returns. Increasingly, they see opportunities in the flexible office sector. Likely themes impacting growth of the sector include globalization, consolidation and specialisation.
The same factors that boosted growth in London are also instrumental in driving regional expansion. Moreover, competitive costs have supported business expansion in the regions. Bristol, Birmingham and Manchester have seen strong growth in their stock of flexible workplaces with more than 600,000 sqft of flexible workspace within city centres despite there only being a handful of truly national operators.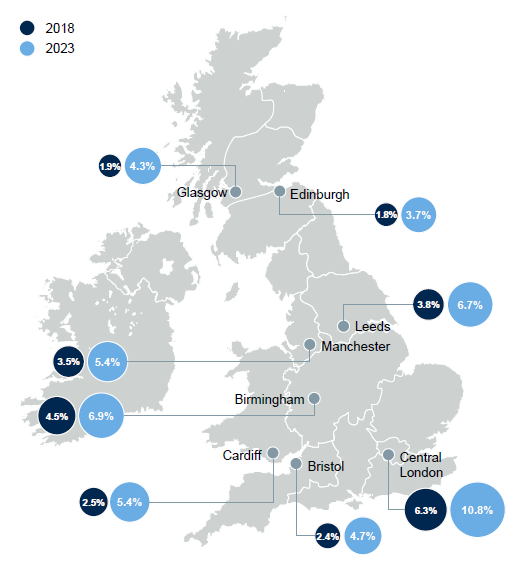 Growth in flexible office stock 2018-2023 (as proportion of the total office stock)
Source: JLL
Growth Drivers: UK Flexible Office Market
1. SME Employment Growth
SME employment growth is likely to exceed that of employment growth for the economy overall. This follows the trend over the last three years where SMEs increased their number of employees by around 2% p.a.
2. Space Requirements
As the UK economy has shifted further towards service-driven businesses, office floor space has grown significantly (2.7% CAGR over the last 10 years).
3. Regional Penetration
For SMEs in the UK regions, the flexible proportion of workspace is expected to grow to c.25% by 2021 (currently c.20%).
4. Price Increases
Strong market demand should drive at least 3% p.a. growth in prices (in line with RPI forecasts).
Despite short term risks to flexible office space growth, namely slowing economic growth and reduced occupier demand, it is likely that these will be outweighed by longer term shifts in occupier demand towards shorter leases and more elastic space requirements.