US industrial output has softened this year, and the escalating trade war with China is partly to blame. Threatened additional US tariffs on Chinese products and on auto imports from Europe and Japan risk pushing the sector into a slowdown. What we see in the industrial sector challenges the notion that the US has less to lose in a trade war with China, and that is why we believe that tensions will ultimately ease.
RBC Economics has six takeaways from its latest report:
1. Tariffs on Chinese are taxes on Americans
China exports around three times the value of goods to the US, than the US does to China, and so the argument goes that China has more to lose from the trade war. But tariffs are paid by US importers, not Chinese exporters, so the tariffs are essentially a tax on US consumers and producers, and so far US importers haven't found any alternative sources.
2. Tariffs have targeted the industrial sector
US tariff hikes last year were not all that big compared to total imports, with last year's tariffs pushing up the average US tariff rate by 1 percentage point but new tariffs announced in May, with more threatened, could double that. Most of the new tariffs have targeted US industry, in part by design, as the Trump administration tries to avoid targeting products that would immediately raise prices for consumers. However China is now an important source of imported industrial inputs, accounting for 20% of US imports of intermediate goods, up from 8.5% ten years ago.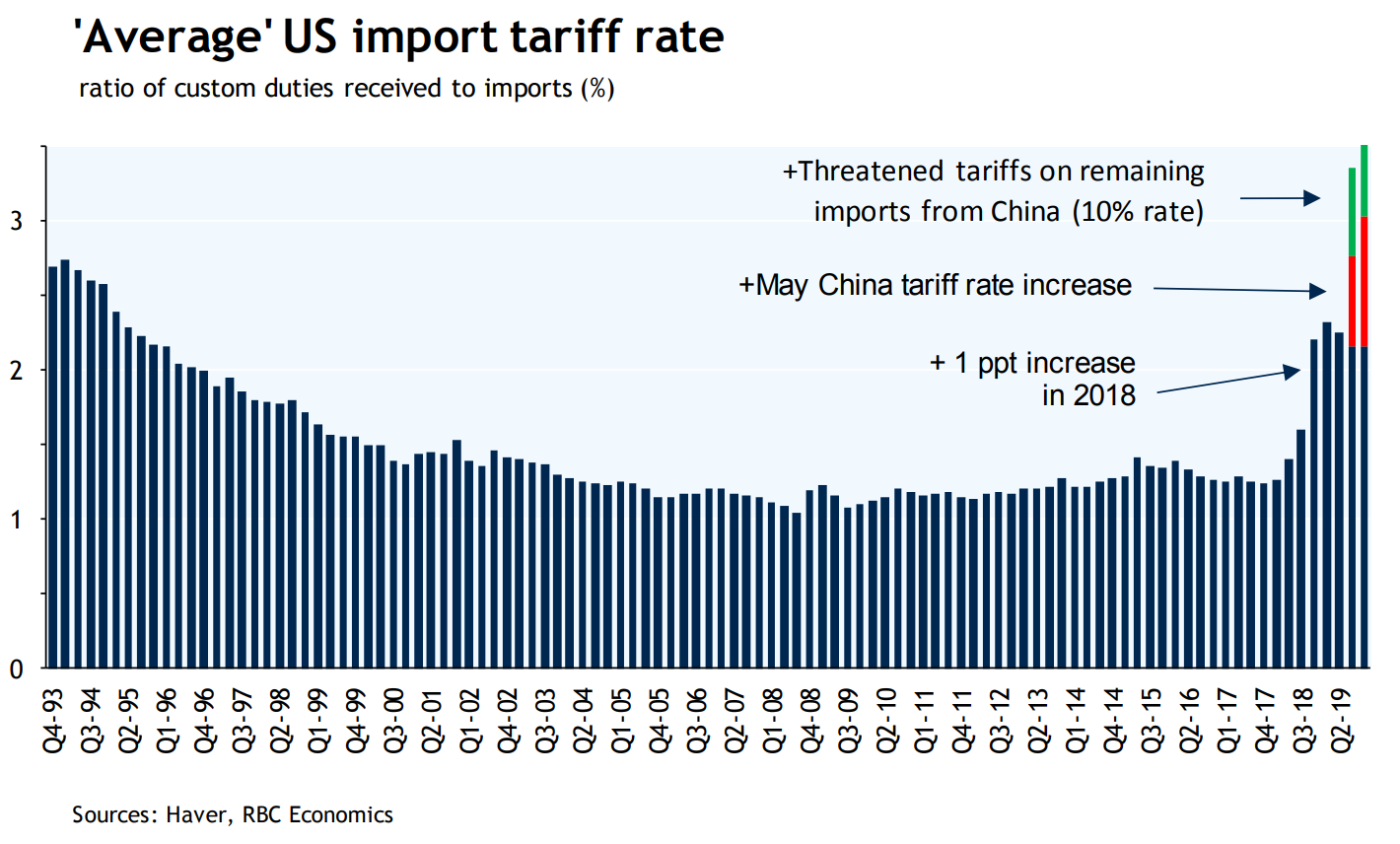 3. Tariffs haven't boosted US industry
The tariffs on China haven't boosted manufacturing in the US with industrial output and capacity utilization rates in the US falling since the tariffs were imposed. Manufacturing output rose in only one of the first five months of 2019, and sentiment has deteriorated. When the now repealed steel & aluminum tariffs were in place year, these raised costs for US manufacturers that use these inputs and did not increase US steel & aluminum production. Not surprising as increased production requires costly capital investment which is unlikely in responses to likely only temporary trade disruptions.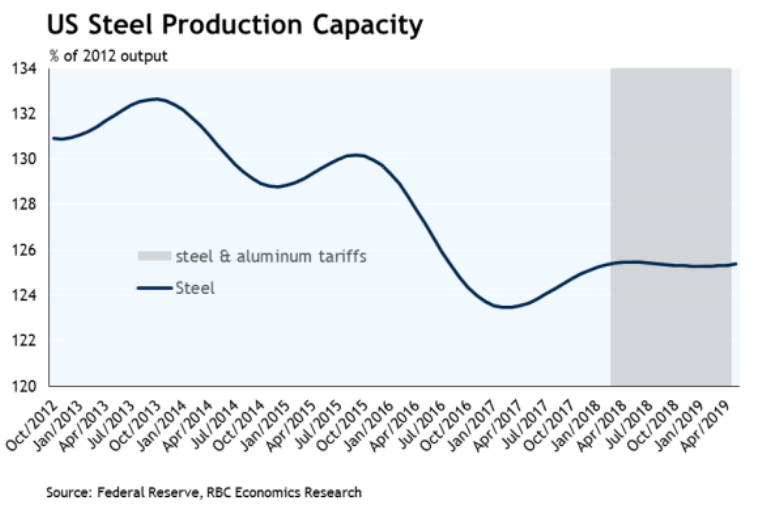 4. US businesses have struggled to find alternative imports
The US has not been strategic in applying tariffs and that has made it difficult for US industry to find alternative sources. US imports of 25% tariffed steel actually rose 1.5% in 2018, with the share coming from Europe, Mexico & Canada (the areas most targeted by the tariffs) actually rising. Imports of products from China targeted by US tariffs last September fell 22% over the year to April but US producers were not able to find alternative import sources and imports of those same products fell from all countries by a similar amount.
The decline in US import values does not appear to reflect lower prices charged by Chinese exporters. US import prices from China are down only 1% from a year ago through April despite a 6% rise in the dollar against the renminbi. This is a broad theme in that foreign exporters have not been willing to make price concessions to offset increased US tariffs, leaving US importers to either import less or pay more.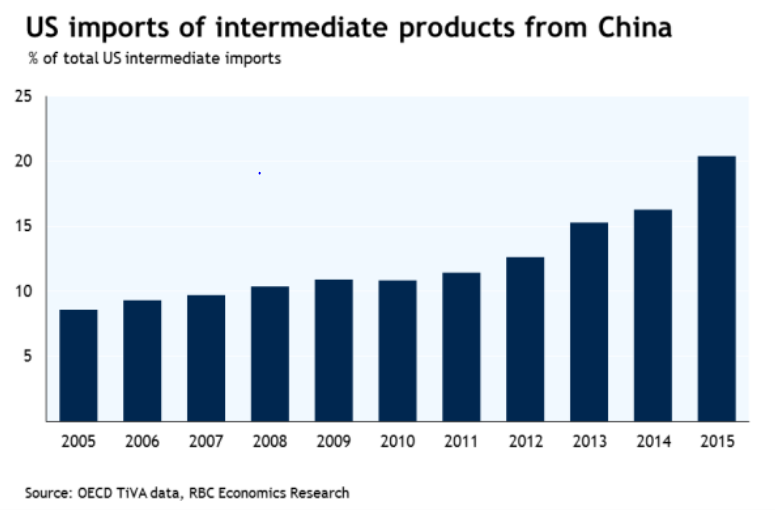 5. Odds are that the US will blink first
US industry looks unprepared for increases in tariffs on Chinese products and the threat of tariffs on European and Japanese cars still looms. However this is unlikely to lead to a recession as the 85% of the US economy that is not the industrial sector has shown little sign of slowing. Labor markets look solid and the Fed has signaled it will cut rates if the economy softens. But trade tensions have begun to threaten real job losses particularly in the industrial heartland that was critical to President Trump's 2016 election win and that is the main reason will believe tensions will ease; President Trump faces election this year, while President Xi does not.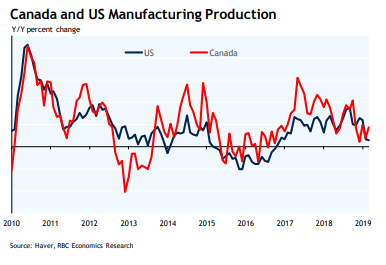 6. Canada is caught in the middle
Canada is already paying a price for the US-China trade war and geopolitical tensions, witness the Chinese ban on Canadian canola imports, however China only accounts for 5% of Canadian exports, so its exposure is limited. The larger threat to the Canadian economy is from any slowdown in the US industrial sector, which accounts for 70% of Canadian exports. And slower global growth would weigh on commodity prices and uncertainty over trade will weigh on business investment in Canada.