The media landscape is changing radically. Netflix, Amazon and Apple are now spending billions of dollars on video programming annually, luring away 'cord-cutting' viewers who have become disenchanted with traditional pay-TV content bundled offerings. Tech giants like Google and Facebook now have a majority share of overall advertising spend. And major players like Walt Disney, Time Warner, and CBS have merged with rivals and acquired companies in other sectors to create media giants with greater scale in advertising and distribution.
If the sheer size and diversity of deals are anything to go by, the revolution in America's media sector is a natural response to the deep, rapid changes facing the industry.
The race for scale
When broadcasting giant Sinclair Broadcast Group buys 21 Regional Sports Networks (RSNs) from Disney for approximately $11 billion (closed in August 2019), or when private equity firm Apollo buys Cox Media for nearly $4 billion (pending regulatory approval), it's time to sit up and take notice of the wider media trends that are afoot.
Tech and telecom giants have gained meaningful traction with their over-the-top/direct-to-consumer content offerings. In order to be competitive, traditional media players are looking to scale up aggressively or cash out and sell to others who can create scale and asset diversity.
Apollo's acquisition of Cox Media is in large part driven by the need for scale and operating leverage. In this transaction, Apollo is combining two TV station groups – Cox TV and Northwest Broadcasting –creating a more powerful, scaled company with 33 TV stations across 20 media markets. Furthermore, Apollo is partnering with the prior shareholders of Cox and Northwest, who are both rolling equity into the new company. The prior shareholders decided that scale was critical and they could not achieve it alone.
Sinclair Broadcast Group's purchase of the RSNs from Disney is a similarly significant deal. As part of Disney's $71 billion acquisition of assets from 21st Century Fox, the Department of Justice (DoJ) required Disney to divest the RSNs, given its ownership of ESPN. In this transaction, Sinclair entered into a new media vertical (sports cable networks) and tripled the size of the original company. Indeed, this was a transformative transaction.
The rapid consolidation within the media sector is challenging existing rules and regulations, including TV station ownership restrictions imposed by the Federal Communications Commission and the DoJ. As convergence across the technology, media, and telecommunication sectors continues to occur, regulatory restrictions are expected to be relaxed. The benefits of horizontal and vertical integration – combining synergies, increasing operating leverage, diversification, and margin expansion – may be a natural growth objective, however watchdog groups (such as Common Cause) argue that continued industry consolidation will reduce competition, quality of content, and diversity of ownership.
Scoring big in sports
As the Sinclair/RSNs transaction demonstrates, sports rights are incredibly valuable assets because of their ability to deliver a large and live viewing audience and command high advertising rates and distribution fees. As such, sports rights assets have special appeal to private equity firms looking to build and grow their media platforms. In Sinclair's case, the addition of these marquee sports rights, combined with the company's TV station portfolio, provides strong operating and negotiating leverage with pay TV distributors.
The acquired RSNs collectively have rights to 42 professional teams across national sports leagues, including baseball, football, basketball and hockey. In 2018, the RSNs collectively reached nearly 75 million viewers and delivered annualized revenues of approximately $4 billion.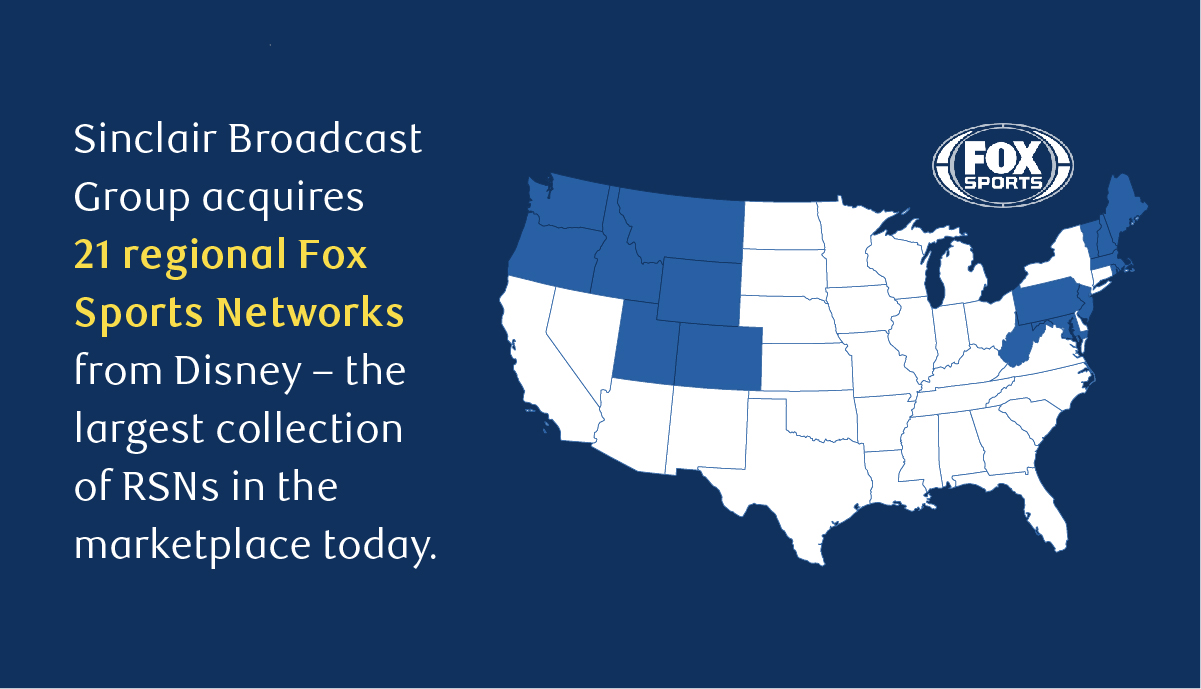 Streaming dividends
According to PwC's annual survey, the cable cord-cutting trend continues. This year's figures reveal that only 67% of U.S. households still have traditional pay-TV subscriptions, down from 73% last year and 77% the year before. For the first time ever, the usage of Netflix, at 76% of those surveyed, surpassed combined cable and satellite usage.
With the launch of Disney+ and ESPN+ offerings in late 2018, Walt Disney crafted its own streaming rival to Netflix. Disney+ offers exclusive new original films, TV series and specials, along with a host of library titles from Disney, Pixar, Star Wars, Marvel Studios and National Geographic. ESPN+ offers select major league sports games including baseball, hockey, and soccer, as well as live UFC events.
Recently, the media industry has witnessed a number of high-profile mega transactions, including the combinations of Discovery/Scripps Networks Interactive, AT&T/Time Warner, Walt Disney/21st Century Fox, and CBS/Viacom. These transactions are in large part driven by the increased need for scale as key media players attempt to enhance their competitive positioning in the context of changing consumer habits and rapidly developing technologies.
Last year's $14.6 billion acquisition of Scripps Networks Interactive by Discovery Communications formed an extensive content portfolio that aggregated national marquee brands and a strong foothold in the highly coveted female viewing demographic. Additionally, this transformative transaction increased Discovery's content scale, operating/negotiating leverage, delivered compelling financial synergies, and diversified the business. Importantly, the new Discovery portfolio is well positioned to globally capitalize on consumers' growing demand for digital and mobile content viewing.
AT&T's astronomical $85 billion acquisition of Time Warner closed in February 2019, after a U.S. appeals court rejected the DoJ's bid to overturn a previous ruling that cleared the way for the acquisition. This transaction is significant not only due to its size, but also its nature – a vertical acquisition of a content producer by a content distributor. AT&T now owns marque brands such as HBO, Warner Bros studio, and a collection of national cable networks. It is previously uncharted territory and the new AT&T is well positioned to meaningfully grow its direct-to-consumer business.
In August 2019, CBS and Viacom agreed to an all-stock merger transaction that creates a combined company with a firm valuation of approximately $50 billion. This long-rumoured mega merger was driven by content scale, financial synergies, and direct-to-consumer opportunities. The transaction is expected to close by the end 2019. ViacomCBS, Inc., as the new company is called, will have opportunities to further enhance its scale, as this transaction de-levers the combined balance sheet and creates capacity for future cash acquisitions.
The future is 5G
The proposed $26 billion merger between T-Mobile and Sprint has been positioned as a unique opportunity to speed up the deployment of 5G throughout the United States, bringing faster mobile broadband to millions of Americans. The deal, however, is equally notable for the protracted negotiations executives have been holding with antitrust officials in an attempt to push the transaction through. The transaction received DoJ approval in July 2019, as a result of a settlement reached between the parties that requires the combined company to divest to Dish Sprint's prepaid wireless business, as well as certain spectrum assets to Dish. However, certain states attorneys generals are still challenging the transaction.
The rollout of 5G technology is game-changing and positions large telecom companies, including AT&T, Verizon, and T-Mobile/Sprint, front and center as gatekeepers within the media industry. While it will undoubtedly precipitate further consolidation, it remains to be seen just how much the regulators can keep consolidation in check while allowing the evolution of technology to continue benefiting consumers.
It's a high-stakes game. Technology, media and telecom companies are placing bigger, more expensive bets as part of an escalating content and distribution arms race against powerful, disruptive digital competitors. But the winners will need more than deep pockets. In addition to disciplined deal-making strategies, successful companies have to capture, package and distribute content and do it in a way that satisfies audiences' ever-evolving consumption habits.