A demographic timebomb
The population across the region is currently estimated to be close to 449 million, with two-thirds of the population under the age of 24, according to the World Bank and the population in the MENA region is expected to nearly double by 2050 to 724 million (United Nations). The International Monetary Fund (IMF) suggests that if current demographic trends continue, the region will need to create over 300 million jobs by 2050. If not, the risk of unrest is high. Low standards of living and lack of job opportunities were primary drivers of the 2011 Arab Spring, and in the fall of 2019, both Iraq and Lebanon saw citizens, especially youth, took to the streets to protest against corruption, the lack of job opportunities and good health services.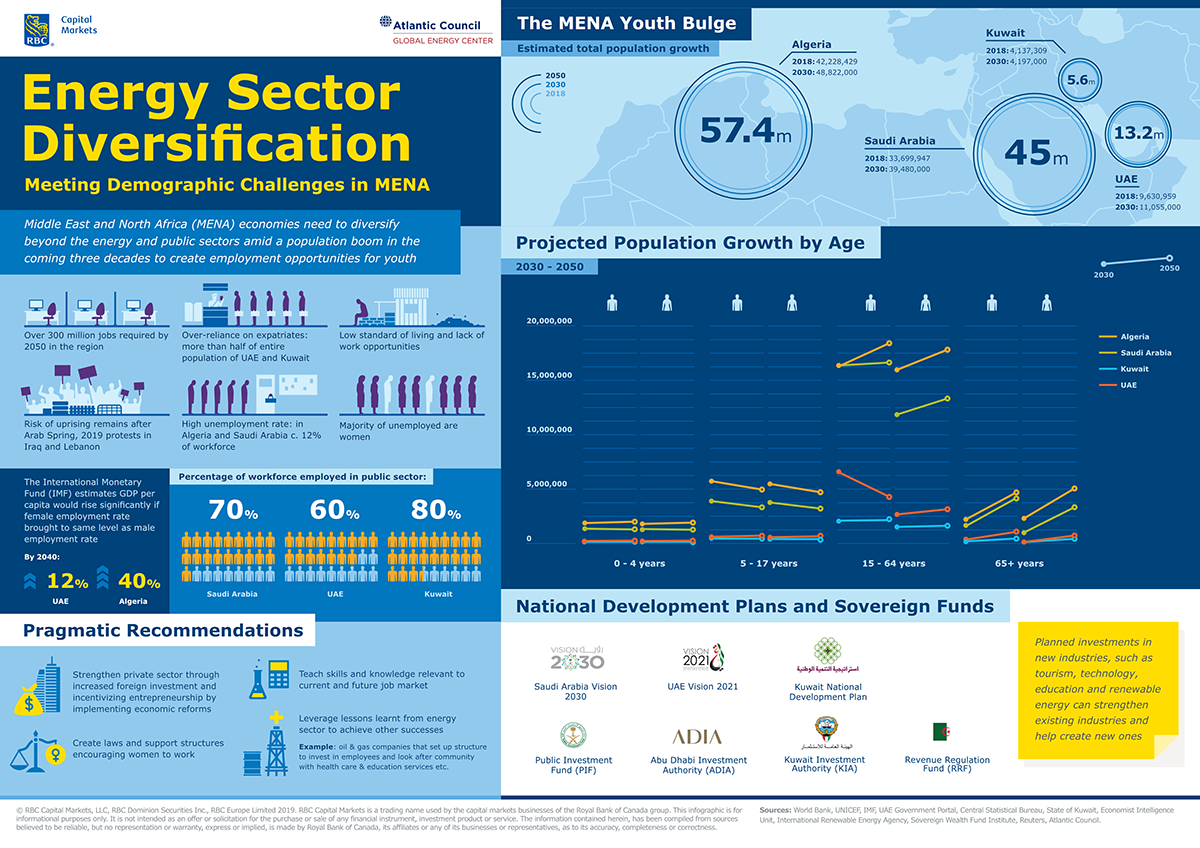 Shifting towards a knowledge-based and diversified economy
Saudi Arabia's Vision 2030, UAE's Vision 2021, and Kuwait's National Development Plan are all strategies to diversify their economies with planned investments in tourism, education, renewables etc. The World Bank was to provide the Algerian government with technical assistance in the design and drafting of Algeria's Vision 2030 and we are awaiting an update. The country's current political transition is creating opportunities for the incoming government to push economic reforms aimed at lowering the current unemployment rate (c. 12% in Algeria and Saudi Arabia) and making the private sector more enticing.
Increasing female participation and the private sector
The majority of the unemployed among all four nations are women. The IMF estimates that the GDP per capita would rise significantly should these nations bring the female employment rate to the same level as the male employment rate. The UAE could see a boost of 12 percent while Algeria's GDP would increase by around 40 percent by 2040. Enticing workers to join the private sector is also important: about 70 percent of Saudi nationals work in the public sector, 60 percent of Emiratis and 80 percent of Kuwaiti. The three nations' sovereign wealth funds have a key role to play in diversifying the economy, strengthening existing industries, and helping to create new ones.