---
Required Conflicts Disclosures
---
Investor mindsets have shifted considerably on the sustainability dial in recent years. Few still share the view articulated by Milton Friedman in his famous New York Times article in 1970, when the Nobel Prize-winning economist argued that a company's only social responsibility was to increase profits and maximize shareholder value.
Given its almost exponential rise in popularity and influence in recent years, certain fundamental questions become imperative: Is ethical equity investing compatible with strong portfolio growth? And, if so, what strategies best achieve this? In other words, is it possible to reconcile market performance targets and superior risk-adjusted returns with principles regarding social and environmental responsibility?
There is already a strong perception among the majority of investors, as evidenced by our own RBC GAM survey, that ESG-integrated equity portfolios are likely to perform as well or better than non-ESG integrated portfolios.
But anecdotal impressions are no substitute for rigorous empirical evidence. That's why our Equity Research Group at RBC has crunched the numbers from vast and carefully selected datasets of fund statistics to get a definitive answer. It's part of our ongoing mission to help our clients better understand and integrate ESG factors into their investment strategies and decision-making processes.
In our latest research report, The ESG Scoop, we conducted in-depth analysis of sustainable equity fund holdings, flows and performance. The results are striking and provide invaluable insights for all investors looking to maximize the effectiveness of their ESG strategies, both in terms of sustainable, societal impact and financial returns. We've shared the ten major insights below along with our criteria.
Defining our universe
For the purpose of this research, our universe comprises US, global and sector equity funds with at least 20% AUM invested in the US. We started with the Morningstar universe of funds deemed to be responsible investments and refined it from there. Our scrubbed universe represents 647 funds with $258 billion of AUM globally, all of which have a clear, intense focus on sustainable investing practices.
Key Sustainable Investment Insights from 2019
1.
Sustainable Funds are Posting Record Inflows
The popularity of sustainable funds has never been greater. Inflows into the funds in our universe accelerated in 2019, with AUM surging by 54% to reach new peaks. The vast majority of funds, over two-thirds, are run by active managers using fundamental stock-picking techniques while quants, passive funds and ETFs account for the remainder.
2.
Actively Managed Sustainable Funds Outperformed Traditional Equity Funds In 2019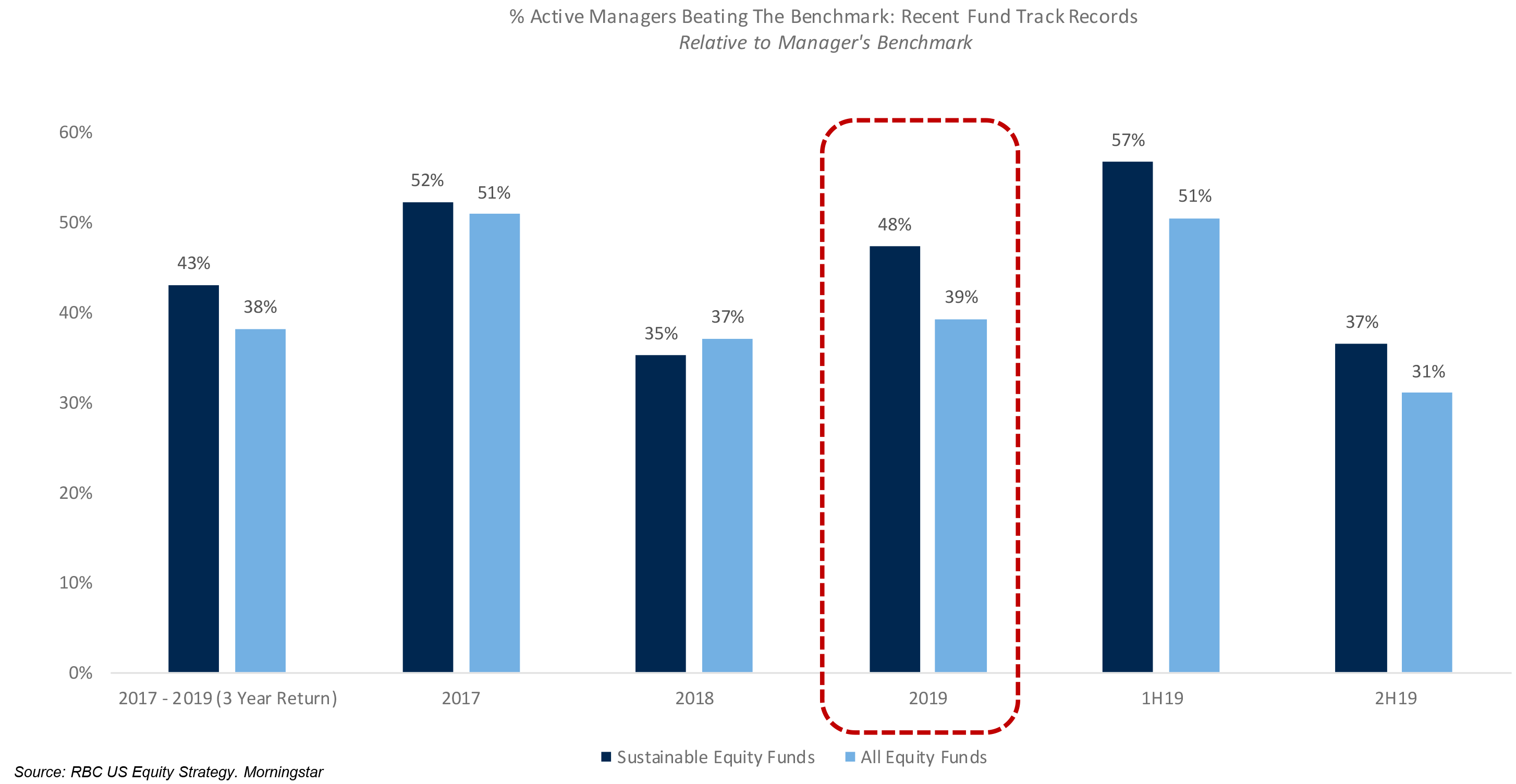 Doing well financially does appear to be compatible with doing good for the planet. Last year saw impressive performances from active stock-pickers in the sustainable fund universe. Nearly half of them (48%) beat their benchmark in 2019 compared to 39% of traditional equity funds. They also posted stronger absolute returns in 2019 as well.
3.
Sectoral Asset Allocation is Significantly Different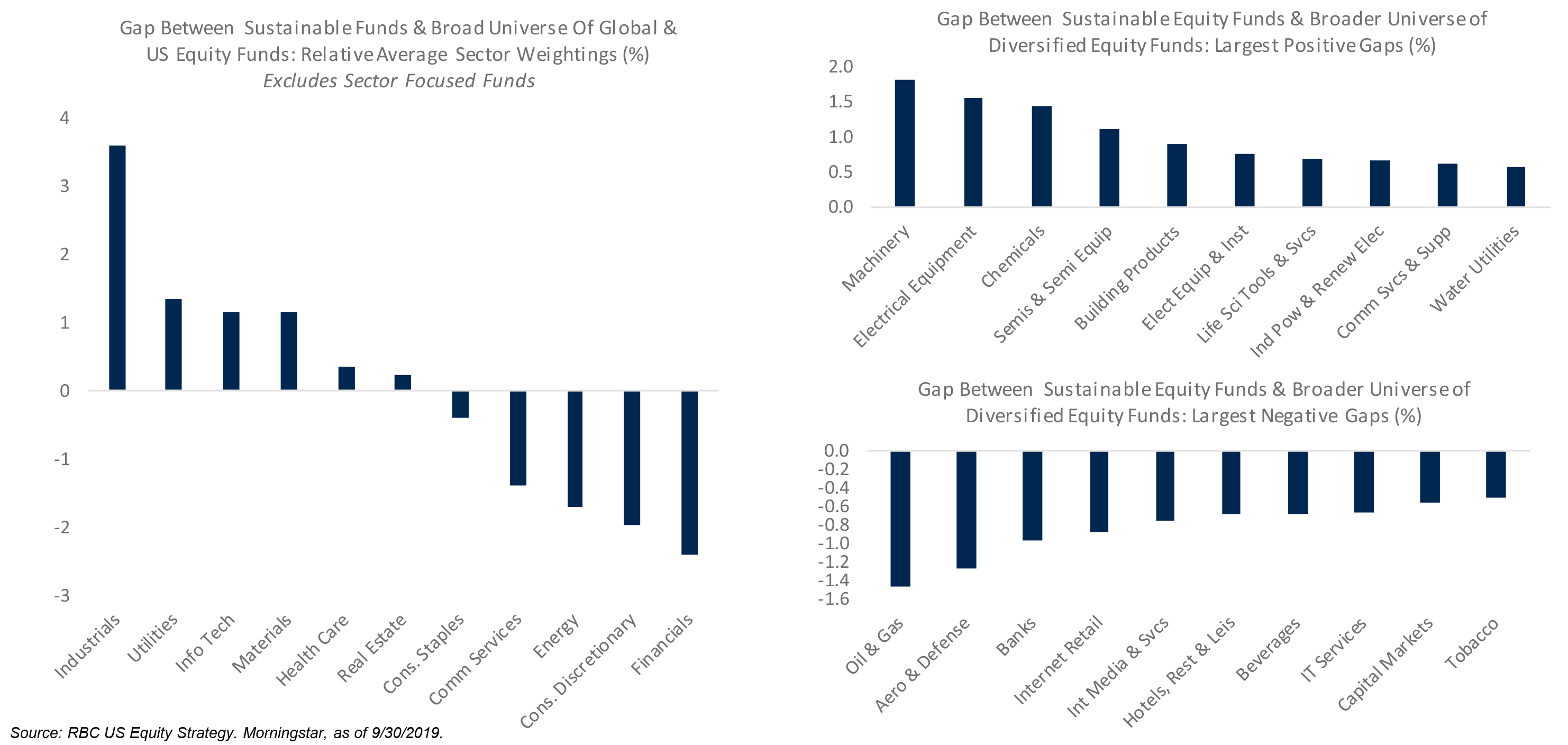 Actively managed sustainable equity funds tend to have more exposure to the industrials, technology, utilities and materials sectors than traditional equity funds. Conversely, they have comparatively lower weightings in financials, energy, discretionary, and communication services.
In terms of other high level portfolio characteristics, we found that these funds tend to have more exposure to Europe (and less North America) than their counterparts who run traditional long only portfolio and tend to have more exposure to higher quality stocks.
The ESG Scoop research report was authored by Sara Mahaffy, US Equity Strategist within RBC's Equity Research Group. Please contact your RBC sales representative for additional information on The ESG Scoop.
For Required Conflicts Disclosures, see https://www.rbccm.com/GLDisclosure/PublicWeb/DisclosureLookup.aspx?entityId=1. These disclosures are also available by sending a written request to RBC Capital Markets Research Publishing, P.O. Box 50, 200 Bay Street, Royal Bank Plaza, 29th Floor, South Tower, Toronto, Ontario M5J 2W7 or an email to rbcinsight@rbccm.com.
---
Our Commitment to ESG
RBC Capital Markets' ESG StratifyTM encompasses all of our ESG thought leadership and insights, including our monthly ESG Scoop series and industry-specific publications from our research analysts. RBC's Equity Research Group delivers thorough, comprehensive assessments of companies spanning all major sectors, along with macro insights and stock-specific ideas to help guide portfolio management decisions.