Required Conflicts Disclosures
Companies may resist the "urge to de-merge"
With M&A down -9% Y/Y on a year-to-date basis, 2020 will likely be a choppy year for acquisitions.
However, there are many factors working in the industry's favor right now, including attractive valuations (the 8.5x average EV/EBITDA multiple of this year's screen fell roughly two turns lower than last year's), healthy balance sheets, and low financing costs, all of which may drive cash-flush acquirers toward the small-cap bargain bin.
Depending on how long it takes for the pandemic "dust" to settle, the "urge to de-merge" trend may wane, ushering in a new wave of conglomeration.
Screening casts a wide net of potential candidates
Our screening identified more than 500 potential small-cap takeout targets across 16 end markets based on valuations, profitability, and sector attractiveness. Of our takeout candidates, half were based in the U.S., a third in Europe, and the remainder from the rest of the world, suggesting that acquirers look to global companies to expand their market share and penetration in new geographies.
To pare down the list, we filtered candidates by stocks with a market cap of $4B and below, positive operating margins, and those trading in the bottom 80% of EV/EBITDA multiples within each end market.
Uncovering the most frequently targeted Industrial sub-sectors for M&A in 2019
The results of our 2019 screening identified 20 companies that were later acquired, implying a 3.6% hit rate, down slightly from the previous year.
Among the most targeted sectors were tech-heavy industries such as Software & Services, Communication, and Aerospace & Defense. These include Capgemini SE's acquisition of Altran Technologies (ALT-FR), Cisco's takeover of Acacia Communications (ACIA-US), and Jacobs Engineering's acquisition of KEYW (KEYW-US) Holding Corporation, to name just a few.
The prior year, dealmakers were drawn to companies with a legacy industrial bias, and primarily included the Distribution, Technology, Aerospace, and Industrial sectors, such as Boeing's takeover of KLX, Inc. (KLXI-US), Amcor Ltd.'s deal with Bermis Company, Inc. (BMS-US), and pharma giant Merck's acquisition of Versum Materials (VCM-US).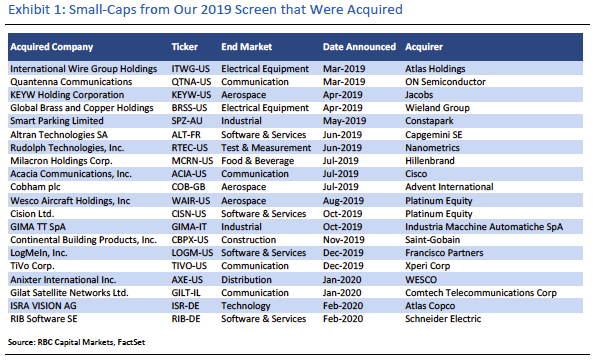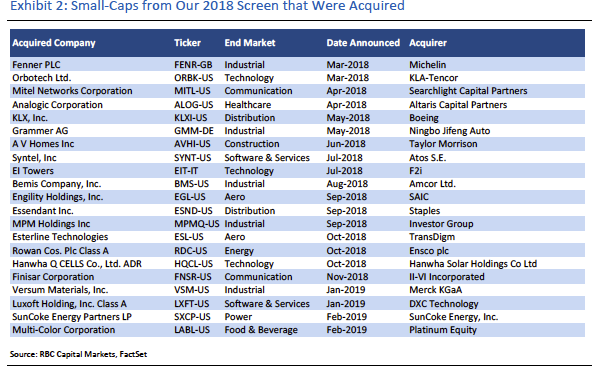 Closing thoughts
Over the past five years, industrial M&A activity has remained roughly flat, sitting near 2007 peak levels. With 2020 tracking down so far, we expect that trend to be broken this year with a severe drop in deal-making.
Overall, with the economy likely entering a pandemic-fueled recession, we believe the "urge to de-merge" and "addition by subtraction" themes may be in their last throes. Rather, our analysis suggests that companies will prepare for a new phase of conglomeration by sitting out the lull, streamlining their operations and waiting for asset prices to reset.
Deane Dray, CFA authored the report "Multi-Industry: Our Annual Screening for Small-Cap Takeout Candidates." For more information about the full report, please contact your RBC sales representative.
For Required Conflicts Disclosures, click here. These disclosures are also available by sending a written request to RBC Capital Markets Research Publishing, P.O. Box 50, 200 Bay Street, Royal Bank Plaza, 29th Floor, South Tower, Toronto, Ontario M5J 2W7 or sending an email to rbcinsight@rbccm.com.