In most categories, spending stuck close to the levels cited in our last report, strengthening a rebound several weeks in the making.
---
Spending stabilizes - solidifying early recovery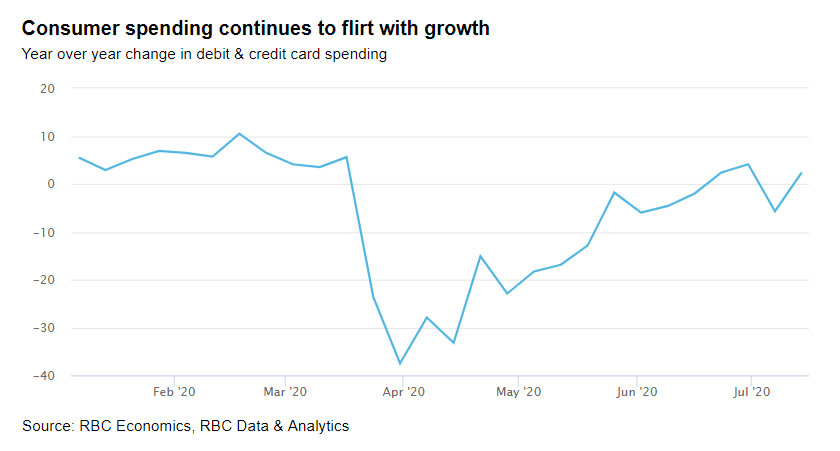 Online spending holds strong, as Canadians avoid the mall
Online purchasing remained robust, with some categories seeing a lasting shift toward more frequent virtual purchases.
Canadians continued to embrace remote buying, particularly in categories where delivery and curbside pick-up have been broadly accepted.
Even as stores reopened to customers, online and remote spending remained stronger for clothing retailers, restaurants, and grocery stores as consumers avoided crowds.
In-person entertainment and health spending bounced back to pre-pandemic levels quickly, especially as things with few online alternatives reopened (e.g., golf courses, hair salons).
---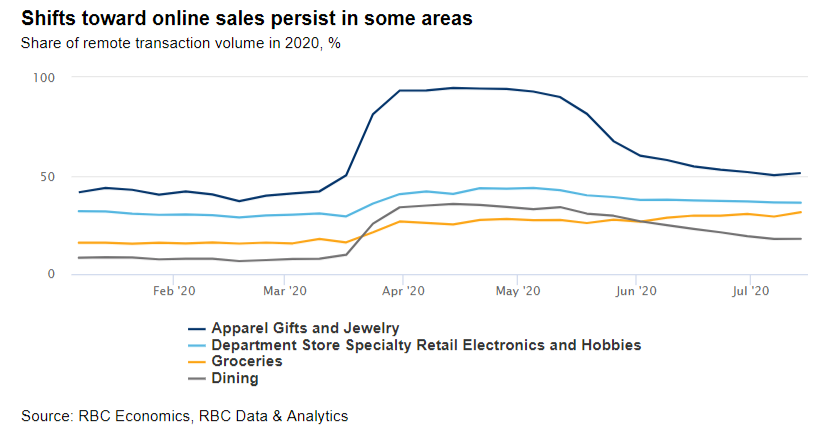 ---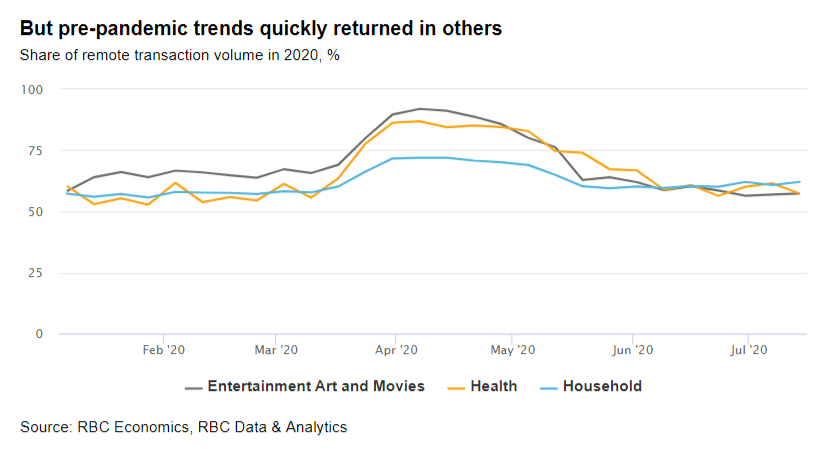 Clothing shoppers returned with force…
Spending on apparel, gifts and jewelry tracked close to year-ago levels, and was down just 1% by mid-July.
Spending was healthy in other retail categories too, with volumes at household and department and specialty stores remaining well above levels seen last year.
---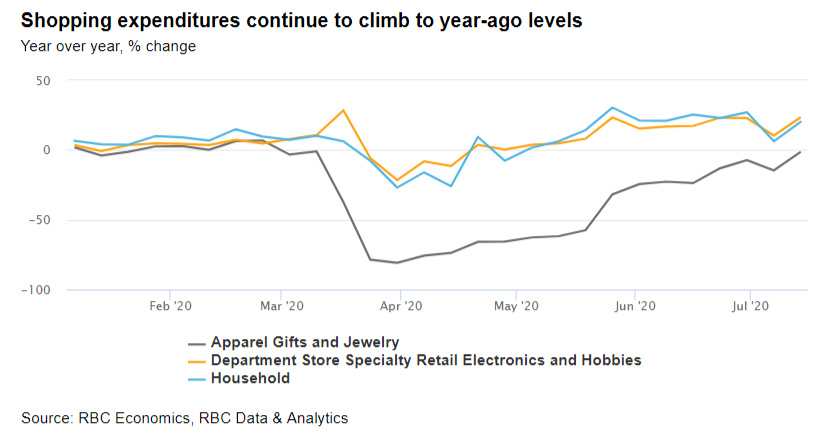 …but limits on crowds still stung
Nevertheless, closures continued to drag on areas of the economy that rely on gatherings.
Entertainment spending remained about 20% below last year's levels as Canadians eschewed galleries and museums, and large events remained a no-go.
---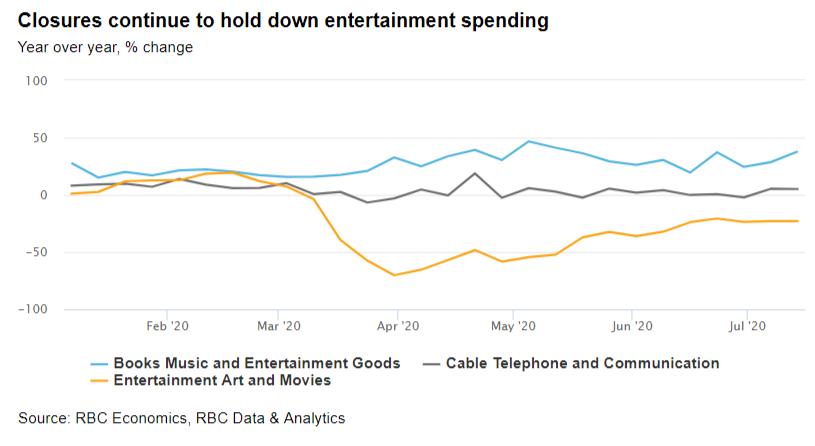 Canadians embrace the open road amid international travel restrictions
A slight recovery in travel spending continued, led mainly by car rentals and accommodation spending, as discounts encouraged Canadians to vacation close to home.
Other forms of travel spending continued to drag down overall levels though, which were still about two thirds below last year.
---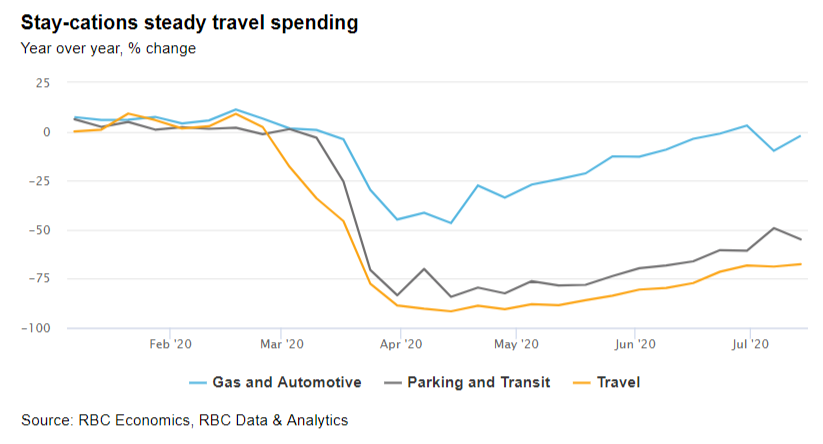 Haircuts, massages, and (some) gym visits level off
Health-related spending plateaued after a strong recovery in early June, as closures continued to sap fitness club spending and Canadians adjusted to less frequent haircuts and in-person self-care.
Similarly, dining spending remained below last year's levels by 10%, despite still elevated spending on delivery and near-normal purchases at quick service restaurants.
Other restaurants are lagging behind, as in-person dining struggles to return to normal in the age of social distancing.
---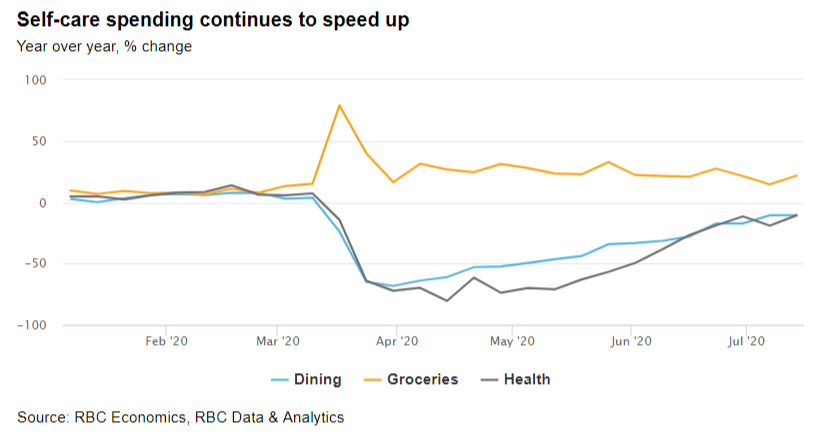 ---
---
‡ Methodology
RBC's consumer spending tracking report uses RBC Data & Analytics' proprietary database of anonymized card transactions by Canadian clients. The data are an accounting of merchant transactions that are divided into various spending categories covering tens of millions of weekly card transactions worth billions of dollars each week. Transactions, both in person and online, are classified into 11 broad spending groups: Dining, Education, Finances, Groceries, Health, Household, Shopping, Transport, Travel, Utilities, and Other. Within each group, the data are further classified: for example, shopping covers merchants classified as clothing stores, hobby shops, electronics stores, and jewellers, among others.
We examined changes in the value of all transactions in these areas for 7-day periods starting January 1st, comparing spending to the same period one year ago. To examine the impact of important events, we looked at how spending changed on specific days, both on a daily basis and on an annualized basis relative to that same weekday a year ago.
Online spending volumes are estimated based on the presence of an RBC card at the time of the authorization. Pre-COVID averages are calculated as the average of the first 11 weeks of 2020, and post-COVID averages are averages of subsequent weeks.
Protecting your privacy and safeguarding your personal information is a cornerstone of our organizational ethics and values and will always be one of our highest priorities. The underlying data for this analysis was aggregated based on transaction date, region and merchant category, and cannot be used to identify any individual client or merchant. For additional information please visit www.rbc.com/privacy.
---
To view past reports, please visit the COVID Consumer Spending Tracker.
---