A Trump re-election will likely see a continuation of the current healthcare strategy
Lowering prescription drug prices will likely continue to be a top priority for the current administration if Trump is re-elected, and "most favored nation" (MFN) reference pricing is expected to remain a primary tool. However, there could be significant challenges to administer such a plan, because Medicare Part D prices are negotiated by individual plans in a decentralized manner, making it complex to dictate a new pricing schema.
Overall, a second Trump administration would probably result in even greater partisanship leading to little legislative activity. While President Trump's recent Executive Orders on drug pricing have created political talking points, we do not see meaningful impact resulting if he is re-elected, though headline risk would remain.
A Biden win could bolster healthcare infrastructure, but headwinds will likely endure
Drug pricing has been a signature issue for Democrats, and a Biden win could see Trump's recent executive orders add pressure to continue the momentum on legislative action, particularly given strong consumer association of healthcare costs to drug pricing. Biden's drug pricing agenda centers around enhancing negotiation using a review board and external pricing benchmarks.
The Biden platform has increasingly shown desire to make COVID-19 a "never again" event, and one of the first legislative goals in a potential Biden win could be to look to increase capacity for testing, PPE manufacturing, provider availability, and bolster healthcare agencies and infrastructure overall. Though a strong desire has not yet materialized to getting rid of a filibuster, we sense that significant resistance to passage of COVID-19 legislation could serve as an impetus for moderates to become more open to this idea.
With a Biden administration likely to "double down" on the Affordable Care Act by making it more affordable and increasing ACA subsidies, any type of acceleration would require more political will, and both Brooks and Fontenot described that as lacking right now.
A toss-up for value-based care and telehealth
Neither candidate appears likely to accelerate the transition to value-based care. Both Brooks and Fontenot agreed that there was growing skepticism among lawmakers that any of the various demonstration projects were doing much to bend the healthcare cost curve. In short, both believe under either administration, VBC programs would continue on a small scale, but we are unlikely to see any large-scale policy shifts.
With regard to telehealth, we see it has bipartisan support, but more data is needed to set long-term policy. Temporary measures designed to ease access to telemedicine will extend into next year and both parties are interested in making some of these measures permanent.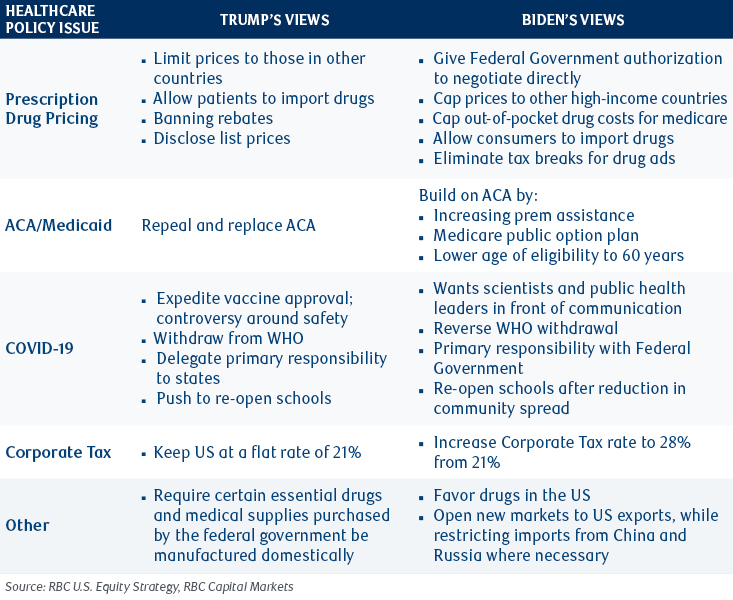 Our Healthcare Equity Research team at RBC Capital Markets authored the research reports "Pharmaceuticals: Thoughts on 2020 US Election" and "Healthcare Policy Update: Our Take on the 3 Election Scenarios and ACA," both published on October 1, 2020. For more information, please contact your RBC sales representative.
Featured Policy Consultants: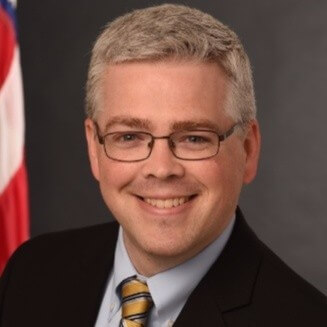 John Brooks, J.D. – Former Senior Advisor to the Secretary for Drug Pricing Reform
John Brooks was the former Senior Advisor to the Secretary of Health and Human Services – Alex Azar – for drug pricing reform, where he helped author the recent drug pricing executive orders. Prior to this, he was the Deputy Director for the Center for Medicare, an advisor on the Domestic Policy Council, and Counselor to the Secretary on Health Policy during the Trump Administration. Before joining the administration, he was the Department Head for Health Policy at Mitre. John Brooks completed his J.D. at the University of Virginia his MBA at Virginia Tech.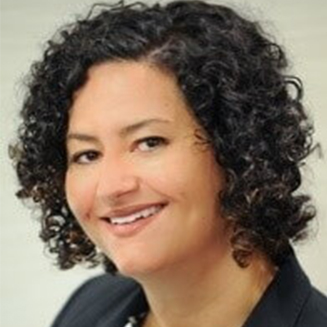 Yvette Fontenot – Avenue Solutions, Former Deputy Director of the Office of Health Reform
Yvette Fontenot is currently a partner at Avenue Solutions a DC based consulting and lobbying firm. Prior to this, she was the Deputy Director for the Office of Health Reform during the Obama administration and Senior Advisor to the White House, where she helped author major portions of the Affordable Care Act. In addition she has been featured on NBC and authored op-ed pieces in prominent publications such as Politico. Yvette Fontenot received her Masters in Public Policy from the University of Chicago and her B.A. in Public Policy from Duke University.
---
Our RBC Capital Markets Equity Research Contributors