Analysing market shifts and sourcing disruptions
RBC Capital Markets' Equity Research Team is exploring the metallic composition of typical electrolyser stacks and discussing the potential impact for manufacturers amid unprecedented raw material price spikes and potential trade disruptions because of the Russia/Ukraine conflict. The core of our thesis suggests hydrogen growth should lean away from blue to green hydrogen, further supporting the electrolyser manufacturers.
Market shifts and relative economics highly supportive for green hydrogen
RBC believes recent developments (de-carbonization goals, rising energy costs and domestic energy security issues, as well as a detailed assessment of the 'RePowerEU' strategy) should significantly boost green hydrogen growth.
The European Commission recently published a strategy to wean Europe off Russian gas. Although the plan included several supply and demand side policies, we believe the shift in rhetoric in Europe is likely to be one that focuses on both energy security and de-carbonization.
Weaning off Russia gas means we need to replace ~35% of EU-27 + UK gas needs
(based on 2020 data)
Source: Eurostat, RBC Capital Markets
We argue that the case for more low carbon generation investment in Europe has never been stronger as Europe tries to wean itself off hydrocarbons, with more capacity growth in renewables likely to be supportive for the green hydrogen value chain.
Source: Eurostat, RBC Capital Markets
European hydrogen market in context
European hydrogen use sat at 325TWh in 2015 per industry sources, making up just 2% of final energy demand. The IEA notes that 60% of hydrogen demand on the continent is from North-West Europe, home to some of the largest industrial ports. With Europe being a major petrochemicals and chemicals hub, supplying 6-15% of global refining and chemicals output, unsurprisingly, nearly half of this produced hydrogen is used as feedstock in the refining industry for hydro-cracking and hydro-treating, etc. and another ~40% to produce ammonia.
The EU's 'Hydrogen Roadmap Europe' sees demand growing to 427TWh by 2030 from these existing feedstock uses of hydrogen under the status quo, with another 54TWh from other uses. Under its 'Ambitious' scenario, this figure grows to 665TWh (6% of final energy demand), with sizeable contributions from uses in new industry feedstock (+62TWh), heating and power for buildings (+33TWh), transportation (+70TWh) and power generation and buffering (+65TWh).
Overall, the implied figures within the REPowerEU plan suggest EU demand for electrolyser capacity that is ~6.5x the current targets announced by the key North American and European manufacturers we track by the end of the decade. RBC expects EU demand for electrolyser capacity to be >200GW, more than 6x the current announced supply growth (~33GW) by the end of the decade. RBC sees this trend as supportive for electrolyser investment cases.
Recent events also point to potential risks to raw materials supplies, particularly in light of the Russia/ Ukraine situation
However, our analysis of the PEM & Alkaline electrolyser stacks' components suggests that while there are similarities, there are many differences in composition. For example, a typical alkaline electrolyser stack is significantly exposed to nickel and steel, while a standard PEM one is more reliant on platinium group metals (PGM).
Given substantial growth expected in the space, investors have rightly been asking questions around the risks to raw materials supplies, particularly considering the Russia/Ukraine situation.
We are seeing thermal coal, nickel, PGMs and iron ore being the most impacted, driven by large market dislocations (i.e., iron, steel) and significant supply shortages due to concentrated production (e.g., PGM). Of the commodities highlighted by our Mining team with significant exposure to Russia, at least six go into electrolyser stacks.
Many "electrolyser metals" are subject to highly concentrated supply, presenting a risk for less established manufacturers
Most "electrolyser metals" present a risk of supply and trading disruptions given highly concentrated production. The production of six metals going into stacks is controlled by a single country (e.g. Russia, South Africa, the DRC or China) and most of these metals have experienced a significant rally over the past few weeks.
As a result, we see PEM and Alkaline experiencing broadly similar inflation of ~37% over the 2020-22 period.
Hover over the highlighted areas on the map to learn more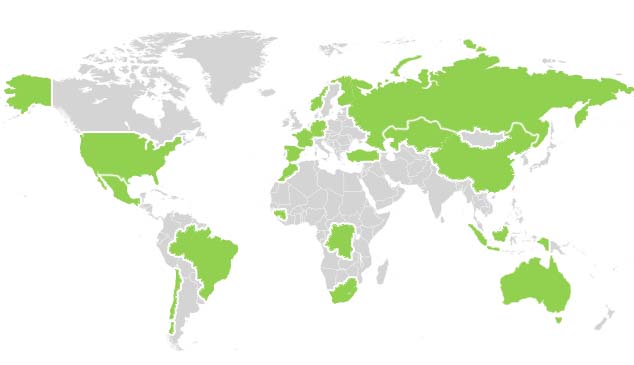 *share of global production
Platinum - Metal going into Alkaline / PEM electrolysers:
Russia: Palladium* 40%
China: Titanium* 45%
DRC: Cobalt 68%, Tantaium 36%
South Africa: Iridium* 92%, Platinum* 71%, Ruthenium* 93%
Source: European Commission; RBC Capital Markets
IRENA suggests this is mostly a limitation for PEM, given the high potential for oxidization on the anode side and the very few materials able to operate for a long time under such conditions. Such materials include PGMs such as iridium, as well as platinum coatings for titanium-based materials.
RBC concludes that in the electrolyser sector, manufacturers with shorter track records and lack of strong partnerships may be more vulnerable to execution risks and substantially higher ramp-up costs vs established peers.
---