Key Points:
Among the Health Care industries, Life Sciences Tools & Services has the highest ESG sentiment scores, while Pharma ranks highest on recent improvement.
The most meaningful ESG topics for the Health Care sector have been focused on social and governance areas including: (1) Access and Affordability (2) Product Quality and Safety, and (3) Business Ethics. News activity related to Governance topics has started to pick up for both major HC subsectors which bears watching.
Historically, we've found that Health Care companies with high sustainable fund ownership and the best ESG risk profiles have outperformed their sector peers that are lagging on these metrics.
---
From a sustainable investing perspective, Healthcare has typically been a top holding in sustainable funds. Global, European, and U.S.-focused sustainable funds tend to have overweight positioning for the Life Sciences Tools & Services and Health Care Equipment & Supplies industries compared to their traditional peers.
For other Health Care industries, sustainable funds have had relatively neutral positioning, except for Pharma, which tends to be underweighted because of access & affordability risks (drug pricing) and past involvement in "S" and "G" related controversies.
Our latest report examines current ESG scores and sentiment in ESG-related news activity and their impact on fund performance and positioning trends for Healthcare going forward.
Life Sciences boasts highest ESG scores, while Pharma improves
Based on our monitoring of RBC Elements™ ESG scores, which track sentiment around industry ESG activities in recent news activity, Life Sciences Tools & Services demonstrates very high sentiment with positive momentum.
Our indicators also look interesting for the Pharma and HC Providers & Services industries. Sentiment has been weak for both industries but improving.
Energy Efficiency emerges as top performing sustainability theme
We found that the top performing themes for the Healthcare sector in 2023 include:
Energy Efficiency
Circular Economy & Resource Efficiency, and
Sustainable Forestry.
Although Water performed well in past reports, fund flows have been choppier recently.
On the flip side, Sustainable Transportation was the worst performing theme in April and is now meaningfully underperforming the broader Russell 3000 index. The Sustainable REITs and Clean Energy themes also underperformed in 2023. We moved Sustainable Ag & Food back to neutral territory because we believe it has lost some of its valuation appeal.
Health & Wellbeing, which has been an in-line performer in 2023 following stronger relative performance, has also recently lost some momentum, and fund flows have turned choppier.
Social & Governance topics drive ESG-related news activity for Health Care
We believe that ESG topics that drive news activity are a good proxy for financial materiality.
Across U.S. Healthcare industry groups, we have found that the most meaningful topics have been focused on "S" and "G" areas such as:
Access and affordability (particularly drug pricing concerns)
Product quality and safety
Business ethics
News related to governance issues has started to pick up for the Equipment & Supplies and Pharma, Biotech, and Life Sciences subsectors, which bears watching.
Healthcare companies with better ESG risk profiles outperform their lower scoring peers
From a performance perspective, Healthcare companies with high sustainable fund ownership and strong ESG profiles have outperformed their sector peers that have fallen behind on these metrics.
Interestingly, we found that Healthcare companies that are improving their ESG profiles the most have underperformed their sector peers historically.
---
Our Commitment to ESG
ESG Stratify™ encompasses all of RBC Capital Markets' ESG thought leadership and insights, including our monthly ESG Scoop series and industry-specific publications from our research analysts. RBC's Equity Research Group delivers thorough, comprehensive assessments of companies spanning all major sectors, along with macro insights and stock-specific ideas to help guide portfolio management decisions.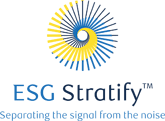 Sara Mahaffy authored "RBC ESG Stratify—ESG Sector Snapshot for Healthcare" published on May 12, 2023. For more information about the full report, please contact your RBC representative.
---