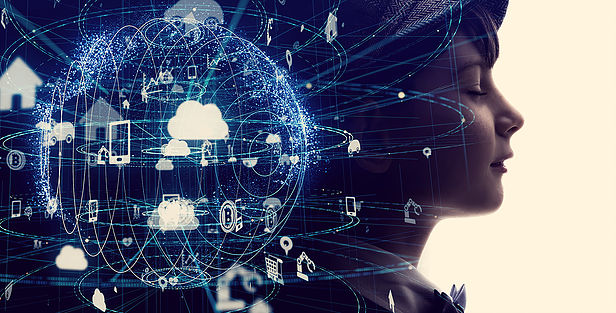 The AI Race
What the future Internet might look like
Read more ›
The AI Race
What the future Internet might look like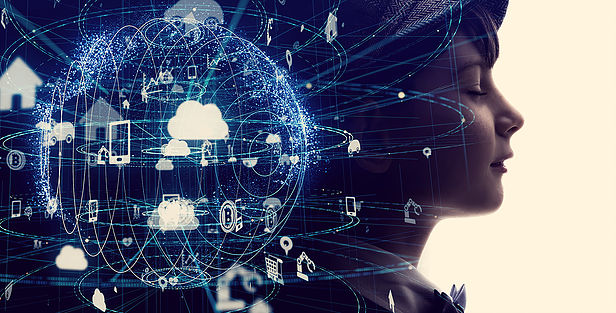 Many of the Internet companies, such as Amazon, Google, Facebook, Netflix, Expedia, eBay and Booking.com, are aggressively using AI. By 2025 we would anticipate that AI will be used right across the Internet sector in many aspects of business from operations to marketing, finance and HR.
We believe that machine-learning techniques, which enhances the personalization of what companies can offer their customers, will be widely in use across the Internet sector by 2025. Online search functionality will be skewed more towards voice commands than keypad/phonepad prompts as AI-powered Voice Recognition improves dramatically. And AI powered Virtual Reality (VR) and Augmented Reality (AR) will also become mainstream giving entertainment companies like Netflix new platform opportunities.
For companies like Amazon, advanced robotics will become a central part of their logistics bringing greater operational efficiency. The company already has 100k Kiva robots and we wouldn't be surprised to see them become a large percentage of the Amazon distribution workforce by 2025.
We can foresee a world where Friday Night Streaming is replaced by Friday Night VR.v
The application of Internet of Things (IoT) and a greater proliferation of 'smart' devices will make their way into household devices. This could give consumers the ability to track their energy consumption of their household appliances and increase their home security with improved cameras and alarms.
Global internet companies investing in Artificial Intelligence
We thought it was important in this report to look at how the FANG technology businesses are using AI.
Amazon – $228m estimated spend on AI talent in 2017
Amazon invests more money in AI than any other company. It applies machine learning (ML) and AI techniques everywhere it can from Alexa and Echo devices, autonomous Prime Air delivery drones and AWS cloud services to make improvements in inventory management forecasting, merchandising placements and fraud detection.
The benefits to Amazon include retail and AWS Cloud growth and reduced operating costs. Its AWS machine learning and AI services will also lower the cost barrier for smaller business wanting to adopt these technologies. Amazon could use its 30 – 40% market share to cross-sell AI products and grow AWS sales. As AI is a predictive technology that improves as more data is fed into the system, Amazon has a huge competitive advantage with its ability to generate large volumes of data on a global scale.
Amazon by numbers:
300 million global customers
Over 15 billion items sold each year
Over 1 million AWS clients
Google –$125m estimated spend on AI talent in 2017
Google is using machine learning and AI to build smarter and more useful products as well as make its data centers more energy efficiency. In the company's Other Bets unit, machine learning is making improvements to Google's self-driving cars and assisting clinicians to detect diseases and cancers more effectively. AI is also boosting Google's core revenue through its advertising revenue.
Google is also enabling more people to use its second-generation Tensor Processing Unit (TPU), built specially for machine learning, through Google Cloud. And it's open-source machine platform TensorFlow is used for training and inference with deep neural networks. Last year Google acquired Kaggle, the world's largest community for data science and machine learning, including the company's public data sets stored on Kernel.
$100 billion in annual revenue from advertising
60 trillion unique indexed pages/li>
Two trillion plus searches
Quintillions of page views
Facebook - $23m estimated spend on AI talent in 2017
With over two billion core users, Facebook can't possibly monitor all content creation and advertising on its platform using only human beings. The company is now a major player in AI/ machine learning (ML) research which it is leveraging to improve services for its consumers and advertisers. For instance, the company has developed the DeepText tool which uses neural networks to understand with "near-human accuracy" the content and context of several thousand posts per second across many languages. But while Facebook's huge amount of data gives them a big advantage, they are still way behind Amazon and Google in the AI race.
DeepFace, Facebook's AI-driven facial recognition product, has a 97% accuracy in recognizing human faces, close to human-level performance.
Netflix
Like Facebook, Netflix has been working on AI/ML for several years. It uses AI for things like content promotion, price modelling and delivery. It's also experimenting with personalized software-edited trailers for each subscriber to get them to watch its films.
As well as improved user experience, AI/ML will also deliver operational benefits and cost savings to Netflix. By predicting what level of streaming quality is best for a user, the bandwidth costs with be cut and the company will be able to better work out how much they should bid on new content based on what people like to watch.
And while Netflix launched a Virtual Reality product in 2015 to let users in a virtual room watch movies or TV shows on Gear VR, then later the Google Daydream headset, the company has since been quiet on the Augmented Reality and Virtual Reality front.