No birthday presents please…just sponsor me for RBC Race for the Kids instead says heart-op boy Elliot who visited the London trading floor ahead of this year's RBC Race for the Kids.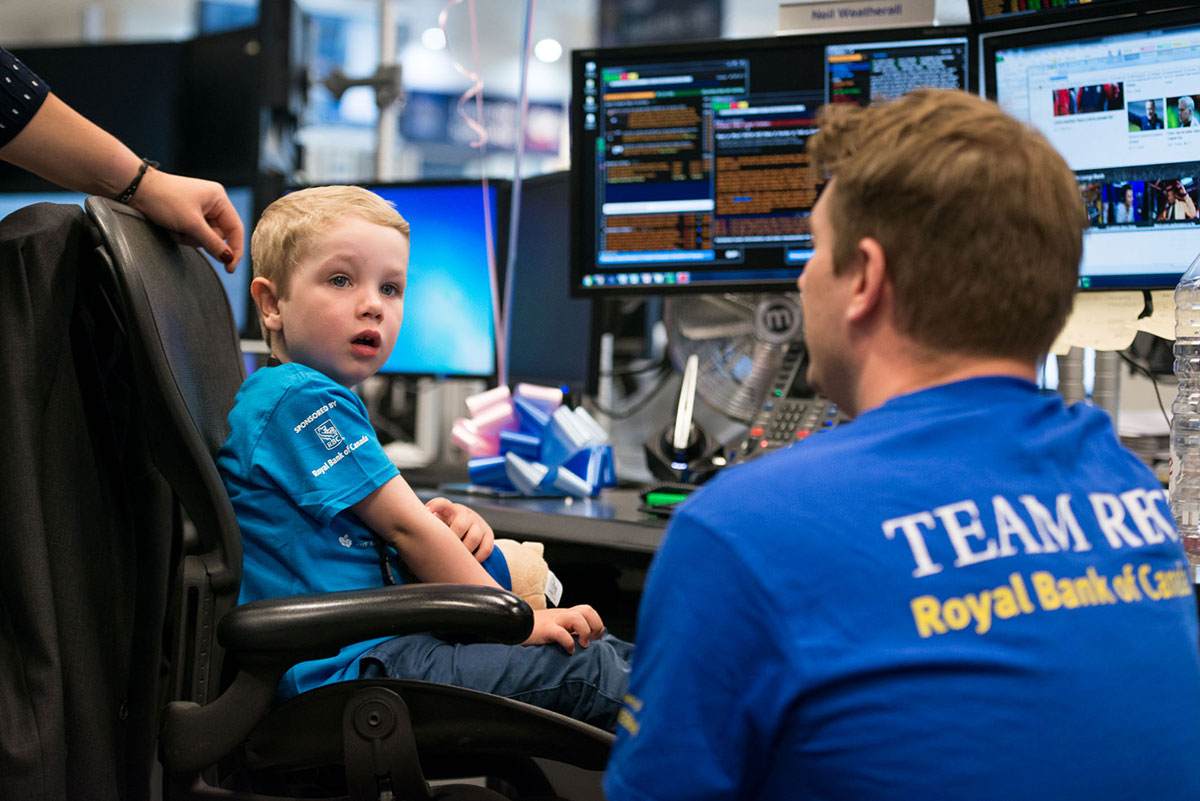 Last week, Elliott Livingstone and his mother Candace visited RBC's London trading floor as part of 'Oh My GOSH' day, which gave employees the opportunity to meet the patients and staff at Great Ormond Street Hospital (GOSH) and to hear their incredible stories of triumph over adversity. Elliot visited RBC to thank employees for supporting Race for the Kids, which takes place on October 7, the week before his fourth birthday.
Elliott and his family will be taking part in the Race as a way to say thanks for the lifesaving treatment Elliott received at the world-renowned hospital last year.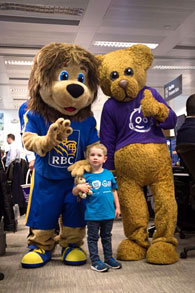 Before his first birthday Elliott was diagnosed with dilated cardiomyopathy –a disease where heart muscles become stretched and thin. He was fitted with a pacemaker after his health deteriorated but it quickly became obvious that he needed more assistance. Elliott was fitted with a Berlin Heart – a mechanical device which takes over the work of the heart. He spent 400 days on this whilst he was waiting for a heart transplant – the longest time of any child in the UK. After spending over a year at GOSH, Elliott finally got his heart transplant and has made a remarkable recovery at home and has started nursery this year.
"Because the London RBC Race for the Kids takes place a few days before Elliott's birthday we spoke to him about doing it and what it's for. Great Ormond Street is a happy place to him, he has happy memories there. We know how much GOSH has done for us and we can never say thank you enough but every opportunity we have to show our gratitude we want to take." – Candace Livingstone
Taking part in this year's Race will be his biggest challenge and achievement since his lifesaving surgery.
RBC has been the proud title sponsor of RBC Race for the Kids, London, since 2010. This inclusive 5km fun run is part of a global series of RBC Race for the Kids events taking place across the globe: London, Toronto, New York, Chicago, Minneapolis, Luxembourg, Hong Kong, Sydney, Barbados, Ottawa, Calgary, Vancouver, Trinidad and Tobago – each in aid of a prominent local children's charity.
Fundraising efforts for Team RBC in London back in 2010 chalked up a respectable £22,000. Last year, a field of over 1,800 Team RBCers managed to raise an incredible quarter of a million pounds with a further £150,000 donated to GOSH through other initiatives.