Areas of Expertise
Low Income Housing Tax Credit Equity
Investor Asset Management Services
Historic Tax Credit Equity
New Markets Tax Credit Equity
State Tax Credit Equity
Underwriting and Advisory Services
Housing Finance
Our Housing Finance Group is the largest State HFA platform in the country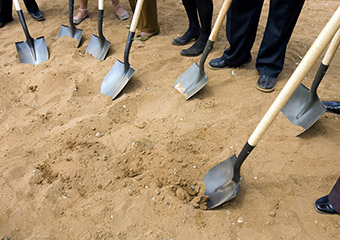 The syndications group enjoys deep relationships with the industry's most active developers and investors. We have expertise in fully leveraging the synergies that exist in matching the needs for affordable housing at the local level with the tax credit investment objectives of our investor clients. Our depth of talent in effectively structuring quality tax-advantaged investments, coupled with the strength of RBC in worldwide financial markets, makes us a premier tax credit syndicator.
TCEG's team of originators, underwriters and closing specialists works with developers nationwide to provide solid deal execution and follow-up through closing. We deploy substantial resources in all major markets to meet the dynamic development needs of affordable housing sponsors. Our capabilities include the flexibility to close a transaction with RBC funding within a developer's timeframe.
Our mission is to find quality investment opportunities for our clients and our syndication platform is built on the principle of providing strategic diversification for tax credit investors. We are disciplined in maintaining dual distribution channels – looking to syndicate tax credit investments equally through proprietary funds as well as multi-investor funds. This balance allows us to provide flexible capital to meet the needs of our developer partners and to provide strong investment opportunities to our investor partners. In the last five years, we have worked with 43 different institutional investors and have closed on tax credit investment funds totaling over $3.5 billion.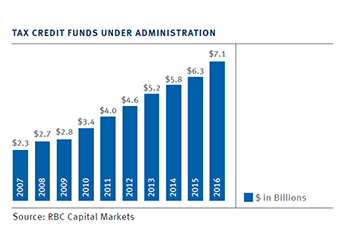 Our asset management team is structured to effectively monitor our entire portfolio of properties at any stage of the asset life cycle. Serving to protect yield and asset quality for both investors and developers, we employ a diverse team of strong professionals in four functional areas of expertise:
Construction and Development
Investor Reporting
Stabilized Properties
Work-Out and Disposition Properties
The architects, engineers, asset managers, compliance experts, CPAs and attorneys who lead and work in these areas develop valuable relationships with investor and developer clients. This specialization strategy enhances our ability to deliver best in class service.
Click on a state in the map below to view a sampling of key projects in that state.

Executive Team
Managing Director
Head, Housing Group
+1.212.618.5645
bob.spangler@rbccm.com
Bob Spangler is a Managing Director within RBC Capital Markets' Municipal Finance department where he serves as the Manager of the West Region and Tax Credit Equity Group. As Manager of the West Region, Mr. Spangler has management responsibility for the Firm's six municipal finance offices located in Albuquerque, Denver, Los Angeles, Salt Lake City, San Francisco and Seattle. In addition, he has management responsibility for the firm's 100-person affordable housing platform which includes the Tax Credit Equity Group -- a leading syndicator of Low Income Housing, New Markets and Historic tax credits -- and the Housing Finance Group. An eighteen year employee of RBC, Mr. Spangler is a member of both the Municipal Finance and the Municipal Markets Operating Committees. Mr. Spangler holds the Series 7, 24, 53 and 63 and 79.
Mr. Spangler received an AB in History from Stanford University and a Masters in Management from the J. L. Kellogg Graduate School of Management at Northwestern University.
Mr. Spangler was formerly with First Union Capital Markets (now Wells Fargo Securities), where he was a Senior Vice President and Manager of the Housing Finance Department. Prior to joining First Union, Mr. Spangler worked in the housing finance department of Merrill Lynch & Co. He serves on the Board of the YMCA of New Canaan, Connecticut and the New Canaan Athletic Foundation.
Bio
Managing Director
Tax Credit Investments
+1.216.875.6046
tony.alfieri@rbccm.com
Tony Alfieri has worked extensively in the banking industry for over 25 years, primarily specializing in real estate finance and the creation of affordable housing. As Managing Director-Tax Credit Investments for TCEG, he has substantial responsibility for all of the buy-sell activity within the business unit, along with co-heading the team of 90 professionals as a key Operating Committee member. Since joining RBC-TCEG's management team in 2006, Tony has held positions as Chief Operating Officer and Managing Director for Asset Management, and Chief Credit Officer for RBC's affordable housing platform.
Prior to joining RBC in 2006, Mr. Alfieri was a Director in Wachovia Bank's Tax Credit Investment Group, where he served in various capacities including Director of Risk Management and had approval authority for equity investments and debt in a multi-billion dollar portfolio. In his 10-year career at Wachovia, he was also a Senior Credit Officer in the Asset Securitization Department and Real Estate Credit Officer. Mr. Alfieri has been a member of the Affordable Housing Tax Credit Coalition (AHTCC) since 2013, and currently serves as their President. The AHTCC is a broad-based industry coalition whose mission is to protect and expand the low-income housing tax credit. He is a graduate of Nazareth College in Rochester, NY, with a BS degree in Business Administration and an Economics concentration.
Bio
Managing Director
Tax Credit Investments
+1.980.233.6459
craig.wagner@rbccm.com
Craig Wagner joined RBC in 2002 and has continued to assume greater leadership responsibility, including key roles on the TCEG Operating Committee and chairmanship of the Investment Committee. He currently serves as Managing Director – Tax Credit Investments for TCEG, responsible for the oversight of the Syndications staff, as well as State Tax Credit and New Markets Tax Credit business. Prior to this role, Craig was Director of Business Development with responsibility for new products business development and managed the firm's national accounts. Previously, he was also the Director of Originations and a Regional Director – Southeast where he led a team in the areas of origination, financial underwriting, and partnership structuring of investments.
Craig's experience includes the acquisition and underwriting of LIHTC, HTC, and various state tax credit investments. He has worked with numerous housing authorities, for-profit developers, and non-profit developers on various property types including HOPE VI, mixed-income, and mix-use transactions. Prior to joining RBC, Mr. Wagner served in various leadership roles as an officer in the United States Navy and as a production manager for Frito Lay, Inc. in California. Craig, a graduate of Northwestern University with a Bachelor of Arts in Economics, earned his Masters in Business Administration with concentrations in Real Estate and Finance from the Kenan-Flagler Business School, University of North Carolina-Chapel Hill.
Bio
Regional Directors
+1.916.705.8635
stacie.altmann@rbccm.com
Stacie Altmann joined RBC in 2010 as VP-Acquisitions and currently serves as Director – West Region responsible for originating, structuring and negotiating LIHTC investments throughout the western US. Ms. Altmann has over 20 years of investment banking and real estate finance experience, with a specific focus on the affordable housing industry. Ms. Altmann has relationships with for-profit and non-profit developers and has experience structuring 9% tax credit, tax-exempt bond, RAD, state and historic tax credit, mixed income and mixed use projects in both urban and rural markets. She also actively works with state and local agencies as well as community affordable housing groups on policy and program issues.
Prior to joining RBC, Ms. Altmann served as a corporate officer and Director of Project Finance for USA Properties Fund, Inc. in Roseville, CA where she oversaw the financing activities for the firm. She graduated summa cum laude from the University of Tennessee with a Bachelor of Science in Business Administration – Finance.
Bio
+1.980.233.6462
brian.flanagan@rbccm.com
Brian Flanagan currently serves as Director - Mid-Atlantic and Southeast Region. Prior to this role, Brian was Vice President-Acquisitions in the Charlotte office, with a primary focus on North Carolina and Georgia.
Brian's experience includes the acquisition of federal and state affordable tax credit properties, as well as historic tax credit properties. He has worked with for-profit and non-profit developers, underwritten a variety of property types, including affordable housing only, mixed income, tax credit and commercial retail, structured transactions that involved both federal and state historic tax credits, and has invested in multiple mixed finance properties utilizing HOPE VI funds. Prior to joining RBC in 2006, Mr. Flanagan worked for First Union/Wachovia as an equity originator and closer in the company's Tax Credit Investment Group covering primarily the Southeast region. Mr. Flanagan received an undergraduate degree in Accounting at Assumption College in Worcester, MA.
Bio
+1.216.875.6043
daniel.kierce@rbccm.com
Dan Kierce is a Director with responsibility for the Central Region and some Northeast states. He originally joined RBC in 2003 and served as Vice President with a client focus in Northern New England, Texas and the Northwest. Mr. Kierce is a real estate professional with years of experience in the Section 42 affordable housing industry. His experience includes working with for-profit and non-profit developers on a wide range of projects which includes 9% tax credit and tax-exempt bond projects, historic tax credit projects, high profile urban projects, as well as rural communities.
Prior to joining RBC, Mr. Kierce was Vice President of Key Real Estate Capital where he was responsible for acquiring and structuring tax credit investments, as well as providing additional debt products to developer clients. Mr. Kierce invested equity on behalf of institutional investors in guaranteed and non-guaranteed funds over his seven years with KeyBank. Prior to joining KeyBank, Mr. Kierce worked at the Boston Financial Group for five years as Assistant Vice President of affordable housing acquisitions. Mr. Kierce graduated with honors with a Bachelors of Science in Business Administration from Nichols College.
Bio
+1.617.725.2470
thomas.maxwell@rbccm.com
Tom Maxwell joined RBC in 2012 as a Director with responsibility for originating LIHTC investments in the Northeast Region and working with developer clients and sponsors. Mr. Maxwell is a real estate professional with over 35 years of experience in real estate and significant originations experience in the affordable housing industry.
Mr. Maxwell received his undergraduate degree from Case Western Reserve University and his MBA from The Graduate School of Business at Boston University.
Bio
+1.212.618.5619
christopher.tully@rbccm.com
Christopher Tully currently serves as Director – Mid-Atlantic Region and has over 13 years of experience in real estate and finance. During his tenure with RBC Capital Markets since 2010, Mr. Tully has been involved in the structuring and placement of over $400 million in LIHTC equity. Mr. Tully is responsible for evaluating, negotiating and closing the acquisition of LIHTC multifamily properties in Connecticut, Delaware, New Jersey, Maryland, Pennsylvania and Rhode Island. Prior to joining RBC Capital Markets, Mr. Tully spent seven years in progressive roles with another tax credit syndication firm.
Mr. Tully received his Masters of Science in Real Estate Finance from the New York University and also has a BS-Finance and Marketing from Boston College.
Bio
+1.980.233.6437
david.urban@rbccm.com
Dave Urban currently serves as Director – Gulf Coast Region with RBC's Tax Credit Equity Group, with a focus on originations activity in the Gulf Coast, Southeast and Illinois. He originally joined the group in 1998 and has worked on acquisitions and origination activity during his tenure. Cultivating relationships with both for-profit and not-for-profit developers, Dave has closed on real estate equity transactions in more than twenty states and Puerto Rico. Prior to joining RBC, Mr. Urban had over 10 years of experience in accounting and finance. He worked for TravelCenters of America in Cleveland, Ohio, performing operations and budget analysis on over 85 locations, and assisted in determining the profitability of potential property acquisitions.
Since joining RBC, he has worked closely with developers to close on a broad range of projects and providing assistance in securing construction and permanent financing, as well as developing and maintaining several long-term developer relationships. Mr. Urban has also worked closely with several state and local tax credit agencies and assisted in the development and servicing of equity investor relationships. A 1997 MBA graduate of Baldwin-Wallace University, Mr. Urban's background includes experience as a Controller and International Controller.
Bio
Management Team
+1.980.233.6451
lorraine.coram@rbccm.com
Lorraine Coram joined the Tax Credit Equity Group in 2004 and currently serves as the Director of Asset Management. She leads the Development Risk Management, Stabilized Asset Management, Asset Risk Management and Compliance teams for the firm. This team oversees the TCEG portfolio and their primary focus is minimizing investment risk and enduring the dependable flow of benefits to the investor. Lorraine has been a senior member of the Asset Management leadership team since 2007, overseeing Stabilized Asset Management through 2011.
Ms. Coram has over 27 years experience in property management and LIHTC asset management. Prior to joining the Tax Credit Equity Group, she had over 16 years of experience in residential property management for a portfolio of conventional, HUD and LIHTC properties. She earned a Bachelor's Degree in Business Administration/Marketing from the State University of New York, College at Oswego.
Bio
Director
Transaction Management
+1.216.875.6080
kenneth.lohiser@rbccm.com
Ken Lohiser currently serves as Director – Tax Credit Transactions supervising the Investment Diligence Specialist group and collaborating with the Underwriting team on all aspects of closing investments at the lower tier. Ken joined RBC in early 2006 to serve as Associate General Counsel. He brings to the organization over twenty years of real estate experience, including fourteen years in private practice and six years as corporate counsel for a Fortune 500 company.
Mr. Lohiser had represented real estate developers in acquisitions, dispositions, commercial and residential developments and financing of real estate. He has an extensive background in due diligence for multi-parcel transactions, including title insurance, environmental compliance, survey review, zoning and construction issues. Mr. Lohiser is a graduate of the University of Cincinnati, College of Law and has an undergraduate degree from The Ohio State University. He is a member of the Governing Committee for the American Bar Association Forum on Affordable Housing and Community Development Law.
Bio
+1.980.233.6463
eric.moody@rbccm.com
Eric Moody currently serves as Director of Underwriting overseeing all aspects of lower tier closings and managing the Investment Manager staff, along with selected key client relationships. Prior to this role, Eric served as Vice President - Acquisitions for RBC's Southeast Region in Charlotte, NC. He joined RBC in 2006 from Wachovia Bank, where he was as an underwriter in the company's Tax Credit Investment Group covering primarily the Southeast region.
Eric's industry experience includes the acquisition of affordable and historic tax credit properties. He has structured transactions that involved both federal and state historic tax credits, and has invested in multiple mixed financed properties utilizing HOPE VI funds. Mr. Moody received his undergraduate degree in Business Administration from the UNC-Chapel Hill.
Bio
+1.216.875.6048
todd.surbey@rbccm.com
Todd Surbey serves as Director – Fund Management at RBC, responsible for the financial reporting function of RBC and its various tax credit partnerships, along with management of the Fund Management department staff. Additionally, Mr. Surbey oversees the dispositions process, which is a collaborative effort between the fund management and asset management groups. Furthermore, Mr. Surbey provides financial analysis assistance and review and offers tax technical guidance to the asset management department.
Prior to joining RBC in 2003, Mr. Surbey worked in the public accounting field where he specialized in the tax and accounting projects for many types of real estate entities, such as architects, contractors, developers, management companies and syndicators. He gained experience preparing and supervising cost certifications for low-income housing projects, preparing financial underwriting for low-income housing and historic rehabilitation developers and supervising annual audits and tax engagements. Mr. Surbey graduated with Bachelor of Arts degree in Accounting from Mount Union College and earned his CPA thereafter. He is a member of the AICPA and the Ohio Society of CPAs.
Bio
+1.216.875.6042
tammy.thiessen@rbccm.com
Tammy Thiessen serves as Director-Equity Sales, managing investor client relationships and overseeing all aspects of the fund closing process with the TCEG's investor clients. Tammy joined RBC in 2004 and held previous roles including Vice President of Investor Relations, as well as Transaction Analyst. Tammy began her LIHTC career with KeyBank Real Estate Capital in 2002. Previously, Ms. Thiessen worked in various roles at several large financial institutions and private corporations including mergers and acquisitions, compliance and contracts administration.
Ms. Thiessen graduated from the University of Iowa with a Bachelor of Arts degree in Pre-Law Studies, Philosophy and Political Science.
Bio