Required Conflicts Disclosures
Autonomous vehicles: Personal auto coverage may become more, not less important
The future of autonomous vehicles (AV) is uncertain. In the next five years, we need to see changes in driver behavior, street mapping, and safety issues before widespread adoption can happen.
As a first step, we're likely to see a mix of both full and adaptive AVs and human-operated cars on the road. All these vehicles sharing the same road may make personal auto coverage more important than ever due to more frequent accidents and more costly repairs.
Post-COVID-19, we may also see less shared mobility and vehicle ownership due to health and safety concerns from previous passengers. While coverage may still shift from primarily personal to commercial, the impact may not be as great as originally expected making it easier for personal lines-oriented companies to evolve and adapt.
Artificial Intelligence: A world without losses?
Artificial intelligence (AI), Big Data, and the Internet of Things have the potential to turn the old "wait and pay" model on its head, where the role of the insurance company is less about paying claims, but rather proactively preventing them.
Big Data and AI can help predict the locations most vulnerable to robberies, personal injuries, and other mishaps and can even design safety procedures to mitigate or prevent losses. And drones, already in use, will be used more frequently to evaluate property damages before policies are written and to adjust claims more efficiently.
Of course, technology has its down side too, namely errors and privacy data concerns. While a world without losses may be a good thing, a world without privacy would be a high price to pay for it.
Climate: Hurricanes, earthquakes, and…more viruses?
In five years, climate change may not radically change the way the world works, but we may have a better handle on how to deal with it.
The Property & Casualty (P&C) world faces the most direct impact because of more severe climate events. As a result, underwriting risks in many areas will heighten, and societies and governments will need to reassess development and building codes, response measures, and risk pricing in certain geographies.
With respect to life insurance, rising temperatures will increase infectious diseases, increasing morbidity and mortality assumptions. The coronavirus outbreak shows how quickly an infection in one place can spread globally. Shuttered economies and other preventative measures from the pandemic will have lasting negative impacts on both P&C and life insurance, including credit risks and weakened growth.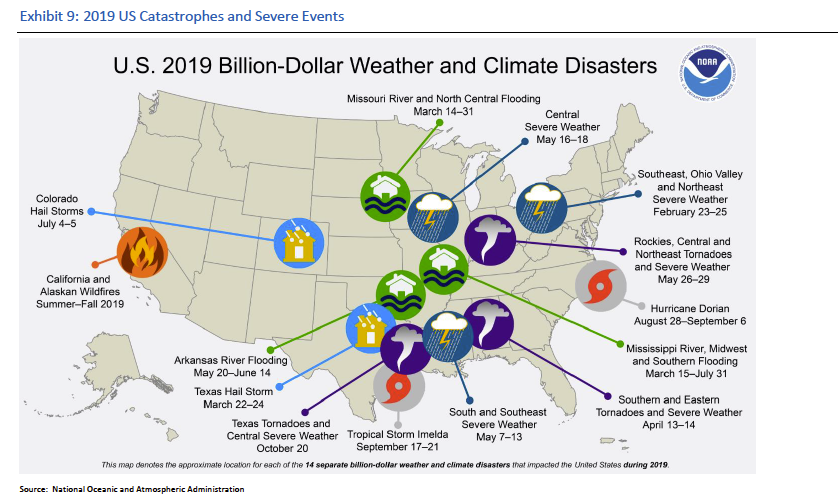 Cyber: Growing need to protect from intrusions
One of the fastest growing P&C lines, cyber coverage, will face increased demand over the next five years as data protection, breaches, hacking, ransomware and cyber-crime are here to stay.
As fears of mega cyber insurance attacks mount over the next five years, we predict increased take-up rates and premiums reaching the $5 to $10B range.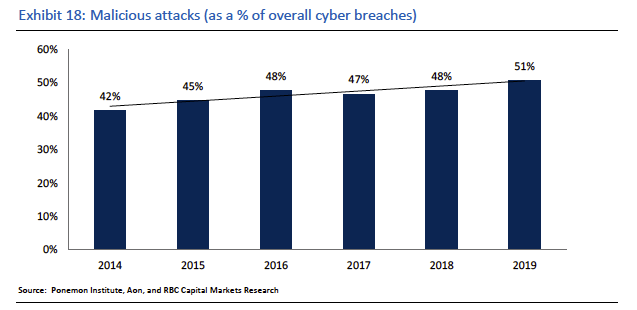 Genetics: Better risk profiling, but privacy issues remain
Single-gene analysis, genetic testing, and genome mapping offer substantial opportunities for life insurance; the more they know about someone's disease risk, the better insurers can price risk and improve underwriting. But opportunities may be limited due to the controversy over genetic data and individual privacy rights.
And, information cuts both ways: data may lead underwriters to price risk better but also make it difficult for people to get coverage. Or, it may force consumers with susceptibility to illnesses to buy mispriced insurance in the marketplace.
Distribution and disintermediation: Evolve or face disruption
The insurance sector's future is more about evolution than disruption or disintermediation; most insurers are preparing for the new world by upgrading technology systems, increasing data and analytics, AI and robotics, and digital distribution.
Although InsurTechs have built insurance business models, we don't expect them to dominate the space due to barriers to entry. Rather, many may act more as "enablers" rather than disrupters by adding valuing through tools like smart home kits.
We also believe that "direct-to-consumer" channel adoption will be slow and hardly disruptive as parties up and down the chain look for ways to add value.
Closing thoughts
Despite maturing markets and market and economic volatility, we believe the insurance sector will continue to generate growth and maintain profitability over the next five years.
Its key to true success will likely depend on integrating innovative tools and technology into legacy systems, transforming business models, and working with InsurTechs and other third-parties to add value to customer experiences.
For more of our unique perspectives on the forces shaping tomorrow's world today, read our Imagine 2025 research.
Mark A. Dwelle authored the research report "Imagine 2025: U.S. Insurance-Key Topics for 2025 and Beyond." For more information about the full report, please contact your RBC sales representative.
For Required Conflicts Disclosures, click here. These disclosures are also available by sending a written request to RBC Capital Markets Research Publishing, P.O. Box 50, 200 Bay Street, Royal Bank Plaza, 29th Floor, South Tower, Toronto, Ontario M5J 2W7 or sending an email to rbcinsight@rbccm.com.