Remember the days when we "went" to work, used stationery devices, and met with teams in the same office? Those days are over.
In the new way of working (Work 2.0), location won't matter, as most meetings and check-ins will be "virtualized," so that they can be done remotely at any time. These functions will be powered by always-on, always-available cloud-based software that allows us to be just as productive on our phones as we are on our PCs.
Survey says: Working from home isn't a fad
Working remotely is not new for everyone. According to surveys and analyses of company trends and technologies, more than half of knowledge workers reported that they never worked from home prior to the pandemic, and less than 15% did it just a few days per month.
Now that the vast majority are working remotely, most say that they enjoy their jobs more and have higher productivity. The most frequently used Work 2.0 tool is the Cloud Productivity suite (Microsoft Office & G- Suite).
What's supporting the shift?
Three changes are driving adoption to Work 2.0:
Modern, cloud-based software. Always-on software has boosted employee productivity and flexibility through the automation of manual HR, sales and marketing, customer service, and IT functions.
The growth of Millennials and Gen Z employees. These two groups, who will represent 35% and 24% of the workforce respectively, grew up with technology and smartphones and expect software such as Instagram, Snapchat, and TikTok, to be intuitive and simple.
The growth of distributed/remote work. More than 75% of survey respondents say that would like to work from home at least once per week. That data combined with the fact that 1/3 of U.S. jobs can be performed entirely from home, leads us to believe that remote workers will make up a larger percentage of the global knowledge worker population.
Data will shape workflow patterns
One of the key benefits of the shift to Work 2.0 is the explosion of data-rich software that can be used to analyze how employees plan, collaborate, and execute their work.
Over time, as Work 2.0 vendors aggregate more data and integrate it into existing IT architectures, we expect more automated workflows, allowing employees to focus on more creative rather than process-oriented work.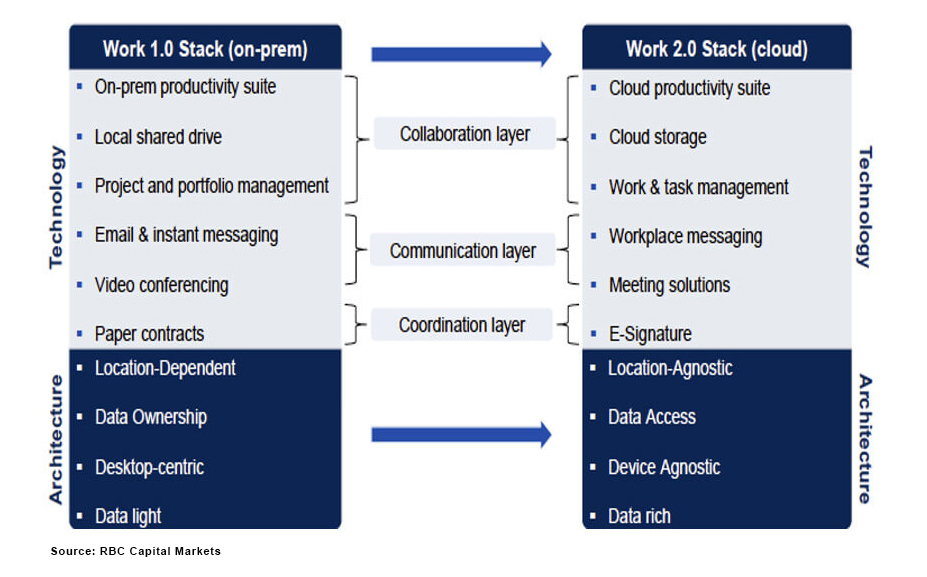 Driving better outcomes through workplace efficiencies
Post-COVID, data-driven workflows will drive cost savings and efficiencies. For example, employers can lower employee compensation and real estate costs by reducing their footprint and hiring remote workers who don't want to relocate to expensive cities to work.
It can also lessen regulatory burdens. Until we have a safe and reliable vaccine, we expect companies will likely stagger or limit returns to the workplace through at least 2021 due to liability concerns. Work 2.0 software may help firms navigate this evolving landscape.
Remote collaboration tools steal the spotlight
According to our pre- and post-COVID analysis, the biggest serviceable market opportunity for vendors increased 59%, with the greatest boost coming from Meeting Solutions which increased by 163%. This is not too surprising given the fact that Zoom doubled its expected revenues this year.
Other potential winners include Video Conferencing, e-Signature, Workplace Messaging, and Project Management tools.
The total Work 2.0 TAM goes from $286B to $456B, and that's without the potential price increases that we believe the category will be able to sustain over time.
Retiring the era of Work 1.0
In today's global economy and given heightened levels of macroeconomic and geopolitical uncertainty, we believe it's time to "retire" the era of Work 1.0. To operate effectively in a Work 2.0 world, both employers and workers will need flexible, intuitive tools that enable productivity anytime or anywhere.
This shift could generate a half trillion dollar market opportunity over the next decade for many companies that, pre-COVID, were already among the most valuable digital assets on the market.
Alex Zukin authored "Imagine 2025: Welcome to Work 2.0" on June 11, 2020. For more information about the full report, please contact your RBC sales representative.