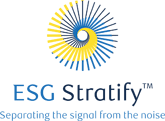 ---
Growing importance of ESG, for Transport Infrastructure too
ESG considerations are increasingly important given the growth of ESG funds, and greater focus on sustainable investment. The adoption of the EU taxonomy will likely increase transparency and attention on ESG considerations for Transport Infrastructure.
Despite increased investor interest for ESG practices, the Transport Infrastructure sector - due to the nature of the businesses – is unlikely to see significant stock re-ratings as seen in Utilities. Sustainable equity funds therefore remain relatively underweight in Transport Infrastructure compared to traditional funds. Within the sector, Transport Infrastructure companies like airports and toll roads score on average better from an ESG perspective than the users of the infrastructure like airlines, trucks and cars.
ESG goals for Transport Infrastructure stocks
With the adoption of the EU taxonomy likely to increase transparency and attention on ESG considerations, we expect to see increased ESG reporting and accreditation. Since most of the ESG attention in the sector is on the 'E' this could include looking at both CO2 emissions today, but also goals to reduce CO2 emissions towards net-zero emissions by 2050. There are several indirect benefits to being a 'good' or 'fast-improving' ESG company: better position as a candidate in concession tenders or access to lower cost of capital - to name a few. On the other hand, the less sustainable companies could be penalized.
Challenges for Transport Infrastructure companies
Transport Infrastructure companies are having to respond to a rising interest in ESG by increasing the number of disclosures, whether it is in their FY results, sustainability reports or similar. These reports now include environmental metrics and targets which are increasingly the focus of conversations with investors.
Currently, there is not an ideal standard when it comes to analysing Transport Infrastructure companies' performance in ESG.
However, we consider the Sustainability Accounting Standard Board (SASB) framework a good starting point as it recognizes that different types of industries have different types of priorities and focus areas.
Another challenge is the need for greater transparency around company discloses and consistency on what can be defined as sustainable economic activity.
The EU taxonomy system aims to provide a consensus on this by establishing a classification system focusing on six objectives (see below). The system should be fully implemented by the end of 2022.

---
Stephanie D'Ath, Ruairi Cullinane and James Nevin authored "Global Transport Infrastructure A framework for ESG investing". This report was published on 8 October 2020. For more information about the full report, please contact your RBC representative.
---
Our Commitment to ESG
RBC Capital Markets' ESG StratifyTM encompasses all of our ESG thought leadership and insights, including our monthly ESG Scoop series and industry-specific publications from our research analysts. RBC's Equity Research Group delivers thorough, comprehensive assessments of companies spanning all major sectors, along with macro insights and stock-specific ideas to help guide portfolio management decisions.