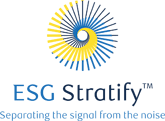 ---
Worldwide resurgence
Hydrogen production has been around for quite some time, but for years it has never been more than a potential clean alternative to fossil fuels and carbon. However, this is set to change as countries around the world have begun to include hydrogen in their carbon offsetting plans.
For the European Union, hydrogen is the core technology in what is called the Green Deal, whilst earlier this year, Japan and Australia signed a hydrogen agreement to progress on the deployment of this energy and in the U.S. plans are underway to build the first hydrogen power plant.
Another reason to believe that the time for hydrogen has finally arrived is that developments in technology are not only reducing its production costs, but also paving the way for the production of hydrogen in a more sustainable way and at a larger scale. Currently, the use of hydrogen is mostly for industrial purposes such as steel, ammonia and methanol production. However, these developments coupled with the fact that hydrogen is storable, can be transported and can help decarbonize areas in which electricity has limitations will facilitate the production of this energy for other applications such as heavy trucking, aviation, long-range road transport and industrial processes such as steel making.
Hydrogen efforts for selected countries
Please click on the chart below to view.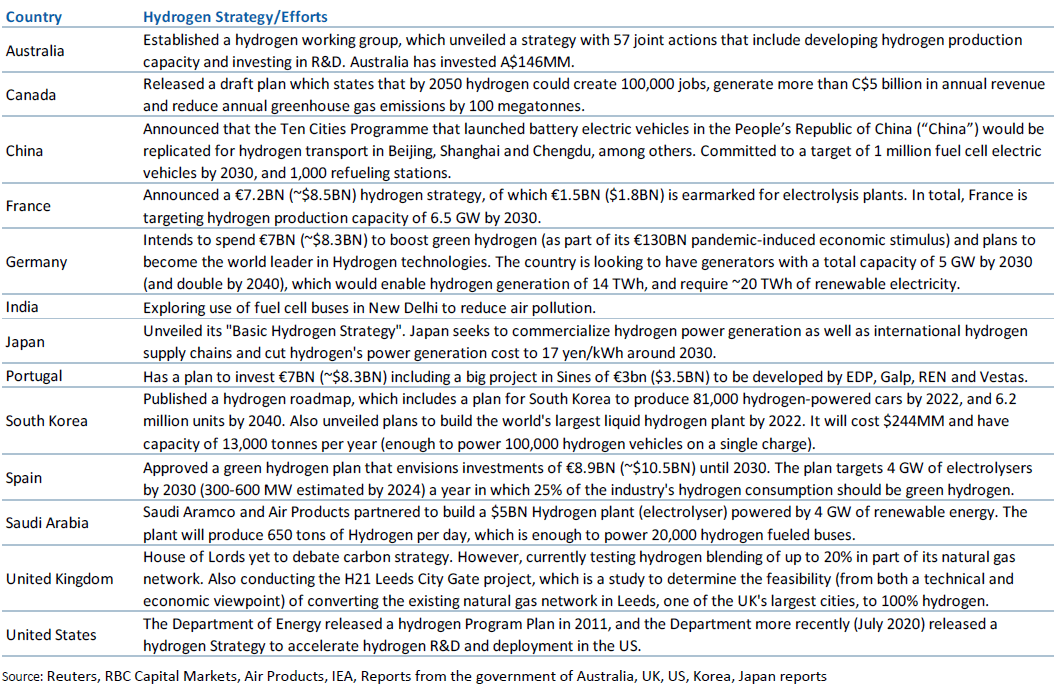 Hydrogen: A sustainable alternative
Why is hydrogen being heralded as a key energy alternative in the move towards a zero-carbon emission society? There are several reasons for this: hydrogen is the most abundant element in the universe, it has high energy density, it's storable, it can be transported long distances and ultimately generates no carbon emissions.
There are four different types of hydrogen depending on feedstock and carbon intensity: brown, gray, blue and green. Green is the most sustainable type as it uses renewable electricity for its production. Blue hydrogen uses a fossil fuel feedstock together with carbon capture and storage (CCS) which, in turn, reduces carbon emissions. Production of green hydrogen at a large scale worldwide is not yet economically viable and we believe blue hydrogen will be a more realistic option as a transition towards a zero-carbon emissions society. In any case, adoption of hydrogen technology will depend, to a large extent, on its cost competitiveness and as a result, it will vary widely depending on its end-use. As it currently stands, hydrogen competitiveness stands out in industrial environments and large scale and long distance transport. (See chart below)
Hydrogen competitiveness vs low-carbon and conventional alternatives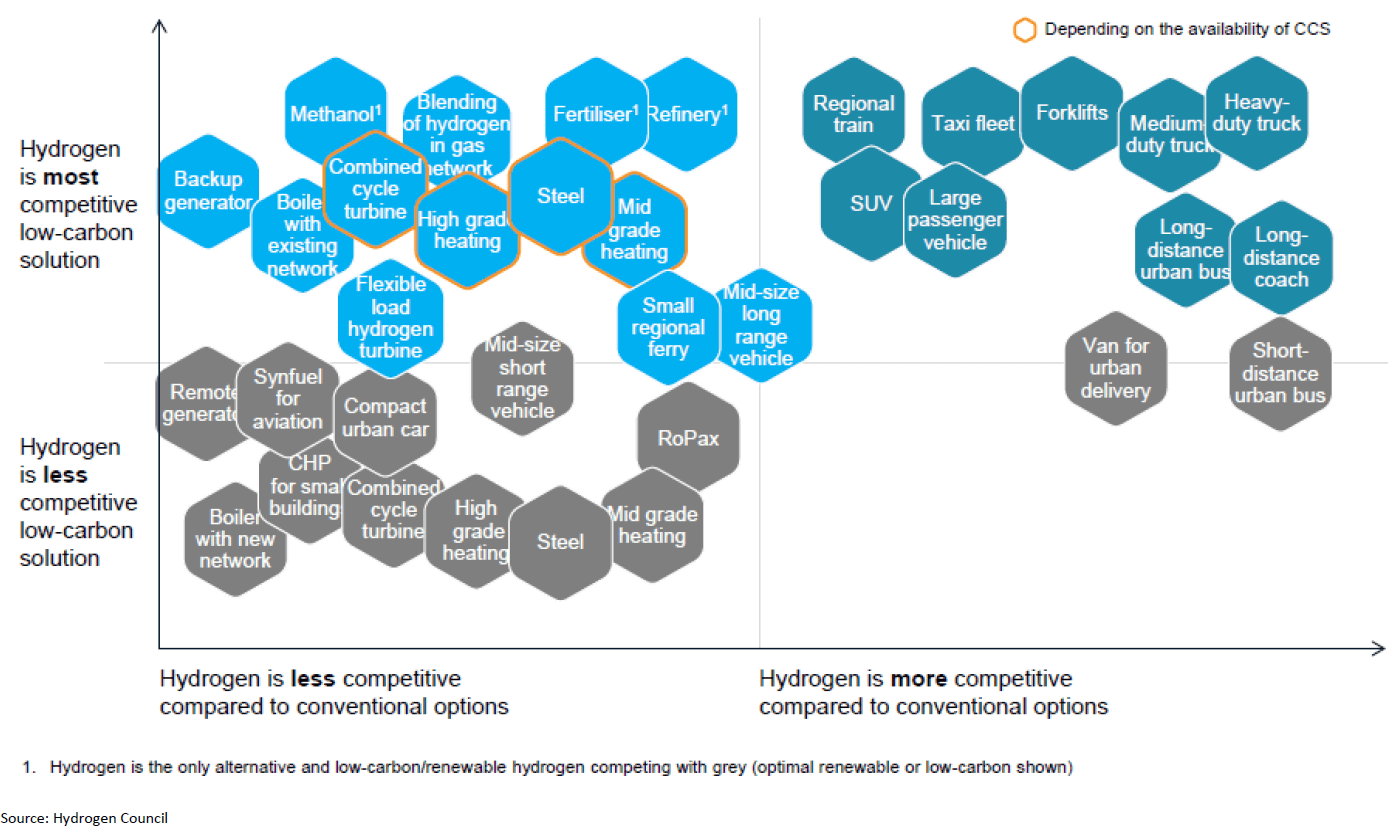 Opportunities for companies
Whilst fossil fuels will remain the energy of choice for still some time, the importance of hydrogen will increase over the coming decades and companies will be able to benefit from these developments.
In particular, we believe that midstream companies will be the first to capitalize on this transition. Those companies focused on natural gas, such as natural gas pipelines and storage facilities can lead the way as they will be able to use their facilities for hydrogen storage. In the longer term, their pipelines can be easily adapted to the transport of hydrogen. Finally, hydrogen can help midstream companies reduce their methane emissions as its production has no greenhouse gas (GHG) emissions, ultimately reducing the carbon footprint of these companies.
For midstream companies, joining the hydrogen transition will also have a positive impact in their valuations, as a result of the growth that this adaptation and expansion will generate.
---
Elvira Scotto, TJ Schultz and Rafael Castillo authored "Hydrogen: The growing importance of a green energy alternative'. This report was published on 19 October 2020. For more information about the full report, please contact your RBC representative.
---
Our Commitment to ESG
RBC Capital Markets' ESG StratifyTM encompasses all of our ESG thought leadership and insights, including our monthly ESG Scoop series and industry-specific publications from our research analysts. RBC's Equity Research Group delivers thorough, comprehensive assessments of companies spanning all major sectors, along with macro insights and stock-specific ideas to help guide portfolio management decisions.