RBC Capital Markets is preparing to launch Aiden in Europe and to launch another algorithm on its artificial intelligence-based electronic trading platform.
Shary Mudassir, co-head of global electronic trading at RBC Capital Markets, told Markets Media: "We are in the final stages of preparing to launch Aiden in Europe over the coming months."
The Canadian bank launched Aiden in October last year after being developed jointly by RBC Capital Markets and Borealis AI, a research center created by the bank. The platform has been available to RBC Capital Markets clients trading in U.S. and Canadian equities.
"

As client activity and data increased, we began exploring ways to make changes more efficiently and started investing in machine learning and artificial intelligence with Borealis AI five years ago," added Mudassir. "It is like self-driving cars analysing traffic data and telling the driver to slow down and the AI to simply drive the car.

"
- Shary Mudassir
Co-Head of Global Equities Execution,
RBC Capital Markets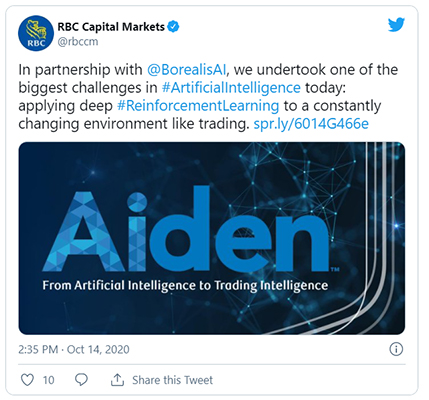 Aiden applies deep reinforcement learning to make more than 32 million calculations per order and execute trading decisions based on live market data, dynamically adjust to new information. The platform can learn from each of its previous actions without needing continuous changes to code, which is necessary in traditional algorithms.
Mudassir said: "Over the last decade, code changes to algos could take weeks or months to build and deploy with enhancements degrading over time."
The platform was being tested through the period of extreme volatility in March 2020 and he said the platform maintained strong performance, which served as a proving ground for the global client launch in October.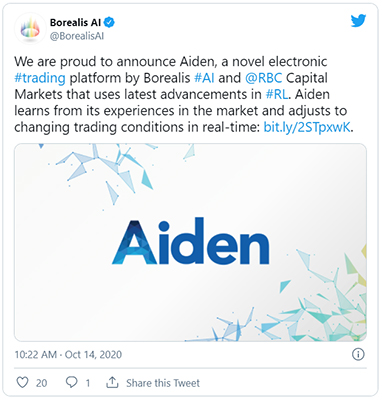 The first product launched on Aiden was a volume-weighted average price (VWAP) algo which aims to by reduce slippage, the difference between the expected price of a trade and the price at which the trade is executed.
"

The Aiden VWAP algo was launched last October and we have had stellar feedback from clients," added Mudassir. "We plan to launch an arrival price benchmark algo later this year.

"
- Shary Mudassir
Co-Head of Global Equities Execution,
RBC Capital Markets
VWAP was the second more popular algo last year according to a survey from consultancy Coalition Greenwich.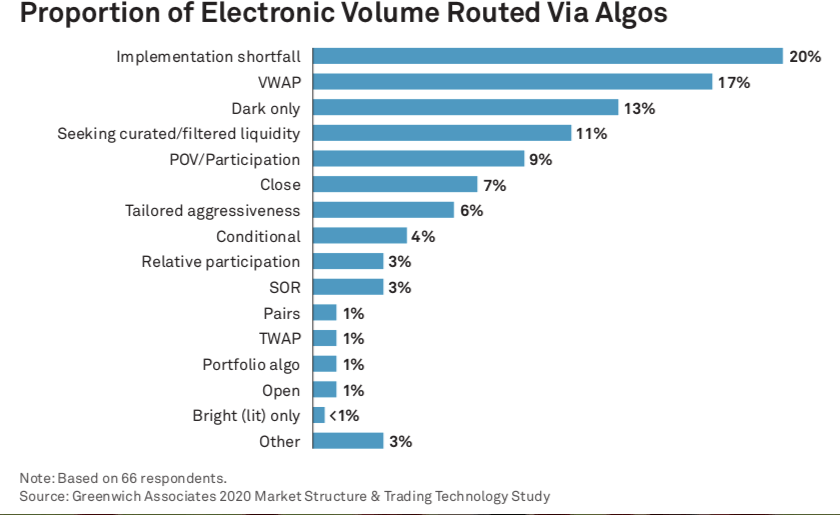 Source: Coalition Greenwich
The report, Algos, ATSs and Automation in Equity Markets, said: "In a difficult year, it appears that many firms turned to the tried and true to get their orders executed."
The use of implementation shortfall rose from 16% in 2018 and 18% in 2019 to 20% in 2020.
"Again, firms were leaning heavily on their brokers to deliver against the arrival benchmark in a year of dramatic ups and downs," added the study.
In addition RBC will be launching Aiden Insights, a client-facing portal which provides an explanation of Aiden's actions in real-time to build greater trust and provide explainability to clients.
"The technology behind the Aiden platform has potential applications across asset classes," added Mudassir. "We are currently focused on providing a comprehensive suite of AI based algo solutions in equities for our global clients."