Keynote Speaker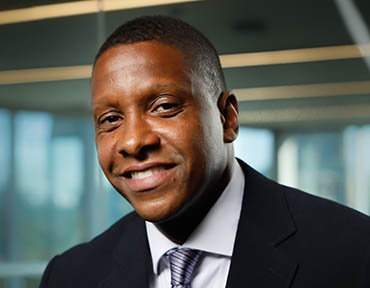 Masai Ujiri
Vice-Chairman & President , Toronto Raptors
Founder, Giants of Africa
When his friends and classmates in Nigeria were playing soccer, Masai Ujiri was watching highlights of Hakeem Olajuwon. His love of the game brought him to college in the United States, and when his career on the court was complete, his career off-court began.
He started on the ground as a scout, working for teams traveling the world and searching for talent in gyms all over the globe. Masai was named general manager of the Denver Nuggets in 2011, becoming the first African GM in pro sports, and won the 2013 NBA Executive of the Year award. In Toronto, he has served as director of global scouting and assistant general manager, and in 2013, Masai was named president of the Toronto Raptors. In 2021, after signing a new contract, Masai added the role of vice chairman of the club to his responsibilities as team president. Under his leadership, the Raptors won the 2019 NBA Championship, the first team outside the United States to do so.
Participating Company Profiles
FAQs
How can I register and attend the conference?
Participation in this event is by invitation only. Please contact your RBC Capital Markets contact for additional details.
Can I receive a copy of the agenda?
The agenda is only available to registered guests.