Measuring the 'Air Scare'
Fundamentally driven pricing models break during periods of epidemics. Buyers typically scatter during such events and sell first, ask questions later. Assigning estimates to oil demand destruction based on historical precedent is an intellectually interesting exercise, but falls short from a practical standpoint given that the intensity and spread of epidemics often differ. Estimating the impact on what a SARS-like event would have on oil price is an exercise in futility given that epidemics are, by definition, extensively feared.

Jet Fuel Demand Weakness is a China Story, For Now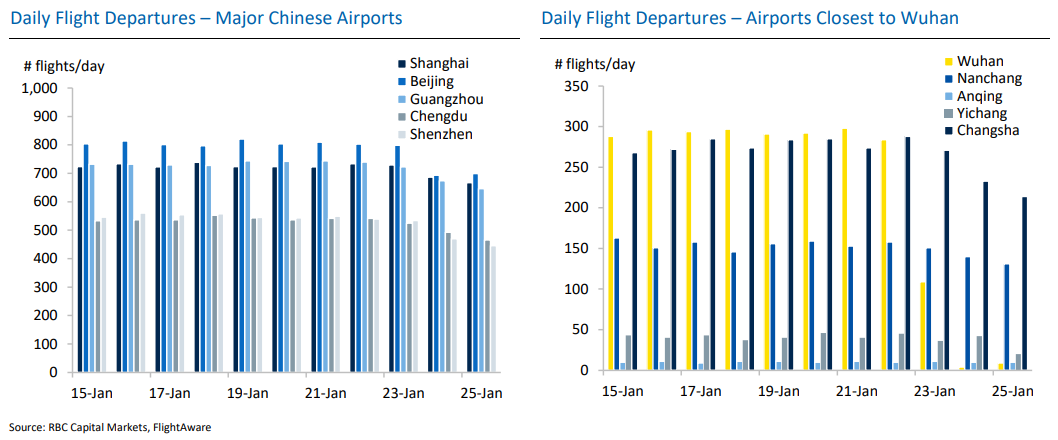 Aggregating global flight databases to monitor real time aviation tracking, we found that slowing air traffic has clearly dented Chinese jet fuel demand over recent days. Flight departures from the top five biggest Chinese airports were down by nearly 800 flights this past weekend relative to last weekend, while traffic in the five airports closest to the epicenter of the outbreak, Wuhan, fell by nearly 50% over recent days. We estimate that nearly 1,800 total domestic flights in China were cancelled yesterday.
International Flight Monitor – Is this a Chinese Jet Fuel Story or a Global Issue?
The geospatial artificial intelligence project we commissioned to quantify changes suggests there has not been an observed drop in consumer traffic through the busiest Asian airports, excluding China. So while the situation remains extremely fluid, we currently believe that coronavirus is a Chinese jet fuel demand story for now and not yet a global oil demand story.
The Sentiment Monitor – Evaluating the Social Media Footprint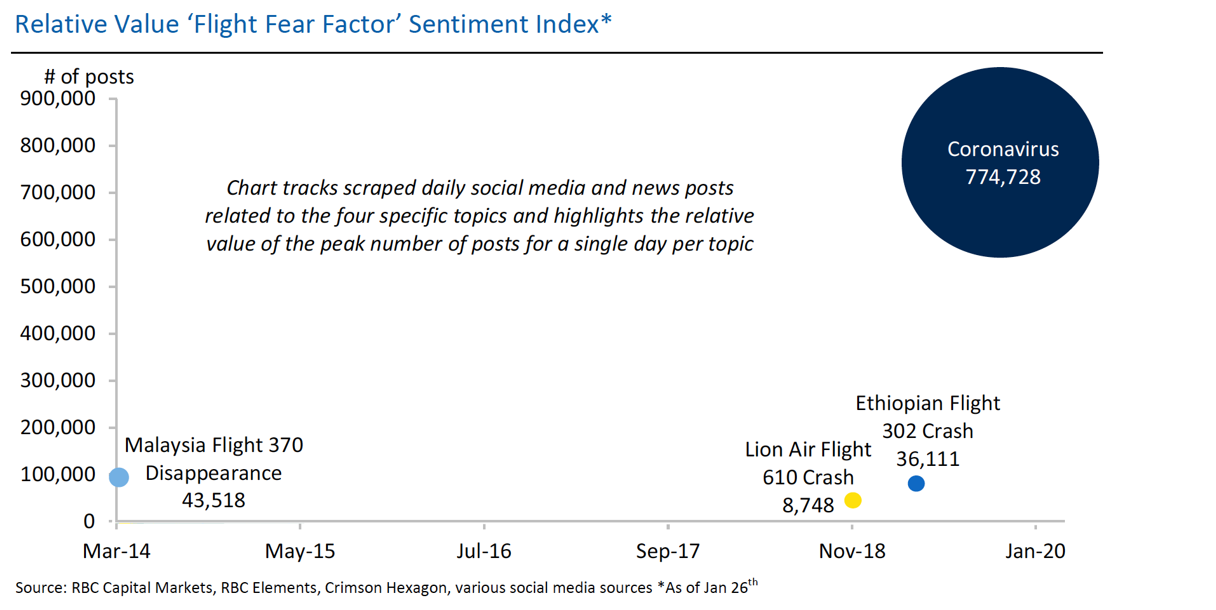 The flying phobia that resulted from 9/11 and SARs nearly two decades ago significantly impacted oil demand. More recent 'air scare' events like the crash of the Boeing 737 Max 8 planes and the disappearance of the Malaysia Airlines Flight 370 also spooked travelers. Using machine learning to measure the social media imprint as a sentiment gauge, we found that the coronavirus has a social media footprint that is 20 times larger than both the crashes and disappearance events and is trending further higher, potentially amplifying fear.