---
In the pre-cloud world, traditional networks were built around on-premise data centers. But the pandemic-driven transition to remote/distributed workforces has pushed networks out to the "edge," forcing businesses to rethink their network security infrastructures.
As network perimeters move closer to individual workers, we predict a growing demand for cloud security and application access through the Secure Access Service Edge framework (SASE) and data security within Zero-Trust Network Access (ZTNA).
As cloud security and SASE take hold, we can also expect a rise in identity and workload protection through SSO/MFA (single sign-on/multi-factor authentication), as well as enhanced security monitoring/visibility.
A sizeable market opportunity is up for grabs
We expect digital transformation to drive a highly accelerated shift to new IT spend.
We expect digital transformation to drive a highly accelerated shift to new IT spend.
Gartner currently sizes the Information Security and Risk Management market at $124B in 2020, which we believe could reach $176B in 2025, representing an annual growth rate of 7.3%.
We believe 90% of that could be considered legacy spend and potentially ripe for disruption. By our estimate, just over 50% of legacy spend, or $97B could be available for displacement through 2025, representing a growth rate of 51%.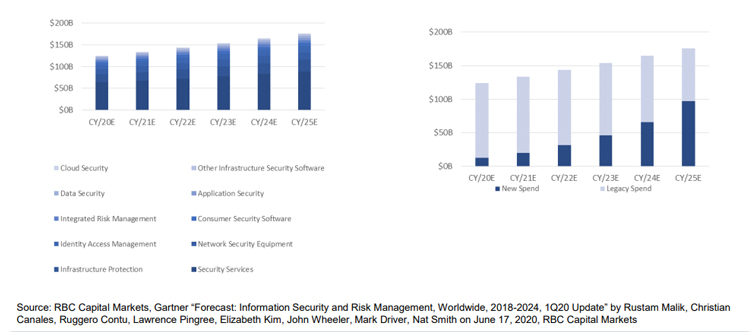 A key security building block: SASE
As businesses move from surviving to thriving in the "new normal," SASE will be a key component of digitization because it allows for security at the point of access.
Primarily delivered as a cloud-based service, SASE converges network and network security services. By 2024, Gartner predicted at least 40% of enterprises would have explicit strategies to adopt SASE, up from less than 1% at year-end 2018.
Where we are headed: ZTNA
Remote workers will need expanded access to systems and applications anytime, anywhere, and from any device--but this access also increases the surface area for attacks. Zero Trust Network Access (ZTNA), a key tenet of SASE, provides identity-aware access without exposing internal applications directly to the internet, reducing the risk of attacks.
This allows companies to gain control over traffic without opening up the entire network. Many enterprises have accelerated the adoption of ZTNA to address the hardware and bandwidth limitations of traditional VPN access.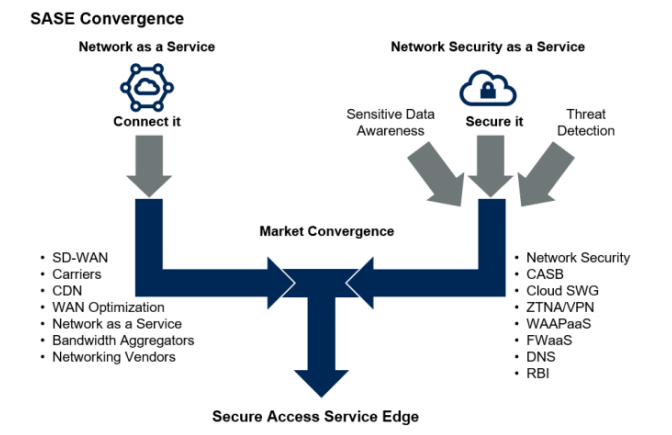 Source: Faster to the Future; Thinking through the evolving Security Software landscape
Why we should view security as an "enabler"
Security software is clearly going through a transition. Once a traditional cost center, we can now view security software as a competitive differentiator as it begins to empower stakeholders.
As the pandemic shows that workers at all levels can work efficiently remotely, we believe companies will embrace security focusing on users, which could expand talent pools, and increase employee satisfaction and retention without sacrificing security.
That's a balancing act that companies don't always get to control. But we believe the key to achieving it is through context, identifying high-risk assets and access while enabling general work on a broader scale.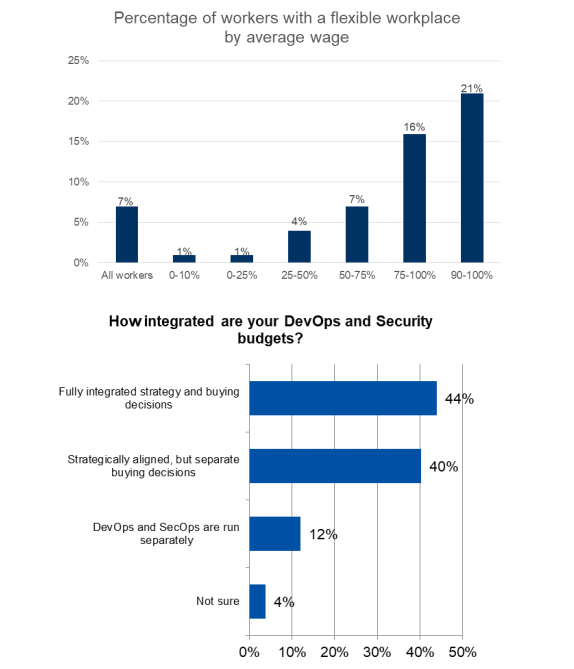 Source: Faster to the Future; Thinking through the evolving Security Software landscape
Closing thoughts
Although it may seem like cloud adoption and digital transformation are already well established, we believe the pandemic and rise in remote work will significantly change the landscape. Our research suggests a clear and dramatic shift in IT spending, which will expand workforce enablement and DevOps and cloud infrastructure management.
Post- COVID, we don't see legacy firewall/VPN spending going away. But it may become less relevant as we expect a significant increase in the total market opportunity for cloud-based security and application access through 2025 or more.
Matthew Hedberg authored "Imagine 2025: Faster to the Future; Thinking through the Evolving Security Software Landscape," published July 6, 2020. For more information about the full report, please contact your RBC sales representative.