---
Whether it's rooted in environmental and health concerns or an interest in food innovation, more and more consumers are shifting to plant-based diets.
This "flexitarian" trend is expected to drive accelerated growth of the plant-based meat and dairy alternatives segment over the coming years, which will have major implications for consumer products companies with strong market share in the category.
We also expect this growth to affect culture and ESG credentials. Plant-based meat production demonstrates agility and future-focus, and early data suggests it offers less environmental impact than animal husbandry.
Key Takeaways
Innovation and health concerns drive plant-based purchases
Although health, environment, and animal welfare concerns have driven people away from meat, there's evidence that these issues are becoming even more important to consumers.
Nearly half of global respondents to a 2019 Euromonitor study classified themselves as flexitarians. Our research with industry contacts that same year revealed that 38% of consumers wanted to reduce their meat consumption, up from 28% two years prior.
Here are the core motivators behind plant-based purchases:
Product replication. We believe the rise of plant-based products that are more comparable than ever in taste to animal-based products is a key reason for growth. Funding for plant-based ventures has been supporting a step up in innovation. Plant-based-companies attracted $2.1bn worth of funding globally last year—three times the investment attracted in 2019.
Environment. Only 25% of flexitarians cited meat's "perceived environmental impact" as the reason for reducing intake, according to our industry contacts. Sustainability, in fact, is more important for 18-24 year old consumers, many of whom said that diet was one of the areas they were willing to change for the good of the planet. We believe COVID-19 has brought environmental concerns to the forefront and will be a key driver for the plant-based segment in the future.
Health. Nearly 50% of respondents report that they are eating healthier, and 30% are willing to pay a premium for it. In addition to saturated fat and nitrate concerns, many expressed concerns about antibiotic use and animal-consumption-linked disease outbreaks in meat.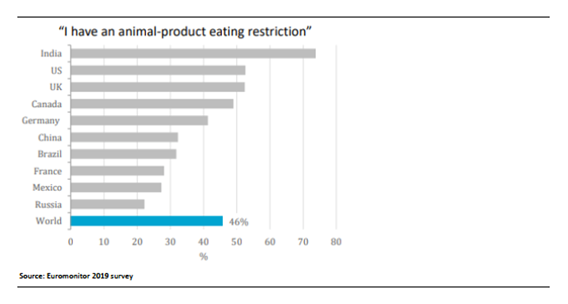 The future of protein is a mix of animal and plant-based products
Plant-based-companies attracted $2.1bn worth of funding globally last year—three times the investment attracted in 2019.
Over the long term, we think the "plate of the future" will consist of a mix of traditional animal products with other alternative categories such as:
Identical meat substitutes, which closely replicate processed meats such as burgers, chicken, or sausages.
Non-identical meat substitutes, which are not meant to taste or look like meat, but are made from beans, soy, seitan, mushrooms, or chickpeas; This group also includes texturized vegetable protein (TVP) and other products designed to help consumers make vegetarian meals at home.
Cell-based meat, which is grown in a laboratory from animal cells and bypasses the environmental and animal welfare costs of farming. This type of meat offers price and consumer acceptance hurdles, but it could provide a better sensory profile match to meat and more opportunities for price and quality variation.
In addition to plant-based meat, the future of protein also consists of plant-based fish, eggs, and even insects. But we believe the commercialized plant-based meat and dairy alternatives sub-segments are best positioned for growth over the next five years.
Plant-based meat opportunity could reach $7bn by 2025
The global meat substitutes category has been developing rapidly, particularly in developed markets. In the U.S., growth rates reached 100% during the pandemic as lockdown accelerated consumer trial as well as increased at-home consumption of plant-based foods. We expect that growth will only partially reverse as consumers return to a less-restricted, post-COVID-19 lifestyle.
Euromonitor estimates the market could grow between 3-4% per year over the next five years (globally ex-Asia Pacific) --representing a $7bn retail value opportunity. Penetration in the plant-based milk category is expected to spike from 9% to 12% ($12bn) by 2025.
By 2055, we believe the plant-based meat and cheese categories could reach $50bn and $30bn, respectively.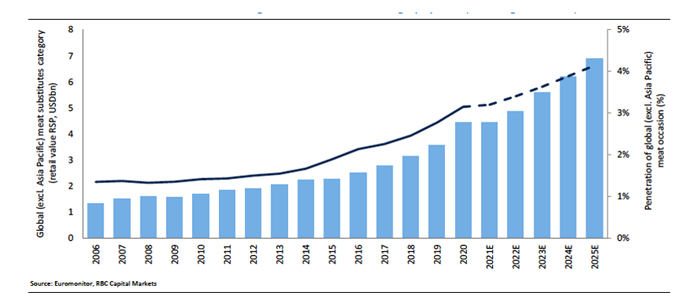 Environmental concerns may support steady growth
As consumers opt for flexitarian diets, we believe plant-based penetration will increase rapidly. Although taste perception and high prices may present some adoption barriers, accelerating investment and more appealing alternatives have made the plant-based lifestyle more feasible than ever before.
Our analysis also suggests that mounting climate change concerns may continue to drive long-term growth for this segment in the future, particularly as younger consumers place more emphasis on sustainability and products that can reduce our carbon footprint.
Emma Letheren, Nik Modi, and Irene Nattel authored "RBC Imagine: Uprooting Tradition: What Plant-Based Alternatives Mean for the Future of Protein" published on May 12, 2021. For more information about the full report, please contact your RBC representative.