In this report, our EM FX Strategists discuss India's current situation and FX outlook.
India's new daily Covid-19 case count continued to climb through May 6, reaching over 400,000, though the pace of the increase does appear to be gradually levelling off.
However, the Indian rupee has reversed part of the weakness since mid-April, assisted by positive global risk sentiment and low volatility markets.
The net foreign capital inflows into Indian equities turned negative in late April, but the outflow remains moderate compared to the scale of the inflows in preceding months.
The revived growth risks emanating from resurgent Covid-19 have prompted further RBI easing measures, including launching a pre-defined QE program for the first time and additional term lending facilities.
Given rising inflation, the RBI is expected to focus more on unconventional policy support going forward, including likely expansion of the QE program and further buying of US dollars, which should keep INR on the back foot within the Asian FX complex.
Revived growth risk…
India's Covid-19 situation has undergone a volte-face in a little less than two months. The country now finds itself as the epicentre of the global pandemic, and this has undercut expectations of a strong economic recovery. New Delhi's unwillingness to declare a national lockdown is limiting the growth impact, though at tragic cost.
The ferocious Covid-19 outbreak also ended several months of net foreign capital inflows into Indian equity markets. The chief risk to the rupee in the near-term is if there were to be a greater wave of foreign capital outflows from local markets. This is unlikely to materialise without a marked turn in global risk sentiment for the worse.
The RBI policy activism …
The RBI has been notable in its policy activism, but it refused to launch a formal pre-defined QE program until last April, when bond yields threatened to push higher. But even then, the new G-SAP program was supposed to be limited to just the current quarter. The risks to growth will translate into a larger fiscal borrowing target, so further RBI support will be necessary. The RBI is therefore likely to extend and enlarge its QE program beyond the current quarter.
Fundamental hurdle for the rupee…
India stumbled into the pandemic with the worst fiscal metrics among the Asian economies. The economic recovery has been and will continue to be restrained by the tepid fiscal response and fragile financial sector. The elevated and growing domestic bad debt problem in India demands continued policy support to ensure a sustainable economic recovery. Although Indian bonds offer among the highest nominal yields in EM, their real yields are paltry because of India's higher inflation rate. All in all, these factors suggest that the rupee will remain laggard within the Asian FX complex.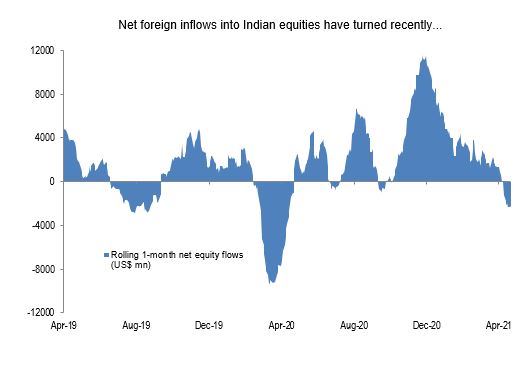 Source: RBC Capital Markets; Bloomberg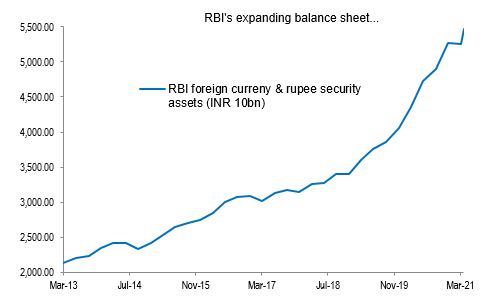 Source: RBC Capital Markets; Bloomberg