Corporate sustainability disclosures have accelerated significantly in the past two years: since 2019, the number of companies disclosing Sustainability Accounting Standards Board (SASB) metrics in public company communications has grown by more than tenfold
We see three key trends that will play an important role in shaping the future of the sustainability reporting landscape: consolidation among standard-setters, regulation focused on ESG-related disclosures, and maturation of ESG data and disclosures within private markets
RBC Capital Markets partners with our clients to help them align their sustainability disclosures with best practices, navigate a rapidly changing regulatory environment, and communicate a compelling sustainability story to investors and other key stakeholders
Key Trends Shaping the Corporate Sustainability Reporting Landscape
Corporate sustainability reporting has become increasingly mainstream over the past few years. In 2021, over 1,200 companies disclosed sustainability metrics aligned with Sustainability Accounting Standards Board (SASB) Standards in public company communications, up from just 42 companies three years earlier. 1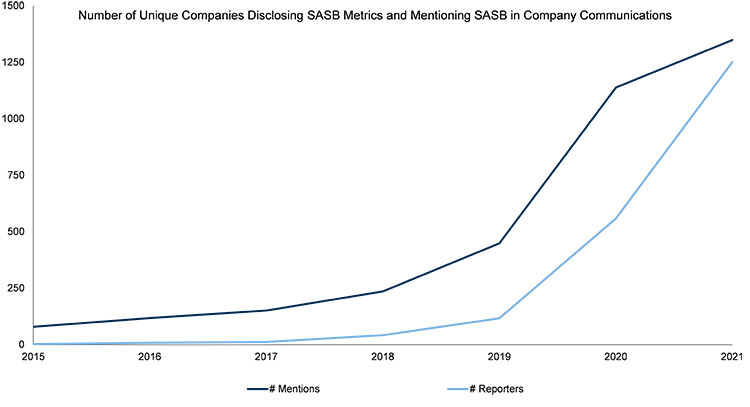 Source: Sustainability Accounting Standards Board (SASB)
We see three trends that will play an important role in shaping the future of the corporate sustainability reporting landscape. First, consolidation among sustainability standard-setters and the establishment of the International Sustainability Standards Board (ISSB) represents an important step in establishing transparent, comparable, and reliable global sustainability reporting standards.
Second, a growing regulatory focus on mandatory ESG-related disclosures is providing corporates with additional incentive to align their reporting with the investor-focused standards and frameworks that inform the prototype disclosure standards that the ISSB will be considering as part of its work plan.
Third, ESG-related data and disclosure practices within private markets are evolving and maturing; a number of initiatives aimed at enhancing the quantity and quality of sustainability disclosures have emerged in recent months, which may lead to new opportunities for financial sponsors in the sustainable debt market.
Convergence among Sustainability Standard-Setters
The widespread adoption of corporate sustainability reporting over the past decade has been accompanied by concurrent growth in disclosure frameworks and standards, creating a reporting ecosystem often described as an "alphabet soup" of acronyms. In response to global demands for convergence, the Sustainability Accounting Standards Board (SASB) and the International Integrated Reporting Council (IIRC) announced their intention to merge and become the Value Reporting Foundation (VRF) in November 2020.
One year later, at COP26 in Glasgow, the IFRS Foundation Trustees announced the establishment of the International Sustainability Standards Board (ISSB), which will become the global standard-setter for sustainability disclosures for the financial markets. The establishment of the ISSB is a significant development and was welcomed as a positive step toward developing global baseline standards for corporate sustainability disclosure, helping to mitigate the risk of greenwashing, and enabling the financial sector to allocate capital toward sustainable investments. The ISSB will further consolidate the market by absorbing both the VRF and the Climate Disclosure Standards Board (CDSB) and will build on the work of existing investor-focused reporting initiatives, including the TCFD Framework and SASB Standards, to develop the IFRS Sustainability Disclosure Standards.2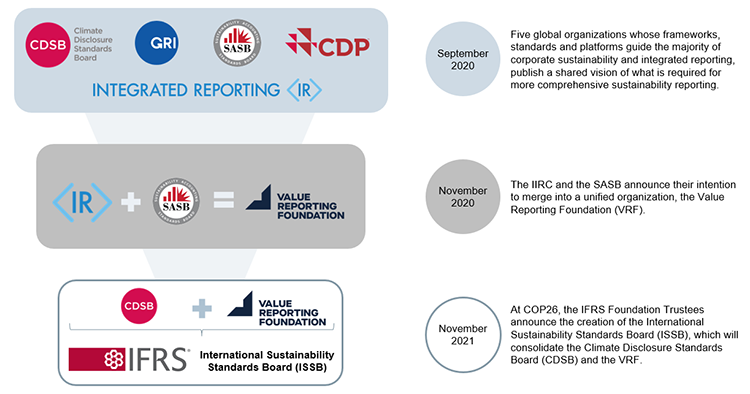 With the announcement of the ISSB came the publication of prototype climate and general disclosure requirements developed by the Technical Readiness Working Group (TRWG). As a next step, the ISSB will consider the TRWG's prototypes and conduct public consultations in early 2022. The International Organization for Securities Commissions (IOSCO) will assess the ISSB's proposal with a goal of finalizing an approved standard by the end of 2022.4
Regulatory Focus on ESG-Related Disclosures
In our last edition of Sustainability Matters, we noted that the focus on climate-related disclosure requirements by regulators accelerated over the course of 2021. The establishment of the ISSB is anticipated to be a further catalyst for action, with the IOSCO indicating at COP26 that its future endorsement of a standard would "support all our 130 members in considering ways they might adopt, apply or be informed by the standard."5
Regulatory bodies across multiple jurisdictions are currently engaged in consultations encompassing climate risk, human capital, cybersecurity risk governance, and board diversity disclosure considerations. In the United States, Securities and Exchange Commission (SEC) Chairman Gary Gensler recently indicated the SEC's intention to publish for comment proposed rules for climate risk and human capital management disclosure in early 2022.6
In Canada, the Canadian Securities Administrators (CSA) launched consultations in May 2021 to assess how the disclosure needs of Canadian investors have evolved in recent years and to consider changes to the current board diversity disclosure framework. In October 2021, the CSA published for comment a proposed rule that would mandate climate-related disclosure through the implementation of a "comply-or-explain" regime where corporate issuers will be required to disclose their GHG emissions or explain why they have not done so.8
Given this momentum, we anticipate continued growth in the number of corporate issuers voicing support for and publishing climate disclosures aligned with the investor-focused standards and frameworks that play a defining role in the prototype disclosure standards that that ISSB will be considering, including the TCFD Framework and SASB Standards. While corporate issuers are seeking to advance their disclosure efforts, more standardization and guidance will be essential in order to ensure that information is consistent, comparable, and decision-useful for all stakeholders, but especially investors.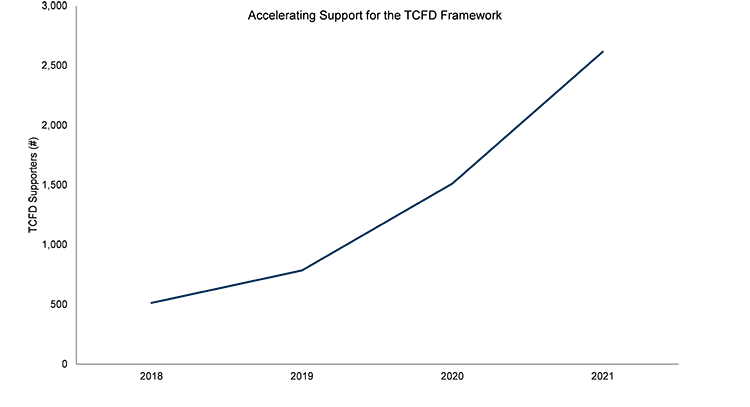 Source: Task Force on Climate-related Financial Disclosures (TCFD)
Sustainability Reporting in Private Markets
Despite widespread acknowledgement from both general partners (GPs) and limited partners (LPs) that ESG factors are important drivers of both value creation as well as risk management, ESG data has posed a key challenge for private markets. Recently, however, a number of ESG-focused industry initiatives have launched with the aim to increase data quality, availability, and comparability. These initiatives include the Institutional Limited Partners Association (ILPA) ESG Assessment Framework, the PRI's Climate Hub for Private Markets, and, most recently, the ESG Data General Convergence Project, launched in September 2021.
The ESG Data General Convergence Project, led by Carlyle and CalPERS, will bring together a group of investors to create a repository of ESG data from portfolio companies. GPs will track and report an initial standardized set of six metrics, including Scope 1 and 2 GHG emissions, renewable energy, board diversity, work-related injuries, net new hires, and employee engagement, which will be shared with invested LPs and aggregated into an anonymized benchmark. The initiative will enable stakeholders to benchmark ESG-related performance, set targets and measure improvement, and increase transparency.
The maturation of ESG data within private markets is also a promising development in terms of fund access to the sustainable debt market, as enhanced data gathering and target-setting at the portfolio company level may result in new opportunities for sustainability-linked fund finance.
RBC CM Helps Clients Navigate the Sustainability Reporting Landscape
The sustainability reporting landscape has evolved significantly in recent years. Increased convergence among sustainability standard-setters, growing regulatory focus on mandatory climate-related financial disclosures, and sustainability reporting within private markets are key trends to watch for in the near-term. While the quantity of ESG-related disclosures has increased, the quality of reporting is likely to come into focus in 2022 as regulators begin to develop a clearer picture of the underlying actions required for corporate issuers. As a trusted advisor, RBC Capital Markets works in partnership with our clients to help them align their disclosures with best practices, navigate a rapidly changing regulatory environment, and communicate a compelling sustainability story to investors and other key stakeholders.