As we reported in our proxy season preview, a record number of climate governance proposals have reached the ballot so far this year, and shareholders continue to target a wide range of ESG issues across sectors.
But as the number of proposals soar, we have also seen shareholder support levels slip this year. Feedback we have heard from investors has been that the prescriptive nature of certain proposals on the ballot this year has made it more difficult to vote in favor of them. This a trend we'll continue to follow as we enter the final weeks of proxy season.
Our latest report examines this year's proxy season voting trends as well as shareholder support levels by category and industry sector.
Racial equity audits and sustainable packaging proposals gain support
Based on voting results as of May 12, E&S shareholder proposals related to racial equity audits and sustainable packaging/plastic waste not only received more support than in 2021, but also lead all other categories so far this year.
Proposals related to political activities, climate governance, and workforce D&I are receiving higher levels of support than other categories this year, tracking at over 30% support as of mid-May, however support levels have slipped a bit compared to 2021. One area that has received particularly low support from investors so far this year has been Financed Emissions.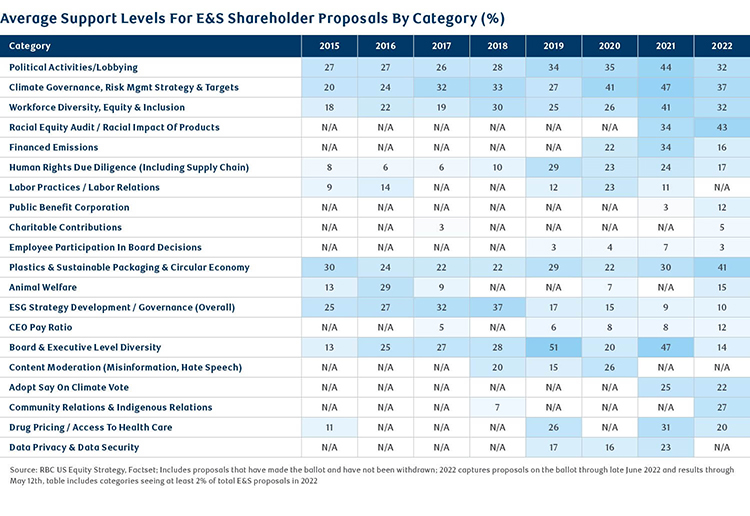 Strong support for governance proposals at Tech companies
Fewer corporate governance shareholder proposals made it to the ballot this year; investor support dropped from 42% to 36%.
Of all the governance proposals that made it to the ballot, close to half focused on decreasing requirements for shareholders to call special meetings. As far as support, ballots that targeted eliminating supermajority voting requirements and golden parachutes/severance agreements ranked fairly high. At the sector level, Tech & Energy companies have received the strongest level of support for governance proposals, though we'd note that results for Energy were still preliminary at the time we froze the data.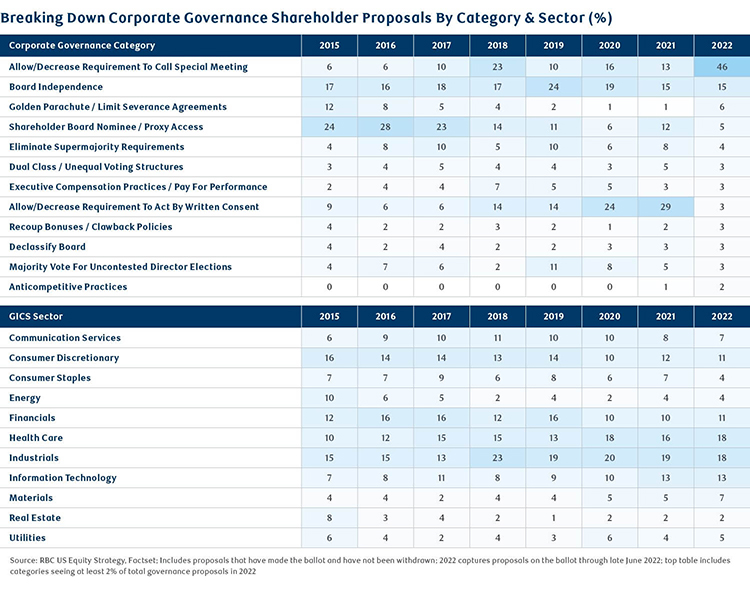 Shareholders back away from supporting board director nominees
Over the past few years, we've noticed shareholders backing away from supporting board nominees, a trend we partly attribute to increased scrutiny around board management of ESG topics.
Among sectors, support for nominees at Consumer Discretionary, Energy, and Tech companies has been lower relative to other sectors so far this year. Compared to last year, we also noticed a decline in support at both Consumer Staples and Financials.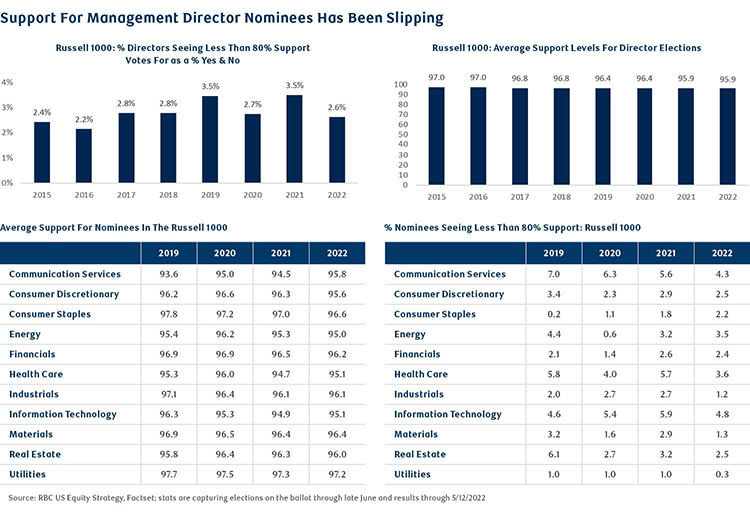 Shareholders continue to scrutinize executive compensation
Most "say on pay" proposals still receive majority support, but support has been slipping in recent years. During the pandemic, we have seen investor focus shift to emphasize executive compensation. Energy, Staples, and Consumer Discretionary companies received the lowest levels of support in this category, and Utilities and Financials showed a decline from last year.
---
Our Commitment to ESG
RBC Capital Markets' ESG StratifyTM encompasses all of our ESG thought leadership and insights, including our monthly ESG Scoop series and industry-specific publications from our research analysts. RBC's Equity Research Group delivers thorough, comprehensive assessments of companies spanning all major sectors, along with macro insights and stock-specific ideas to help guide portfolio management decisions.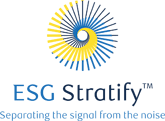 Sara Mahaffy authored "The ESG Scoop: ESG Momentum." For more information about the full report, please contact your RBC representative.
---