Key Points:
A greater number of Life and Property & Casualty (P&C) Insurance companies are publishing detailed employee compensation data by age, race, and gender at both the employee and managerial levels.
More of these companies are also now factoring both ESG and ESG progress in incentive compensation reviews and provide heightened transparency on pay equity statistics.
Sustainability reports have become commonplace among Life and P&C Insurance companies, and many have set future targets for net zero greenhouse emissions.
Life and P&C Insurance company boards with past underrepresentation of women and minorities have expanded their diversity, while those with strong diversity have maintained their composition.
Life and P&C Insurance companies are reporting greater participation, higher donations, and more diverse outreach in their charitable giving and community efforts.
---
When we wrote our first report examining the state of ESG practices at Life and P&C Insurance companies in 2020, ESG was rarely discussed among investors. Although these practices still aren't a primary focus, ESG topics have become much more expansive and are now frequently discussed in corporate boardrooms and quarterly earnings calls.
In this report, we've updated our research to document where ESG stands at Life and P&C Insurance companies. Note that we purposely didn't include our regularly updated scorecards; our goal was to simply reflect the broad improvement that has been made across the board on ESG topics overall.
These are the areas where we've noticed improvement on ESG strategy development and growth in 2022:
Greater transparency on employee composition data
In our last deep dive study, we noted the improvement in employee data disclosure. Since then, several Life and P&C Insurance companies now publish detailed data on employee composition by gender, race, and age groups, and have also expanded data transparency for management and executive roles.
Heightened focus on compensation and pay equity
While most covered companies still don't tie ESG to compensation, several of the larger ones have started to at least mention that they now include ESG and progress on ESG strategies as a factor in incentive compensation.
Also, while only a few Life and P&C Insurance companies offer pay equity statistics by gender and race, we see some progress has been made on narrowing the gap. We expect to see additional transparency on pay equity in the years ahead.
Companies take big steps toward sustainability and net zero emissions
Although many covered companies just began issuing ESG reports in 2020 and 2021, most now publish sustainability or ESG reports. Several offered updated versions of those reports in 2022. The Life and P&C Insurance companies that don't offer these reports provide at least some information on their websites, or provide literature outlining some of the ways they are involved with ESG.
We've also noticed a distinct focus on moving to net zero emissions, with several Life and P&C Insurance companies establishing targets to move toward net zero in the future. However, the timelines for this goal vary, with some extending to 2050.
Noticeable progress on board diversity
We have observed a widespread push toward increasing diversity by adding more women and persons of color to Life and P&C Insurance company boards—particularly among companies with underrepresentation of women and minorities in the past. Companies with historically strong board diversity have maintained their diverse representation.
Life and P&C Insurance companies expand charitable giving and volunteering efforts
In our last report, we highlighted Life and P&C Insurance companies' charitable giving and community service efforts as key strengths. Two years later, these programs have become even more robust in terms of the number of charities served, employee volunteer participation rates and dollars donated.
---
Our Commitment to ESG
RBC Capital Markets' ESG StratifyTM encompasses all our ESG thought leadership and insights, including our monthly ESG Scoop series and industry-specific publications from our research analysts. RBC's Equity Research Group delivers thorough, comprehensive assessments of companies spanning all major sectors, along with macro insights and stock-specific ideas to help guide portfolio management decisions.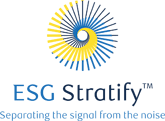 ---
Sara Mahaffy and Mark Dwelle authored "RBC ESG Stratify: US Insurance ESG Update," published on January 23, 2023. For more information about the full report, please contact your RBC representative.
---