Key Points:
ESG sentiment for Financials shows little improvement and lags other industry sectors.
European Financials with higher sustainable fund ownership and better or improving ESG risk scores outperformed their sector peers, while factor performance in the U.S. was mixed.
ESG integration in lending, underwriting, and investing products is among the key drivers of ESG-related news activity.
The European Central Bank (ECB) is conducting climate stress tests and has issued mandates for banks to adequately categorize the impact of environmental risks on financial systems.
Despite the lack of shareholder support, we expect financed emissions to be among the key themes for the 2023 proxy season.
---
Among S&P 500 sectors, Financials has reported some of the weaker ESG scores over the past few years, which led global, European, and U.S.-focused sustainable funds to tilt exposure away from industries such as Banking and Diversified Financial Services.
Our latest report examines current ESG scores and sentiment in ESG-related news activity,their impact on fund performance, and positioning trends going forward.
Financials sector falls behind other groups in ESG momentum
A closer look at S&P 500 ESG sentiment signals revealed that Financials lagged other sectors in scores and year-over-year momentum. We noticed little improvement for industry groups such as Banks, Diversified Financials, and Insurance.
European Financials scored slightly better, but well behind sectors such as Utilities, Industrials, and Information Technology.
European financials outperformed their sector peers
Our research of ESG factor performance within Financials revealed that European Financials with high sustainable fund ownership and better or improving ESG profiles (based on Sustainalytics ESG ratings and momentum scores) outperformed across the board.
U.S. Financials with better or improving ESG risk profiles also outperformed their sector peers, although the magnitude of outperformance was less meaningful than in Europe.
ESG integration, governance, and human capital topics drive news cycle
We found that the most meaningful topics driving ESG-related news activity for the Financials sector include:
ESG integration into lending, underwriting, and investing activities and products
Business ethics
Human capital management, including employee engagement, diversity, equity & inclusion, and labor practices
Other trending regional/industry specific topics include:
Access & affordability (financial inclusion), particularly for banks
Physical impact of climate change, especially for insurance considering extreme weather events
Human rights and community relations, particularly for Canadian banks
Momentum builds for climate stress tests at major banks
Climate stress tests, which aim to measure the impact of climate-related risks on financial institutions and the stability of the entire financial system, have become more common among central banks, particularly the European Central Bank (ECB).
The ECB's latest round of tests showed that banks are inadequately incorporating climate risks into their stress testing framework. In response, the ECB imposed staggered deadlines for banks to meet supervisory expectations, starting with categorizing climate and environmental risks and conducting a full assessment of their impact on activities.
Financed emissions may once again become a key focus for proxy season
Financed emissions has also become a key theme for central banks. From 2021 to 2022, the share of total E&S shareholder proposals related to financed emissions increased from 3 to 6%. Although support for these proposals was relatively low because many investors believed they were too prescriptive, we believe we'll return to this theme during this year's proxy season.
---
Our Commitment to ESG
ESG Stratify™ encompasses all of RBC Capital Markets' ESG thought leadership and insights, including our monthly ESG Scoop series and industry-specific publications from our research analysts. RBC's Equity Research Group delivers thorough, comprehensive assessments of companies spanning all major sectors, along with macro insights and stock-specific ideas to help guide portfolio management decisions.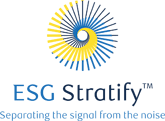 ---
Sara Mahaffy authored "RBC ESG Stratify—ESG Sector Snapshot for Financials" published on March 6, 2023. For more information about the full report, please contact your RBC representative.
---