Just when the energy market was contending with more Powell action, Vladimir Putin reasserted himself as a main character in the market by announcing the ban on Russian diesel and gasoline exports.
The official justification offered by the Kremlin is the stabilization of prices in the domestic market, and some have suggested that the move reflects internal challenges in the country such as weighing costs of subsidies on rising domestic fuel prices amid continued military and social spending. Nevertheless, given the perilously low global product inventory backdrop, we also see today's action as a signal that Russia is not entirely done with its energy weaponization strategy ahead of winter.
With Europe already halting the import of Russian products, the main customers that will be impacted are Turkey, African nations, and Brazil.
It is noteworthy that Russia has announced carveouts for countries within the Eurasia Economic Union (EAEU) and other strategically important intergovernmental partnerships. Maintaining strong ties to countries in the Global South seems to be an important goal for Russia. It has already moved to offer discounts to a number of African countries after it pulled out of the Black Sea grain deal that previously allowed Ukrainian grain exports to reach international markets. Nevertheless, today's actions will bring new uncertainty into an already tight global refined product supply picture and the prospect that the impacted countries will be seeking to bid up cargoes from alternative suppliers.
We see the majority of Russia's +1 mb/d diesel exports being subject to the export ban, though we expect exemptions to blunt the impact to some degree.
Diesel exports to the EAEU are largely land-based flows, and account for less than 5% of total diesel exports. We think one region that could see additional carveouts would be some African nations (averaging 240 kb/d YTD), where many of the countries on the continent have warmer relationships with Moscow as well as joint economic, security, and energy projects. We will be watching flows closely over the coming weeks to better assess exempt importers.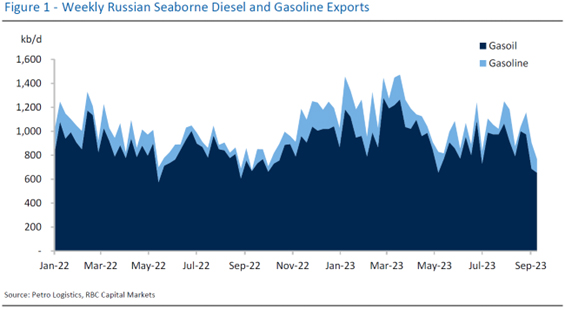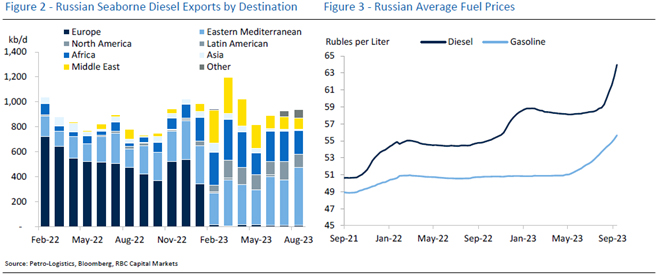 Russia's seaborne diesel exports, in aggregate, have been trending lower over the past two weeks, averaging 670 kb/d vs 950 kb/d YTD.
Gasoline exports are a much smaller bucket (240 kb/d YTD), with 50% of seaborne exports going to Africa. Similarly, flows to EAEU countries account for 5% of export flows. Of the 1.3 mb/d of Russian product export flows, we could see a disruption of up to 950 kb/d to 1.1 mb/d for the duration of the ban. While some market participants have highlighted storage concerns as a potential spoiler to how long the ban will persist, it is unclear at this stage if this represents a binding constraint to Russian action.
Coming on the heels of increased taxes and duties, we could conceive that the recent move could cause discomfort for Russian energy executives given the likely loss of significant export revenue. However, in light of the dramatic death of Wagner CEO Yevgeny Prigozhin, we think that Russian oligarchs would be wary of falling out of favor with President Putin.
While the Biden administration is not signaling alarm about the Russian restriction, it is certainly not welcome news for an administration contending with higher energy prices.
From the start of the war, the White House has sought to avert Russian supply disruptions, even at the cost of affording Moscow a financial lifeline to wage war in Ukraine. In our conversations in Washington over recent weeks, we have heard more concern about the tightness in the product market than on the crude side and the lack of policy options to easily deal with refinery capacity constraints. We will be closely watching if rising product prices prompt a revival of the product export ban conversation on Capitol Hill. We certainly think that influential voices in the White House would seek to avert such a course of action, though we could see some support for temporary waivers of the Jones Act requirement if pronounced shortages emerge in the Northeast.
Finally, we think that Moscow's move may reduce some of the complacency that had crept into the market about a Russian disruption threat.
Certainly, since the summer of 2022, the oil market has been more concerned about Jay Powell than Vladimir Putin and there was a view that Russia had played its last energy card with the gas cutoff going into last winter. A warm winter and ample US exports have helped blunt the effectiveness of this weapon, but it remains to be seen whether the West will be as lucky this time around.